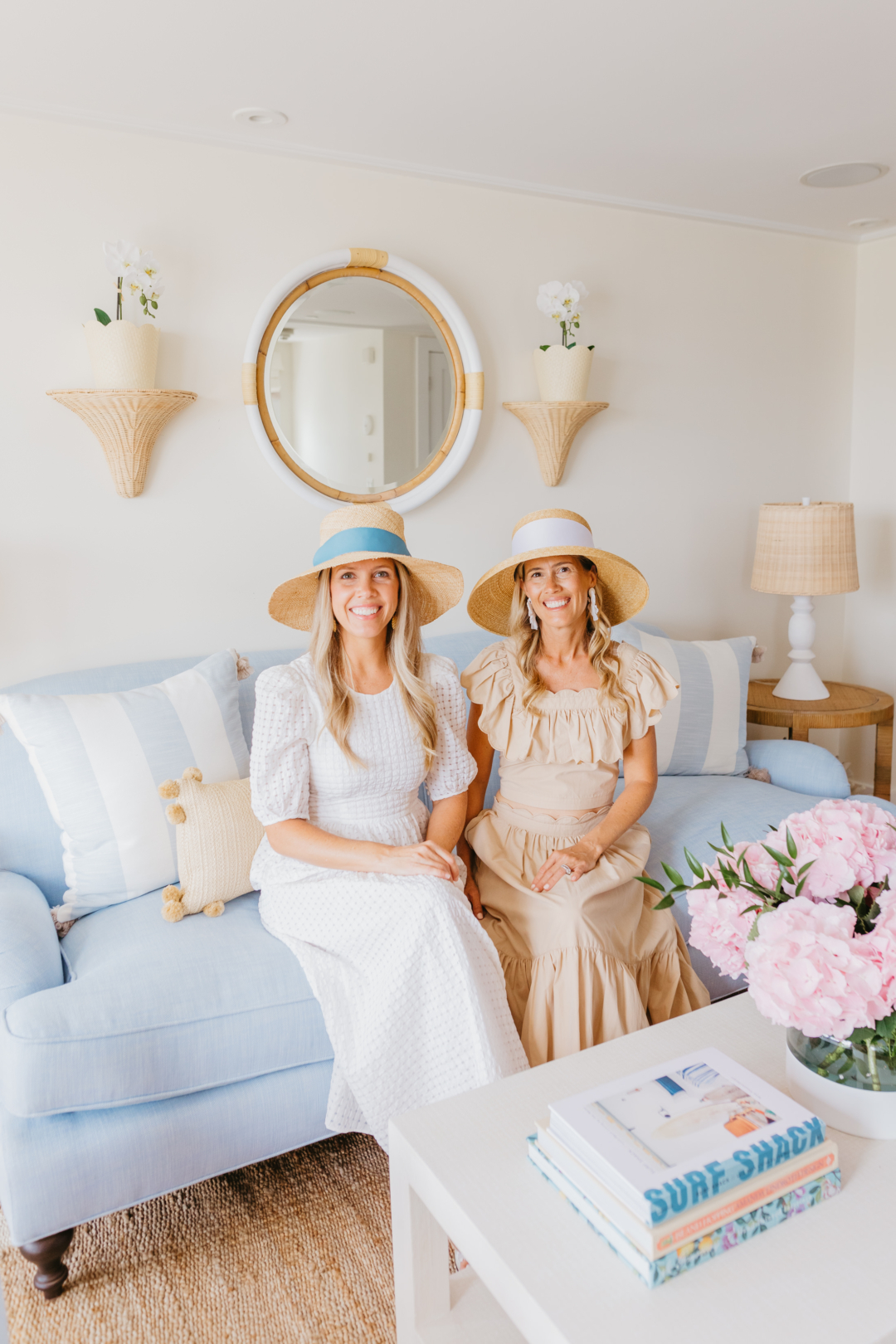 Earlier this summer, we had the pleasure of decorating a cottage on one of our favorite islands, Nantucket. We have visited Harborview Nantucket several times over the years <here, here, here, and here> thanks to our friends at the Frisbie Group and Inspirato, and instantly fell in love with their property and hospitality. For this follow-up project to our "Sisters Suite" with Serena & Lily at The Colony Hotel, we were inspired to create a space that honors the island's unique esthetic and brings joy to all of the guests who stay here!
The Endeavor cottage is 1500 square feet and features an open living room, kitchen with a full-size dining table, two bedrooms, and two and a half bathrooms. When we were selecting some of our favorite Serena & Lily pieces, we wanted to incorporate their "Coastal Blue" hue that compliments the harbor and natural materials that are classic and coastal.
In the living room, we love the Miramar Sofa in Coastal Blue and felt it had the biggest impact with transforming this space. The crisp, clean style was then paired with two rattan Mattituck Armchairs and Beach Stripe Pillow Covers, also in Coastal Blue. Then we added a  Jute Border Rug in ivory, Driftaway Coffee Table in white, a pair of Balboa Side Tables with wicker Brighton Table Lamps, and the Montara Mirror in white.
To bring in local touches, we gathered coffee table books and a vase from Centre Pointe, artwork from two very talented Nantucket locals, Meredith Hason and Nantucket Print Shop by Mackenzie Horan, and wall brackets and orchid baskets by Amanda Lindroth.
In the dining room, we swapped out the previous dining table and chairs with a new Beach House Expandable Dining Table in Saltwashed Oak and Sunwashed Riviera Dining Chairs in Coastal Blue. Above the dining table, we hung the Kentfield Long Pendant as a statement piece that brings in a nice brass tone. Then, we filled the South Seas Side Cart with a tray, drinking glasses, vase, and books from Centre Pointe and hung a Millie's matchbook print and sun hat above it. In the corner, we styled the nook with a Sunwashed Riviera Dining Chair in Coastal Blue, french blue charcuterie boards, and a faux orchid from Gray Malin.
Upstairs in the two bedrooms, we continued designing with the Coastal Blue, white and natural palette. In the first bedroom, we started with Serena & Lily's Broderick Bed, Beach Club Duvet Cover and Westport Euro Shams and completed the look with the Shasta Rug, Piedmont Martini Tables, Flynn Single Wall Sconces, and an Avalon Bench. We also couldn't wait to include the local floral arbor gate photograph from the Nantucket Print Shop by Mackenzie Horan and a blue bow sun hat by island favorite, Peater Beaton. In the second bedroom, we were thrilled to include the Briarcliff Bed with Priano Duvet Cover and Euro Shams, the Whitehaven Rug, Cabot Side Tables, and Gallaway Ceramic Table Lamps.
Harborview Nantucket is stunning with beautiful blush roses and blue hydrangeas growing all around the cottages. The floral-edged grassy lawn is the perfect area for kids to run and play or host an intimate event. We also love the boardwalk that leads to their private beach on the harbor. It is a wonderful place to rest in their white Adirondack chairs and watch the kids play on the shore or enjoy a glass of wine. The lawn and harbor were big inspirations for the cottage refresh, and we hope the guests who stay there love it as much as we do!
Please note: Harborview Nantucket is currently only available to accommodate guests of Inspirato, a luxury vacation rental membership. For more information, please click here. 
Credits:
Photography: Emily Elisabeth
Location: Harborview Nantucket
Furniture and linens: Serena & Lily
Decor: Centre Pointe
Artwork: c/o Meredith Hanson, Nantucket Print Shop by Mackenzie Horan, and Millie's Matchbook Print
Faux florals: c/o Gray Malin
Dresses: c/o Hunter Bell NYC
Sun hats: c/o Peater Beaton, Sarah Bray, Lisi Lerch, Tuckernuck
**Thank you to our friends at Serena & Lily and Harborview Nantucket for partnering with us on this post!