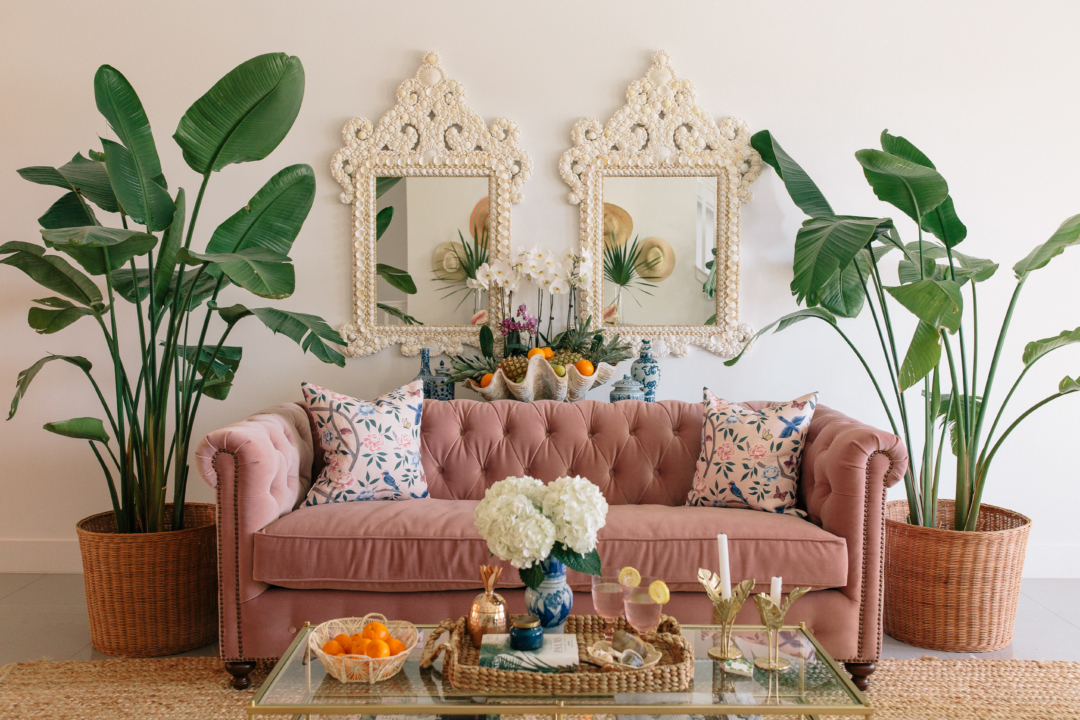 I've had a passion for decorating since I was a little girl and even contemplated going to school for Interior Design. But when it was time to choose my college degree, I decided to go to school for business and decorate as a creative hobby and outlet on the side. Over the years, I have really loved transforming rooms in our homes, and I recently spent a lot of time pouring my heart into our living room. It's a space that I wanted to be both stylish and practical that fits our family's sunny lifestyle, and I'm so excited to share it with you today!
My biggest challenge was finding a sofa that 1) fits my style and 2) is comfortable for our family, and Frontgate's Petite Chesterfield Sofa in blush was the perfect solution. Of course, initially my hubby wasn't thrilled about the idea of a blush couch, but he's a good sport and knows it makes my heart happy so he approved – and he loves how soft and sturdy it is!
I usually add lots of pillows to our couch, but this time I kept it simple and chic with two Blush Chinoiserie Pillows by Caitlin Wilson. She is one of my favorite Interior Designers and gracefully blends designing with raising 4 kids. I admire her and her work so much!
To bring the outdoors in, I added two white bird of paradise plants in wicker baskets by another one of my favorite designers, Amanda Lindroth. She's known for her island style and uses lots of texture like rattan, wicker and straw in her projects <see more in the pics below>. I also added two shell mirrors above the couch and a console table behind it, then decorated it with blue ming jars and a clamshell filled with orchids, pineapples and citrus.
For more seating, I added this grey and white striped sofa with handmade cane detail on the back from Frontgate and this rattan Paloma Bench from Grandin Road. Both pieces are made so well and bring in that casual and stylish indoor/outdoor vibe that I love so much!
For our living room rug, I have found that this braided jute rug works the best. The strong fibers hold up to this high traffic area, yet it's still soft to walk on with bare feet.
We've had this Terrace Coffee Table from West Elm for years. It's still a favorite of mine, and I enjoy decorating it depending on the season. We currently have a seagrass tray with little baskets, candles and shells on top and then books filling the glass shelves below.
On the tv wall, we recently swapped out an open console table for this stunning Gustavian Dresser. It's so well made and really heavy with gold handles and beautiful details on the front drawers. I love how the grey color is a nice change from the typical wood tones!
To style the dresser, I added a pair of clear vases with palm fronds that my sister cut from her yard, as well as a pair of conchs and potted orchids in paper baskets. Above it, I hung some of my favorite straw hats that I've collected over the years. I also added this Florida art print by Florida-based Rifle Paper Co. in this brass gallery frame by West Elm. And I set an oversized hurricane on each side to help fill the space and add more of the island vibe!
That's about it, and I hope you enjoyed this peek into our home! If you have any questions or need any help with pieces we've mentioned here, feel free to email us at hello@palmbeachlately.com or send a direct message to us @palmbeachlately on Instagram! And we'd love to know… would you work any of these styles into your home? 🙂
Credits:
Photography: Iris Moore
Blush Chesterfield Sofa: c/o Frontgate
Striped Sofa: c/o Frontgate
Grey dresser: c/o Frontgate
Jute rug: c/o Frontgate
Shell mirror: c/o Frontgate
Clam shell <no longer available, similar here>: c/o Frontgate
Blue ming vases: c/o Frontgate
Wicker planters: c/o Lindroth Design
Paper orchid baskets: c/o Lindroth Design
Lanterns: c/o Lindroth Design
Brass gallery frame: c/o West Elm
Blush chinoiserie pillows: Caitlin Wilson