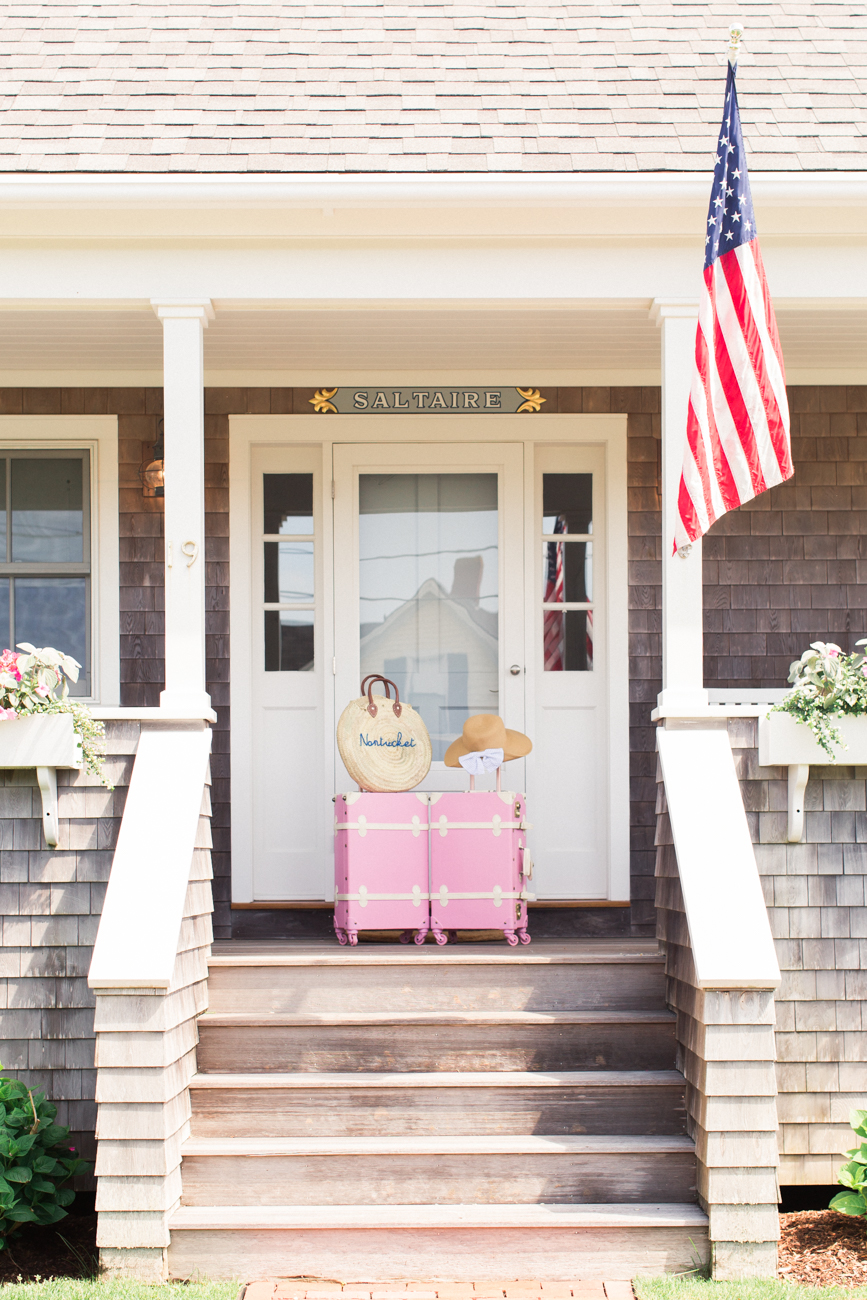 We have been on many island vacations, and our whole family agrees: Nantucket is the most magical of them all. It's also one of the easiest places to have fun and most beautiful places for a getaway, but don't let the pics fool you. It's far more spectacular in person!
If you aren't familiar with the island, you are in luck! Today we are sharing our favorite pictures and tips from our recent family vacation in our new "Guide to Nantucket". We want to make it easy for you to plan your next getaway – and whether it's Nantucket or not, the most important thing is that you get out there and make memories with your family!
Where we have stayed:
The Nantucket Hotel – The luxurious yet relaxed year-round property first opened its doors back in the summer of 1891. Since then, it has done a fantastic job capturing the spirit of Nantucket. The charm and elegance of the old days abound here, and we especially loved hearing all about the history from their delightful general manager, Jamie. But don't let the hotel's age fool you. The recently restored, in-town property offers all of the modern and stylish amenities with a variety of accommodation options that make it perfect for both couples and families. Their guests can choose from hotel rooms, one, two, three and four bedroom suites, and 1 & 2 bedroom private cottages with amenities like living rooms, kitchenettes and luxe linens!
At the top of our list was going for a ride in their antique red firetruck. It's just as cool as can be and guests can hop on for a quick spin around town. We requested a ride from the hotel to Brant Point Lighthouse, a cute lighthouse located in town, and had a blast waving back to everyone walking and waving to us along the streets. Guests can also pre-reserve their antique green bus for pick-ups and drop-offs to/from the ferries located at the wharf!
Life House Nantucket – Located on Cliff Road, just uphill from the cobblestone road on a one-way street, Life House Nantucket is a delightful old mansion that has been transformed into a charming and eclectic boutique hotel. The crisp white exterior, wrap around porch, rustic red door, and gold clam door knocker were a few of our favorite design elements upon arriving.
Once inside, we instantly felt a warm, at-home feeling and loved the luxurious main living room. This cozy space has sofas, seats and tables making it a special place to sit for a bite to eat or drink. Just off the living room, guests can also use the communal kitchen while here.
The rest of the property consists of king and queen bedrooms that are perfect for couples, family or friends. The beds and Revival New York linens were incredibly cloud-like and made for a great night's sleep each night. We also loved the Le Labo bathroom products.
Harborview Nantucket – Our family first stayed at Harborview Nantucket last summer, and we couldn't wait to get back to this beautiful property. It's owned by the Frisbie Group, and we have really enjoyed getting to know the Frisbie crew since we stayed here last year <they are also working on a few exciting new projects in Palm Beach>!
Guests can choose from 11 cottages ranging from 1 to 4 bedrooms. Last year we stayed in their three bedroom, 1700 sq. ft. stand-alone cottage called "Mainsail" and this year we stayed in their three bedroom, 15oo sq. ft. cottage called "Sea Breeze". Each cottage is thoughtfully curated with fresh nautical designs, luxurious soaps, complimentary samples of local Cisco beer and wine, and cozy fireplaces for rainy days and cooler nights!
We also really love Harborview's perfectly situated spot on the island. Within steps of walking out our front door, we are right in town or at the wharf with lots of restaurants to try and shops to stop by. Then when we are ready to rest, we look forward to coming back and letting the kids play on the lush back lawn or private beach that overlooks the harbor.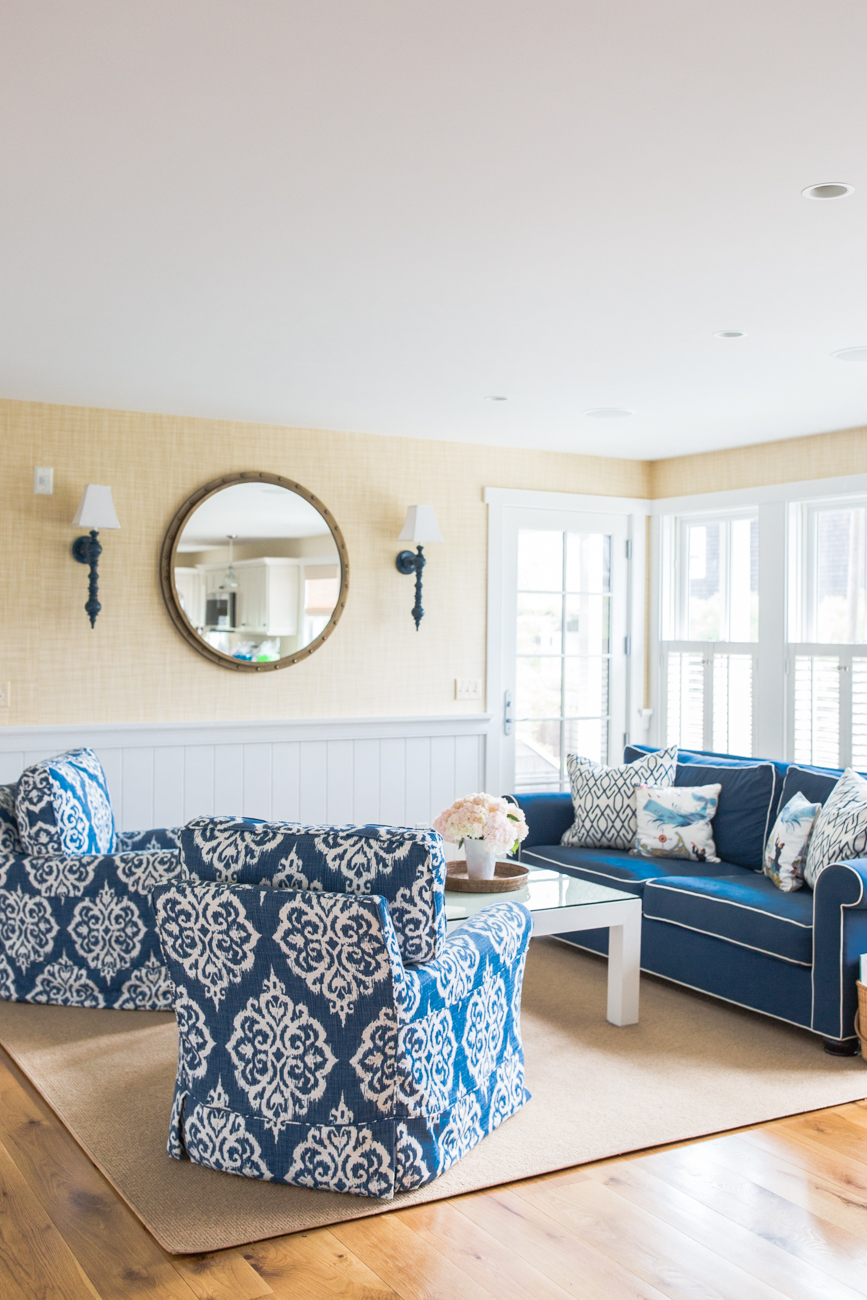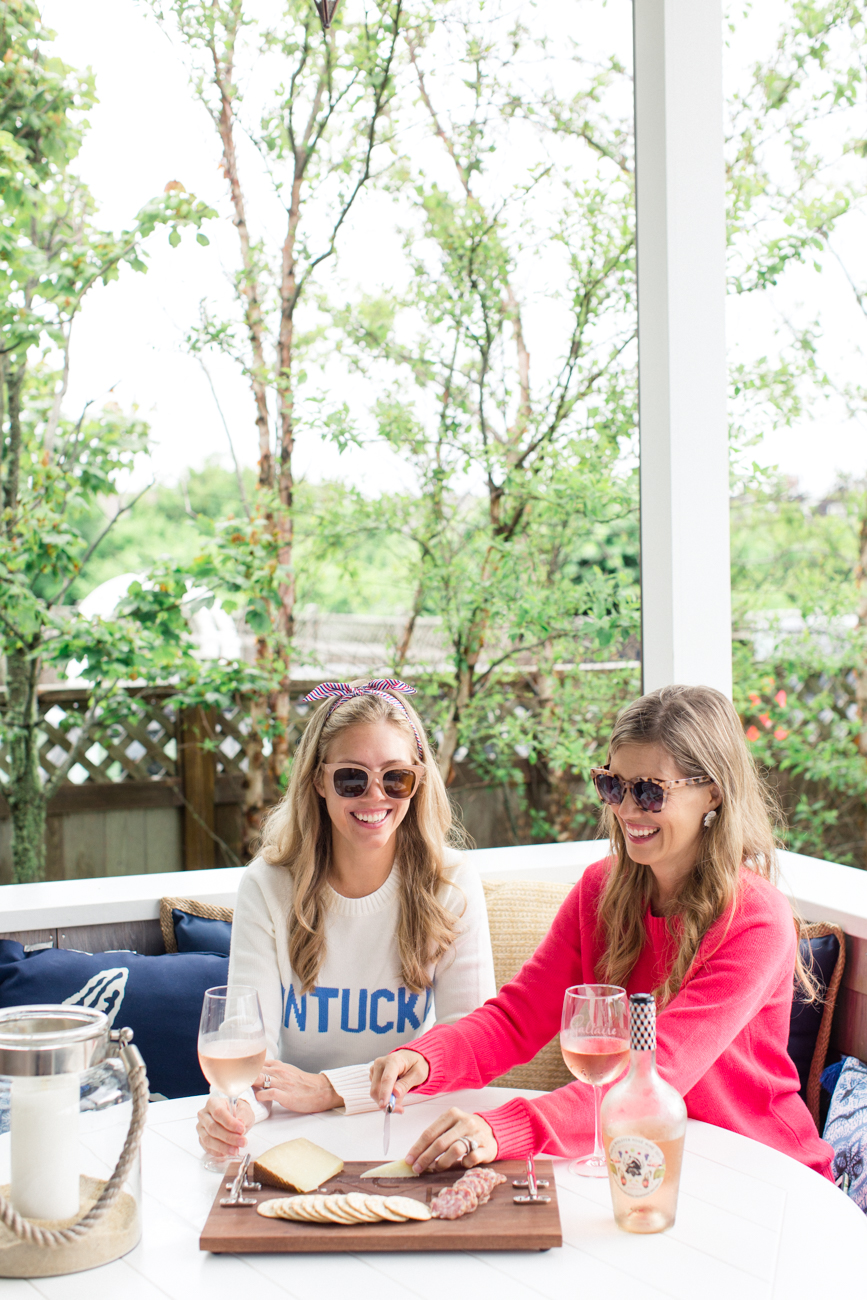 Saltaire – We also had the chance to experience a stunning vacation rental called Saltaire on Nantucket. This spacious home was as cute as a button and not easy to leave! From the minute you pull up, the home welcomes you and invites you in to relax and enjoy your time here like a local.
Saltaire is a luxurious 4 bedroom home located in the gorgeous Brant Point neighborhood. Erin Condron Interiors recently decorated the spacious home in blue hues and a pretty nautical style that reflects the owner's love for Nantucket. All of the furniture feels brand new and the beds and linens were very comfortable like an upscale resort.
We enjoyed strolling the neighborhood in the mornings and afternoons, walking by all of the beautiful homes and reading their catchy house names. The Brant Point Lighthouse, nearby beaches and town are a short walk from the house which was great for our family. We also used the side yard for playing corn hole and letting the kids run around.
The owner of the home, Lisa, takes great pride in caring for her vacation rental and guests. Upon arrival, she had sweet treats and cookies delivered by ACK Gift Bags, beach buckets monogrammed with our kids' names from Cleary's on Grafton, and bags with local bath goodies for us, too. She provides guests with everything from a picnic basket to a monogrammed beach tote and also includes her own suggestions for the island!
Where we love to eat:
Nantucket's culinary scene is bursting with delicious restaurants, and we are doing our best to try them all. Each time we visit, we try some new ones and visit old faves. In this section, we have included our favorites so far and some of the ones that are still on our list!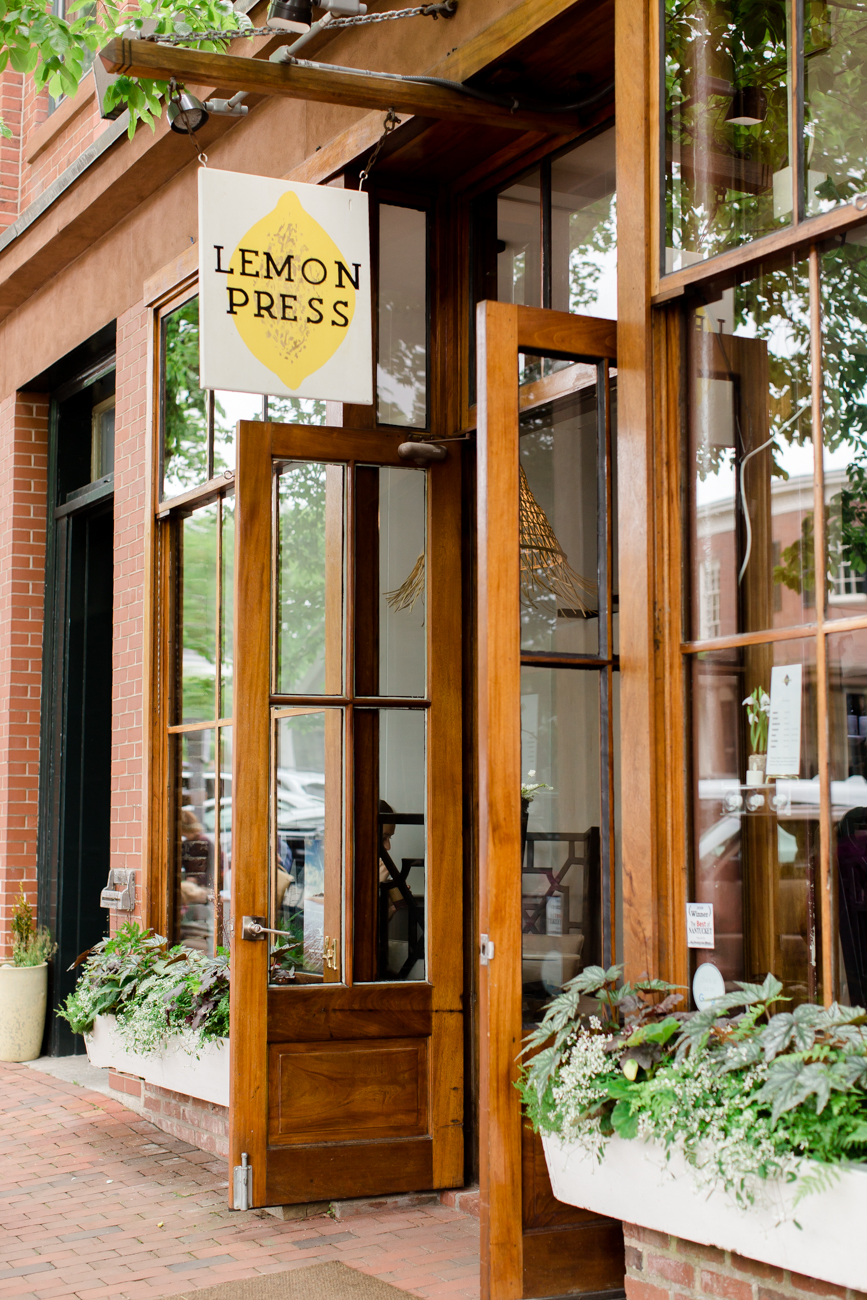 Breakfast – On most mornings, we like to pick up food and eat around the table back at home. Located just a block from Harborview is Handlebar Cafe. We don't drink coffee, but we hear their drinks hit the spot, and we can vouch for their yummy apple pastries. Also in walking distance is a healthy spot called Lemon Press. Their bacon, egg and cheese on an everything bagel breakfast sandwich was our favorite, and we also liked their avocado toast, smoothies and bowls. For rich donuts, we took a short uber ride to Downyflake, and for a sit down breakfast, we liked Island Kitchen and Blackeyed Susan's.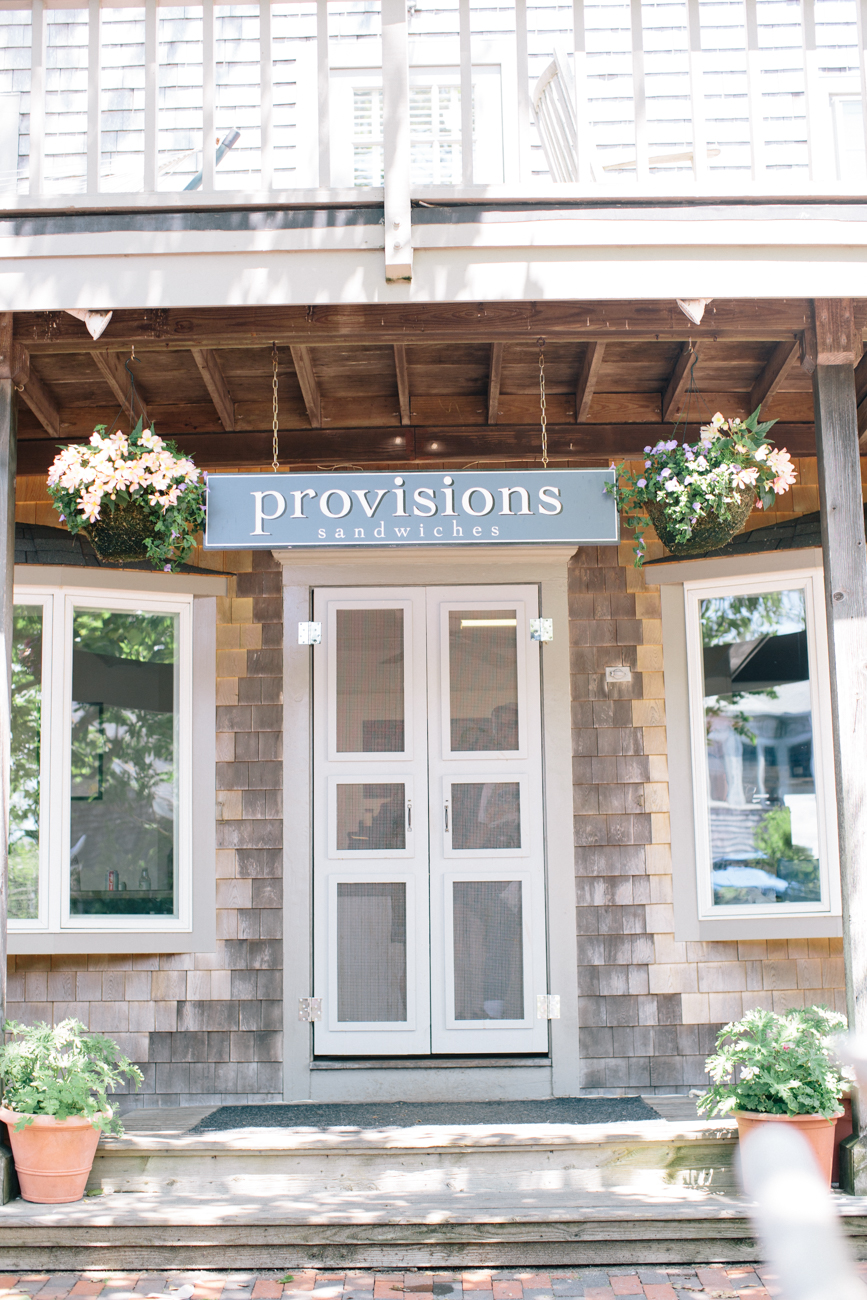 Lunch – For lunch, we like to order sandwiches or eat at family-friendly restaurants. The first meal we ever had on Nantucket was sandwiches from Provisions on Straight Wharf, and we dream about them so it's a must! The Turkey Terrific <like Thanksgiving on a sandwich> and Curried Chicken Salad on their special Portuguese bread are our favorites.
We also have to ride out to Madaket for lunch at Millie's by the beach. They have tacos, quesadillas and burritos for kids, and we had the most delicious "Smith Point" Grilled Shrimp Tacos and "Millie's Bridge" Fried Clam Po' Bo. And because we were on vacation, we also ordered a Millie's Margarita and Dark and Stormy to wash them down – so good!
Ice cream – The Juice Bar is everything. Warm waffle cones fresh off the griddle with creamy ice cream in any flavor you could possibly want is what vacation dreams are made of. We have tried Cookie Dough, Mint Chocolate Chip, Dirty Grasshopper, Coconut and Strawberry, and all are good! It's now the first place we head to when we arrive and the last place we stop at before we leave. It's cash only, but they do have an ATM right in the shop!
Dinner – For dinner, we like mixing it up with family-friendly spots, eating at home and adult dinners. For one of our family-friendly nights, we went to Sandbar at Jettie's Beach. The kids loved playing in the sand while we ate Clam Chowder, Chicken Wings and other light bites on nearby picnic benches. We also had a clam bake at Harborview <see down below> and picked up Oath Pizza on the Straight Wharf pier another night.
When we had a sitter, we tried a few new spots for us. Our very favorite was Ventuno, a romantic and relaxed Italian restaurant in town. We had salad, pasta and wine in a cozy dining room with a wonderful server. We also loved Straight Wharf Restaurant, which is managed by the same company. It's a classic seafood spot, and we highly recommend the Tender Lettuces, SWR Clam Bake, and Chicken Under a Brick. Both spots also offered desserts that had to be ordered at the beginning of the meal that hit the spot!
LOLA 41 also lived up to its reputation for perfectly made sushi, and we enjoyed the Maruko Roll <avocado and shrimp tempura roll, topped with spicy tuna and scallions>, Pork Pot Sticks and Tuna and Avocado Poke Salad. Last year we went to the popular oyster bar, Cru, and Proprietors and loved both. We recently made it out to The Chanticleer and it was amazing! One place that we haven't been able to do and look forward to trying is TOPPER'S at The Wauwinet!
Drinks – Cisco Brewers is the coolest spot to spend the afternoon listening to music, dining from the food trucks and enjoying tastings from their winery, brewery and distillery. Galley Beach is a picturesque spot to have a cocktail right on the beach at sunset. We also went to a cozy bar in the Greydon House for an after dinner drink one night. And for a daytime drink while overlooking the Atlantic Ocean as far as the eye can see, we love the Beachside Bistro at The Summer House in 'Sconset. We still have to have a drink at the island staple, Brotherhood of Thieves!
Clam bake – The lush green lawn behind Harborview is so perfect for a special dinner, event or wedding. We had visions of a fun, family dinner back there, so Matt and Mo helped us to bring our clam bake to life! We are doing a full blog post on this next week, but we had to share a sneak peek. It was the quintessential Nantucket experience that we'll never forget. Every detail was just right, and in case you are looking to do that same… we got the table linen from India Amory and the rattan tableware from Lindroth Design <truly, two of our faves!>, flowers from Soiree Floral, beer and wine from the local Cisco Brewers, seafood from Sayle's Seafood, and our preppy attire from Vineyard Vines!
What we love to do:
Beach Excursion – The highlight of our vacation was when we drove off the beaten path to the beach off Great Point Road. Our friends Ben and Lindsay Goldberg from The Enjoy Company helped us rent jeeps from Nantucket Island Rent A Car and car seats from Petite Travelers of Nantucket, order lobster rolls from Straight Wharf Fish Store and sandwiches from Provisions and pack other goodies for a picnic on the beach. The sky was so blue, the kids had fun playing in the sand and water, and we spotted seals swimming in the ocean!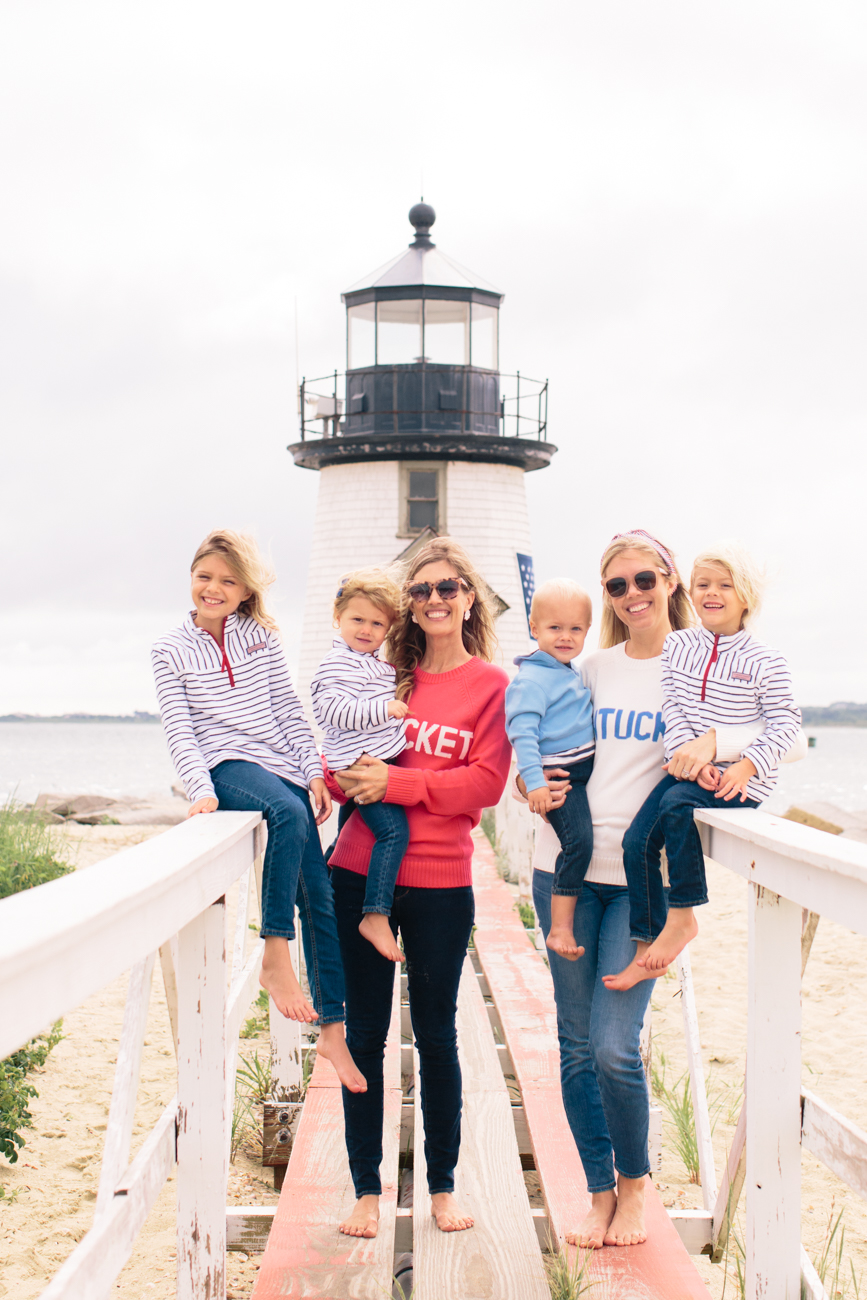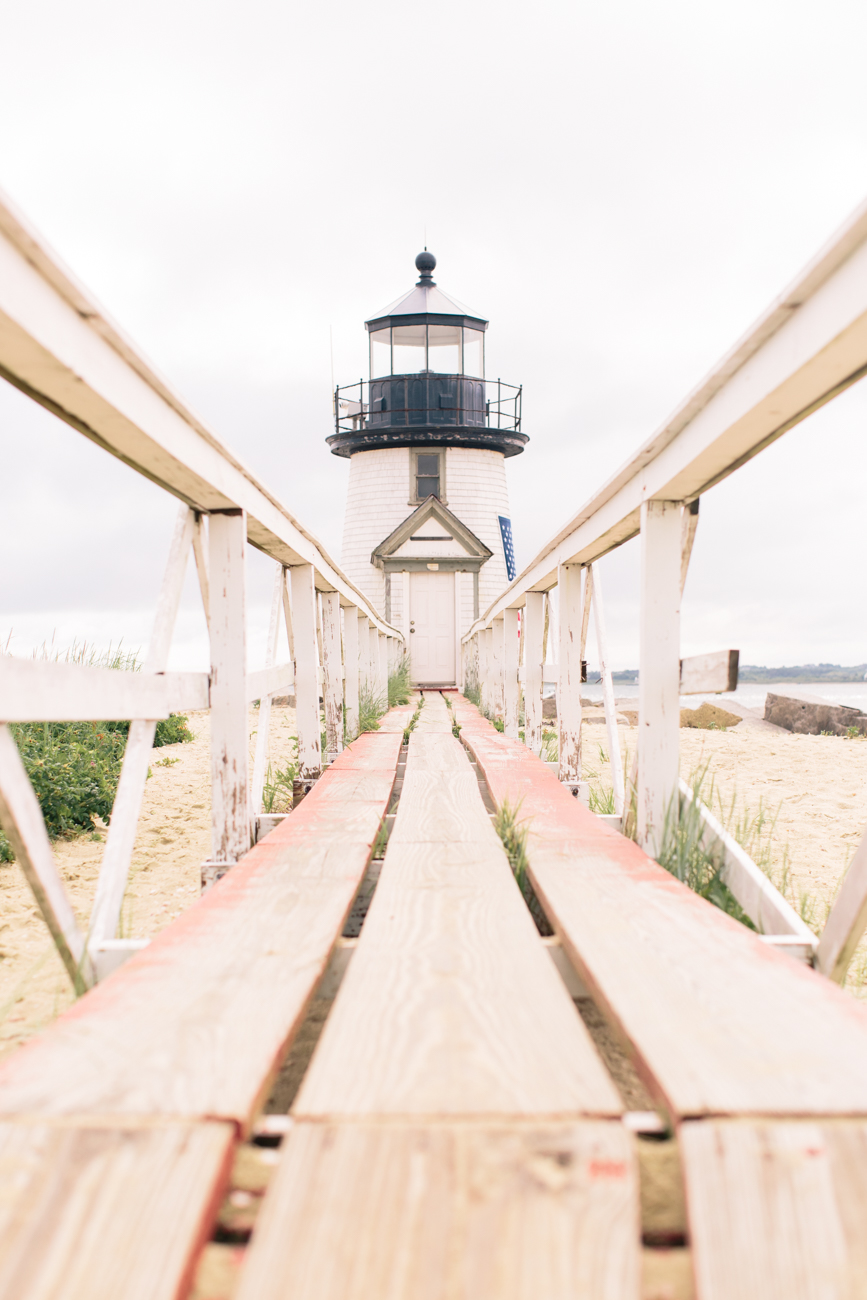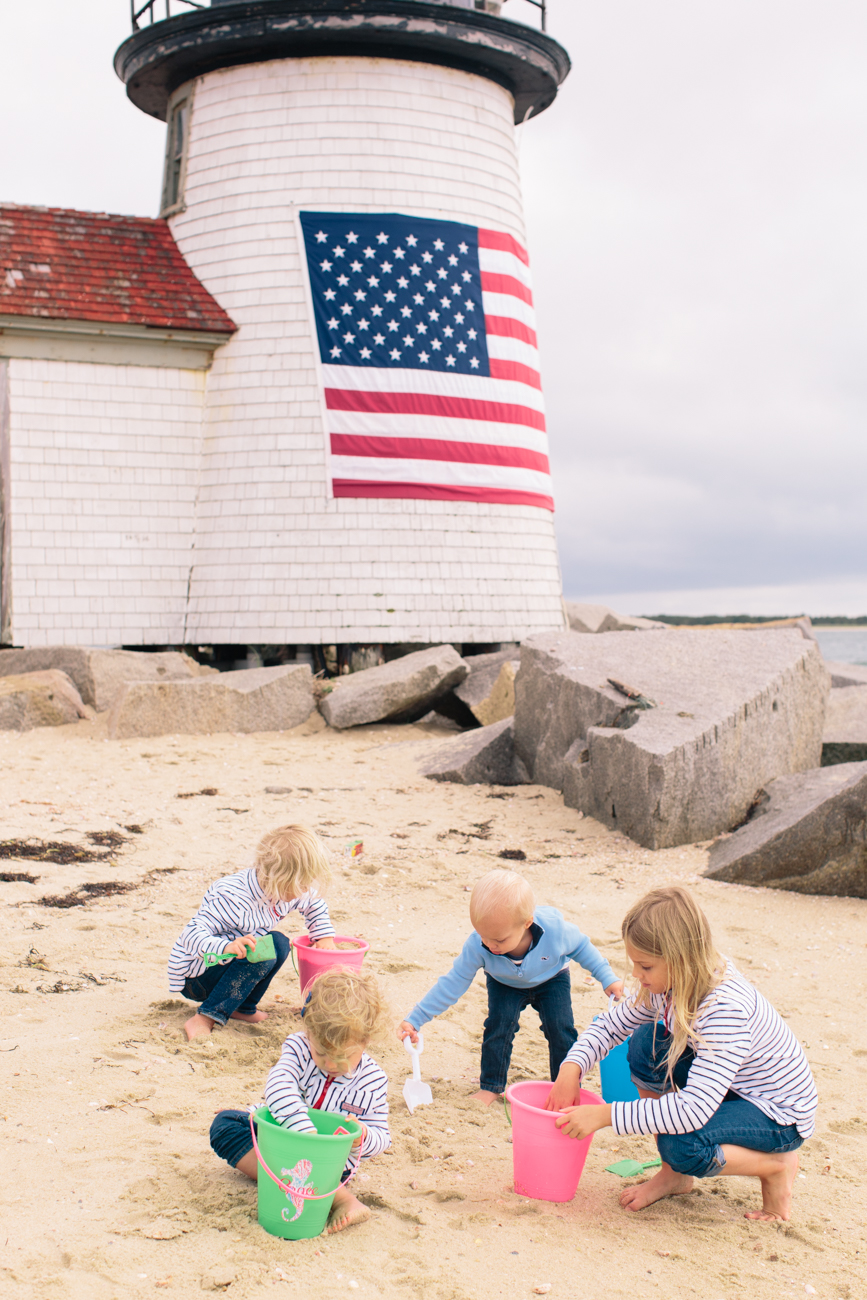 Brant Point Lighthouse – It's a quick, 5 minute walk from the Saltaire vacation rental and a great spot for the kids to play in the sand and watch the ferries and boats pass by.

Flowers and houses – We could drive around the island all day long and be happy as clams looking at the blooming flowers and beautiful homes. From climbing roses to hydrangeas and darling awnings to shingled homes, every house has something to see!
'Sconset – On the east side of the island is a small town called Siasconset, better known as 'Sconset, with only a few stores like a market, sandwich shop and post office. We love strolling along the Bluff Walk, a slightly worn path behind beautiful homes up on the cliff that overlooks the ocean and has breathtaking views. Definitely a must do every trip!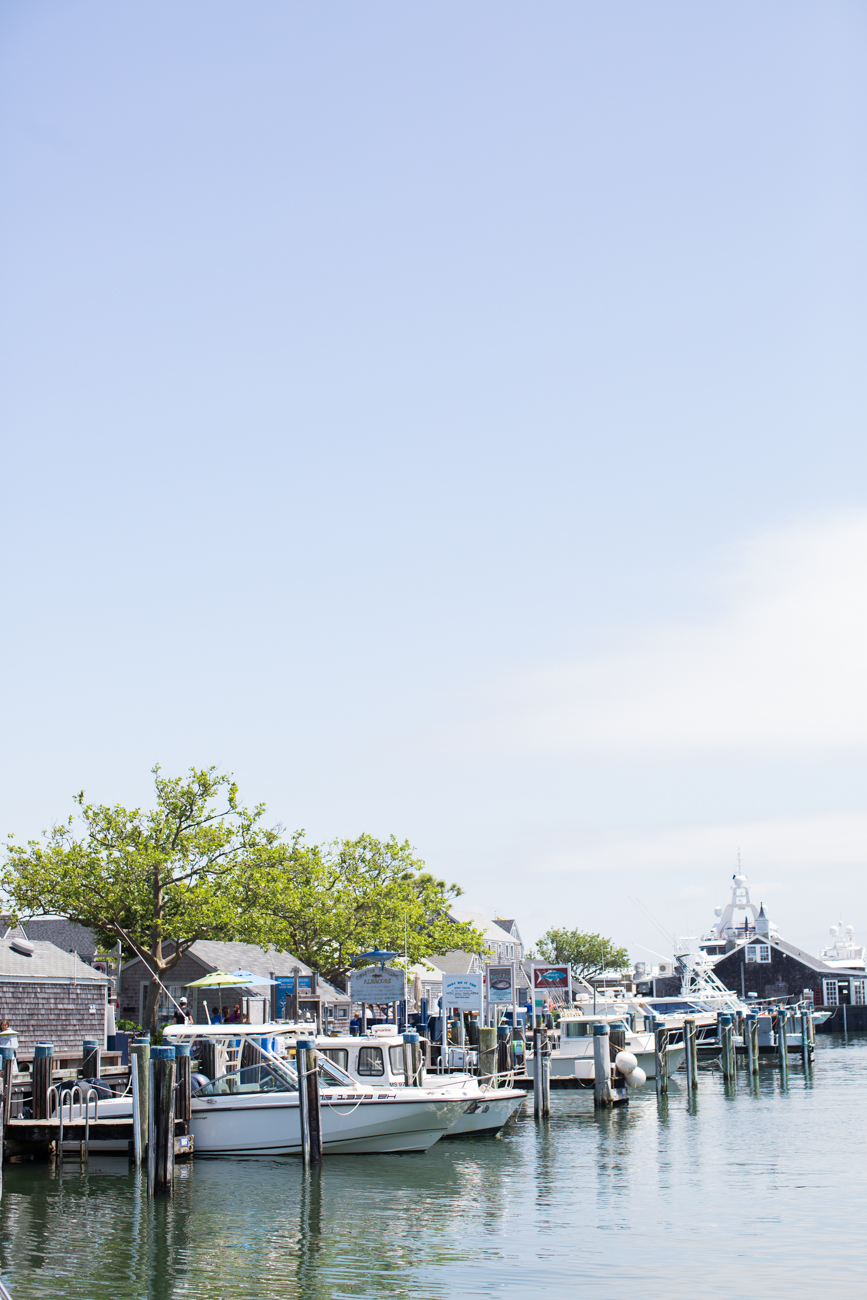 Straight Wharf – This bustling area is full of boats, restaurants and shops. We haven't been able to try the Endeavor Sailing Cruise or the Critter Cruise with the kids, but friends rave about both experiences and we hope to have time for them next time!
Whaling Museum – We haven't been inside the Whaling Museum, but it looks so cool and is definitely on our list of things to do for next time! It's right down the street from the Juice Bar, so we love to get our ice cream and sit out front to people watch. This is also where you can catch the WAVE, the public fixed route bus service offered across the island.
Where we love to shop:
Beautycounter – One of the cute shacks on the wharf is home to Beautycounter, a healthy and safer line of skin care, sun care, makeup, bath, and beauty products. We stocked up on a tinted moisturizer with SPF, a mineral sunscreen stick and lip gloss!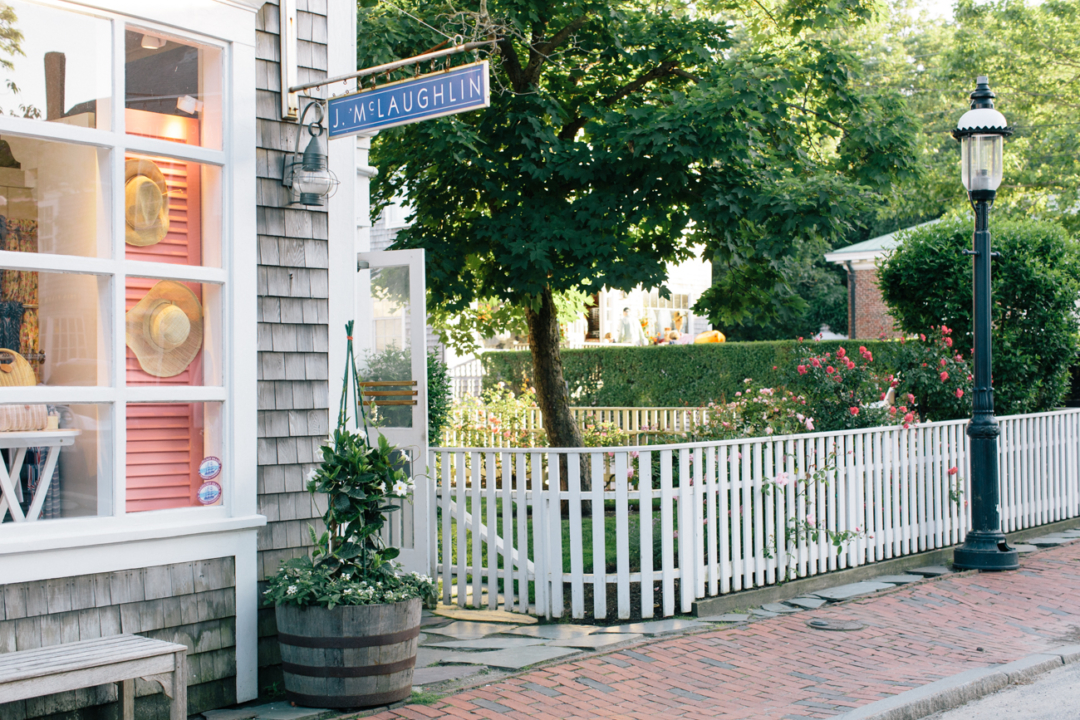 J.McLaughlin – One of our family favorites, J.McLaughlin, has the cutest shop on Nantucket just around the corner from Harborview. They offer women's, men's and children's clothes in colorful, preppy styles!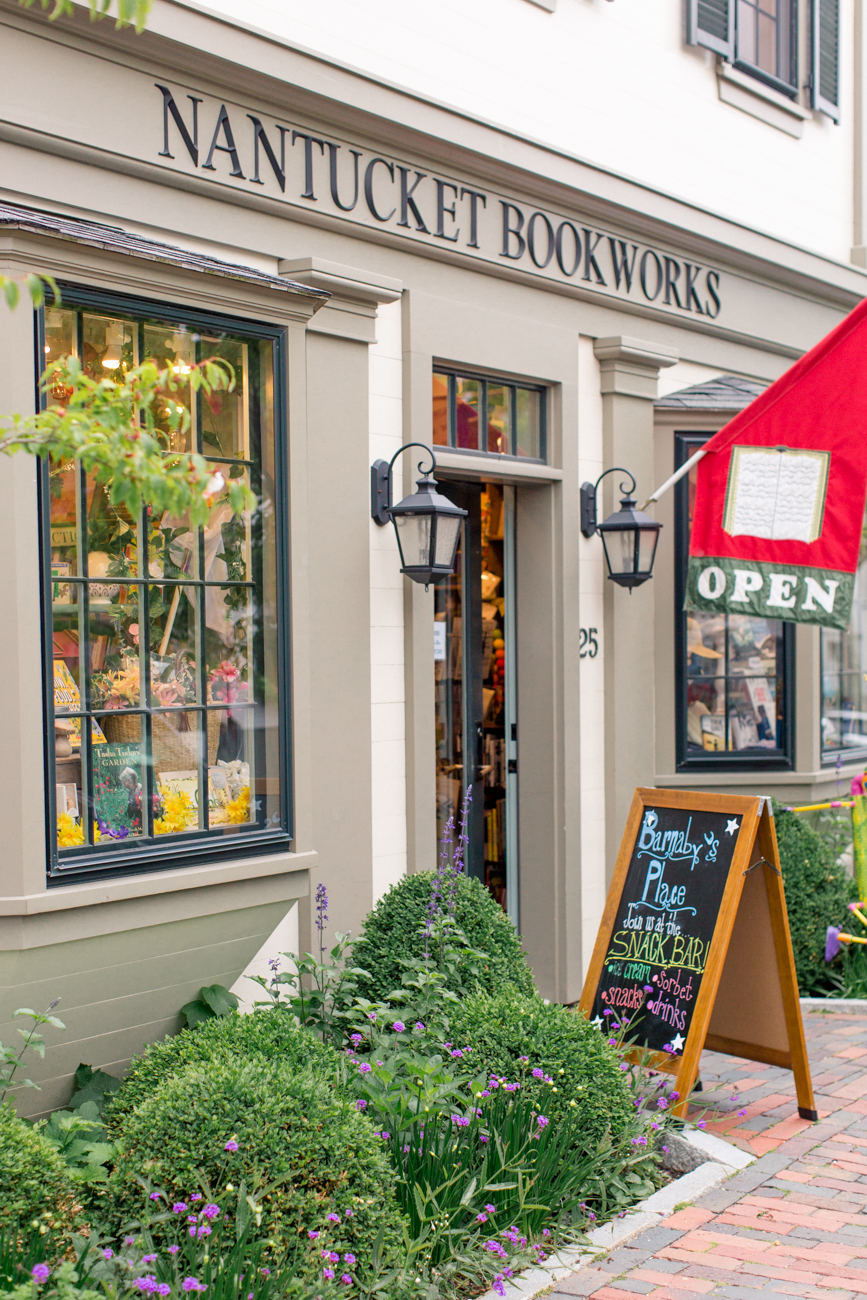 Nantucket Bookworks – We are big book worms, and Nantucket Bookworks is the best bookstore we have ever been to. It has a magical kids' area where we spent an hour swooning over books, toys, and a fun puzzle that we put together while on vacation!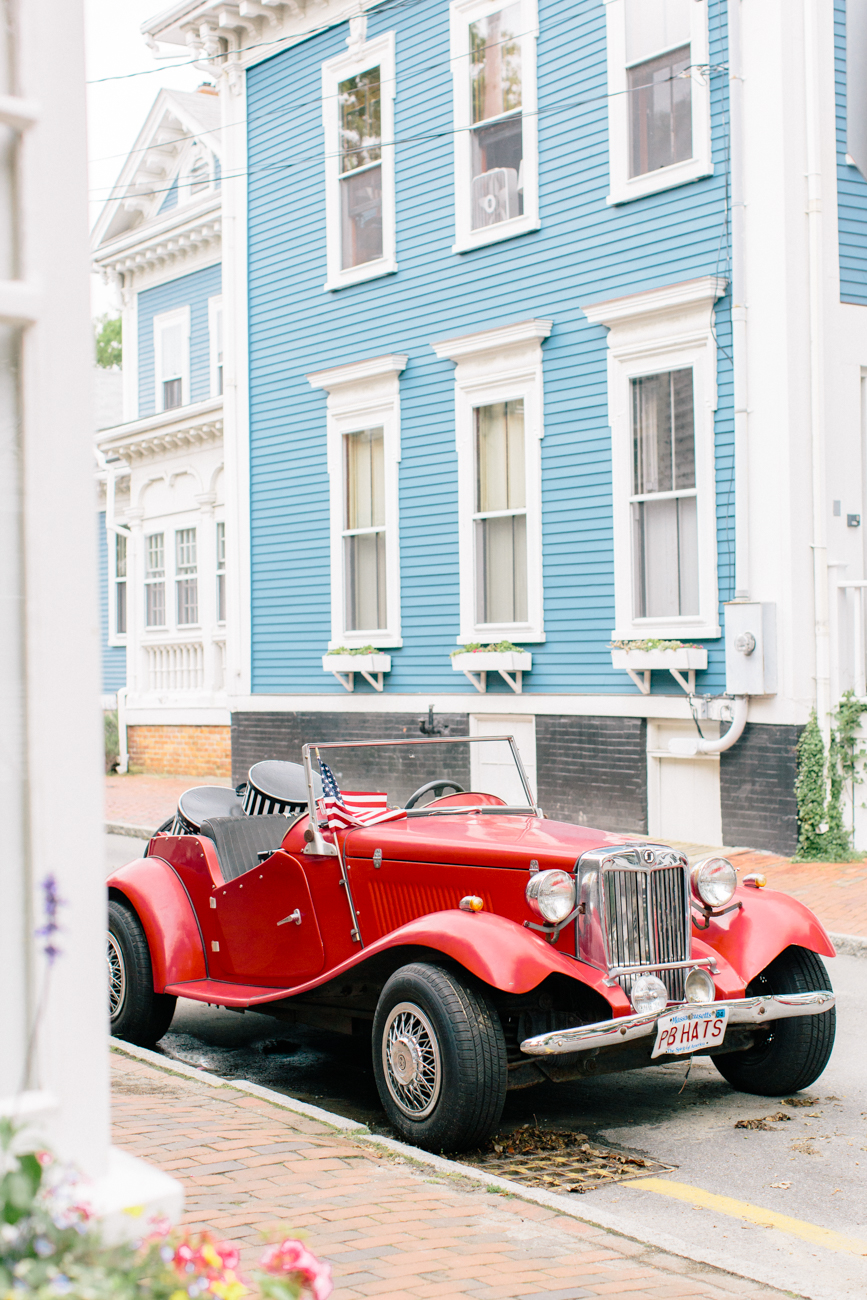 Peater Beaton Hat Studio – This hat shop is at the top of our shopping list! We haven't made it into the store yet, but we can't wait to stop into Peater Beaton and create two custom hats of our own! We also love their fiery red car that is spotted around town.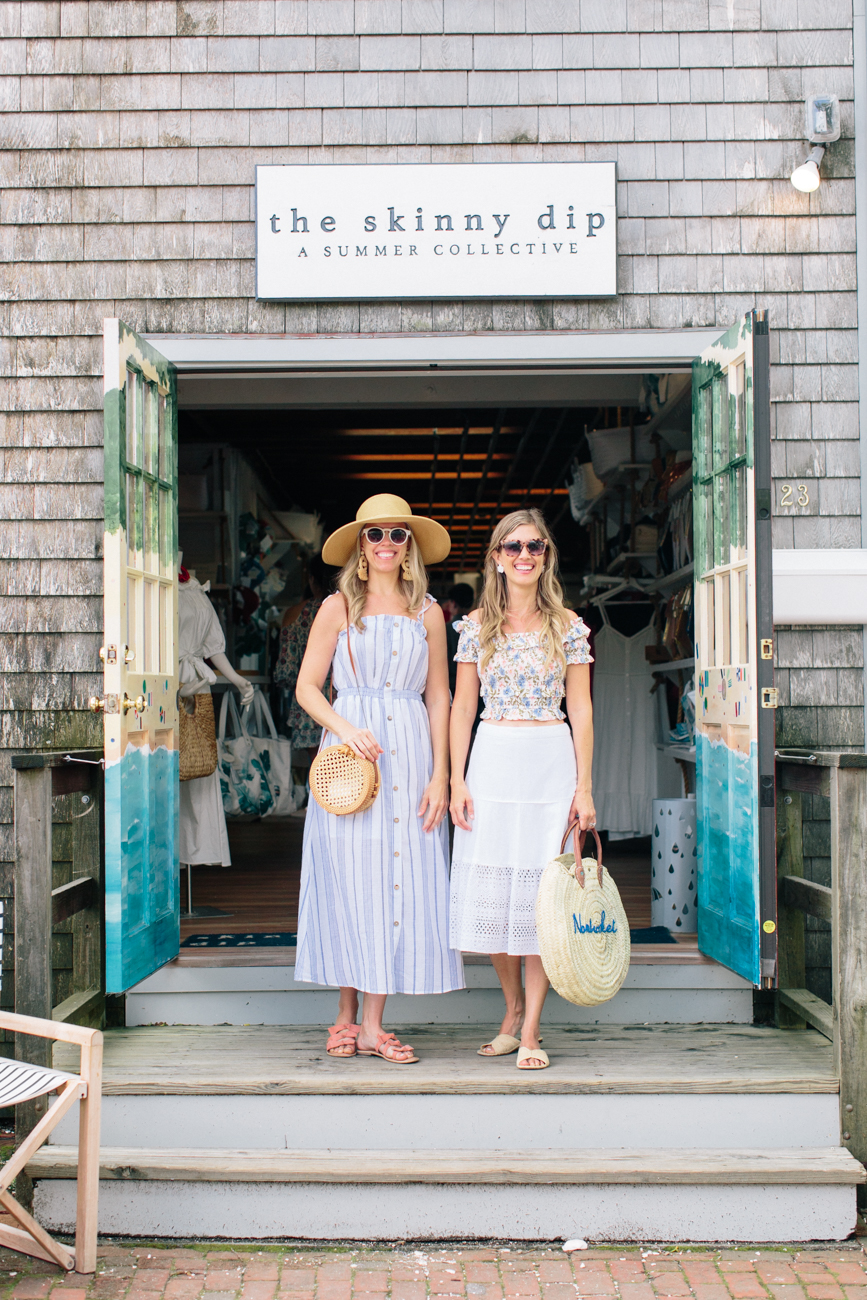 The Skinny Dip – This store is so stylish and fun! We love swinging by The Skinny Dip on the wharf to pick out Ellsworth & Ivey Nantucket sweaters and other great finds!
Vineyard Vines – The very best preppy store to stock up on everything from women's dresses to pullovers for girls and boys to men's button downs and more!
A few of our other favorite shops on the island include Beau & Ro, Lilly Pulitzer, Veronica Beard, Alice Walk and Milly & Grace!
Phew, that wraps it up! We hope you enjoyed this guide and would love hear from you if you use it or plan to use it. And if you have any Nantucket tips, please share away! xo
Credits:
Photography: Iris Moore Photography
Photography of Harborview interior shots: Cary Hazlegrove