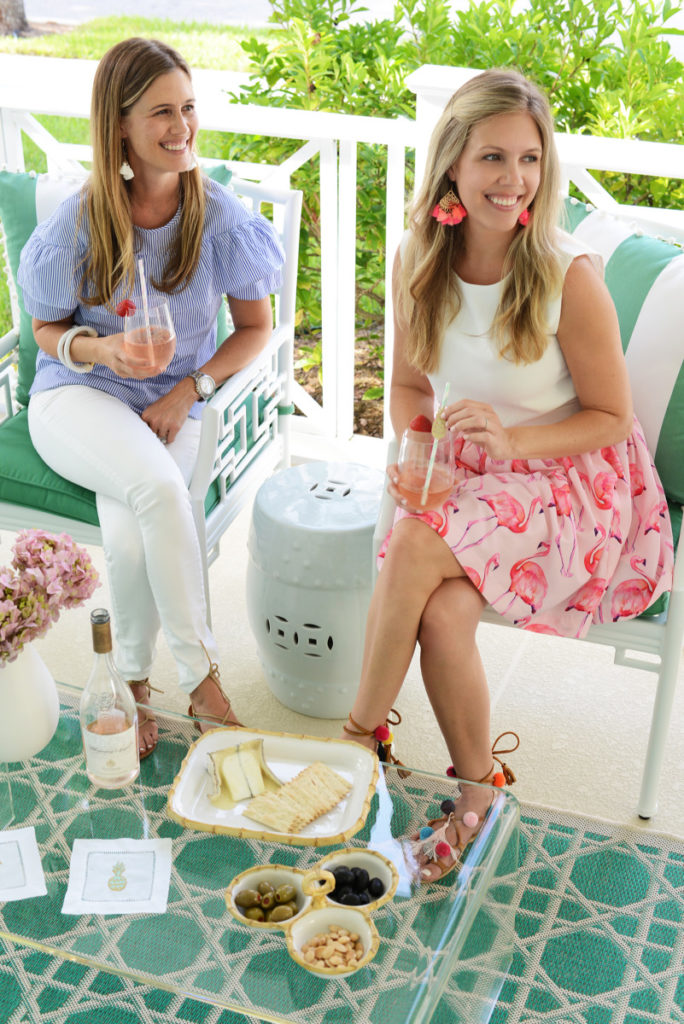 One of the best things about living in Florida is that we have practically 365 days of summer. Aside from getting extra hot and humid in the peak of summer, it's almost always a good idea to enjoy the outdoors on a daily basis. We especially love spending time in outdoor spaces that are extensions of the home. They are a great place to entertain friends, catch up with family and quietly read a book.
We recently had been looking for stylish, well-made and not crazy expensive patio furniture for our cute patio. That has not been an easy task! We hadn't found what we were looking for until we spotted these new pieces from Frontgate and Grandin Road. They have several options that fit perfectly with our Palm Beach style, and we couldn't be more excited to share some of them with you today!
Come along to see some behind-the-scenes pics of what we call our favorite new room in the house. It turned out so gorgeous, and we are counting down the days for cooler weather to come through so we can sit outside without breaking a sweat!
To makeover your patio, we suggest:
We hope you enjoyed these porch makeover ideas! It's well worth investing in an enjoyable outdoor space, and you can go as little or as big as your budget will allow!
If you're looking to snag some of our featured pieces, now is a great time for special deals in addition to sales! At Frontgate, you can get $50 for every $100 spent and Grandin Road is offering 25% off your order during the month of September.
Have a happy Labor Day weekend!
Credits:
Photography by: South Moon Photo
Hair by: AIRBAR
Patio furniture: c/o Frontgate and Grandin Road
Monogram pillow: c/o Emily McCarthy Shoppe
Bamboo serving pieces: c/o Juliska
Beth's blue blouse: J.Crew {top seller!}
Beth's white tassel earrings: c/o Tassel Soul
Danielle's flamingo skirt: c/o Party Skirts
Danielle's pom pom sandals: Goodnight Macaroon
Danielle's pink tassel earrings: c/o Tassel Soul
Flamingo stemless acrylic glasses: Palm Beach Lately
Pineapple stemless acrylic glasses: Palm Beach Lately
Flamingo linen cocktail napkins: Palm Beach Lately
Pineapple linen cocktail napkins: Palm Beach Lately