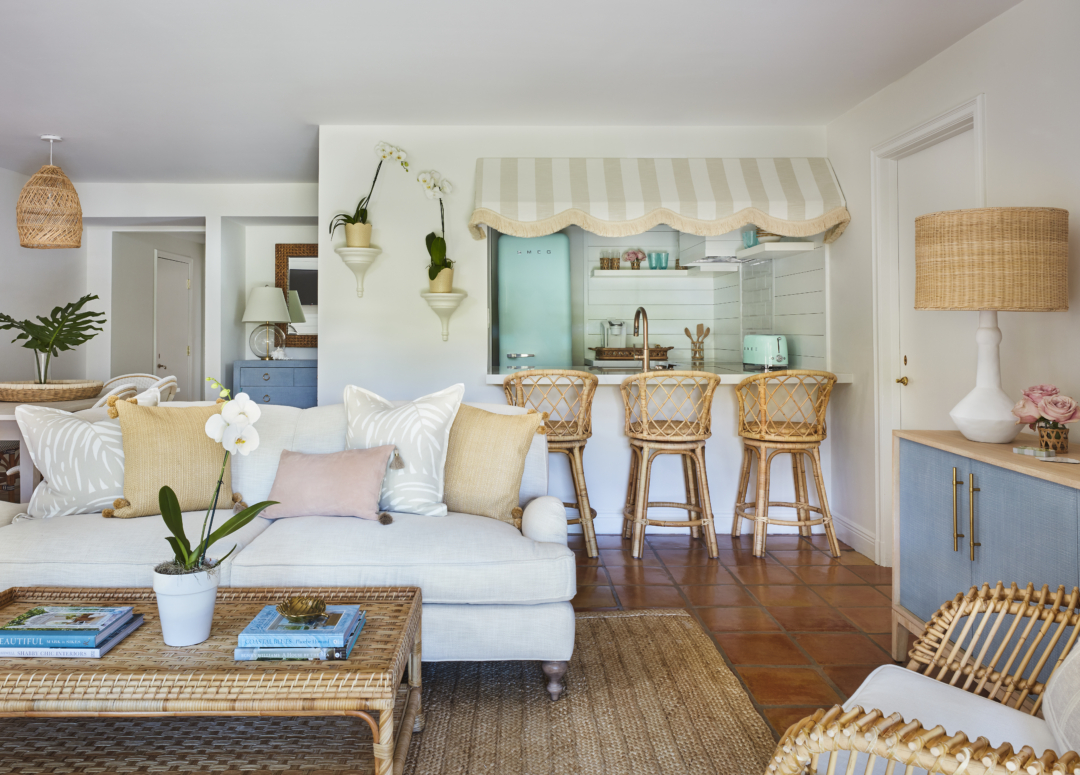 We received the best gift just before Christmas this year! Last week we wrapped up the villa we have been working on with Serena and Lily at The Colony Hotel, and it is as cute as can be! It was a 3 month whirlwind of designing and installing with the very best team. We'd love to share it with you today and invite you to come be one of the first guests to stay in the sunny new "Sisters Suite" by Serena & Lily and Palm Beach Lately at The Colony Hotel!
We'll be sharing all of the details room by room over the next few weeks, but we just had to share our favorite shots with you now! In case you missed it, be sure to check out the before photos of the villa. You can scroll through that post while you look at this post to compare all of the same before shots to these after shots. It is incredible to see the transformation!
The 1,200 square foot villa has been completely refreshed to feel light, bright and airy with blush and blue hued pillows, rattan furniture, custom window treatments with Serena & Lily fabrics by the yard and luxurious, hotel-friendly bedding and towels. It is hard to pick our favorite pieces, so we will be sharing all of them room-by-room so you can see it all!
Serena & Lily has the most luxurious, beach-friendly furniture, linens and decor and their incredible team was a pleasure to work with on this project, too. We also are beyond impressed with the team at The Colony Hotel. There are so many people working behind the scenes to give their guests the very best, and they will go to great lengths to spoil you. We know anyone who stays here will be well taken care of and want to come back soon!
We also couldn't have brought this vision to life without working with the most talented people in all areas of design! Dave with Hobgood Construction was a saint in giving us insight and direction on the big and little things every single day, sweet Patty with Waterview Kitchens and Joy with Treasure Coast Carpet & Interiors gave the best direction and suggestions with cabinets, tile, wood and carpet, Troy and his team with Palm Beach Painting Service did an excellent job painting the villa white from top to bottom and even painted the surfboard pink for us, Monark Premium Appliance was wonderful with the ordering kitchen appliances and the Smeg fridge and toaster are the first things everyone comments on, Spazio Marble & Granite recommended the gorgeous kitchen countertop, Juliska and Amanda Lindroth filled the kitchen shelves with the loveliest plates, bowls, glasses, vases, placemats and more, Chelsea Lane & Company was a delight to work with wallpaper installation, John Garell is a magician with creating custom window treatments from fabrics and trims, JVH Fine Carpentry did a beautiful job refurbishing the bathroom cabinets and putting new doors on the front as well as custom shelves in the kitchen, Gray Malin gave us the stunning Lady in Lilly photo in the living room, Pineapples and Palms generously donated the coffee table books and framed sea fan in one of the bathrooms, and Framebridge is always our favorite for framing photos and art and did a great job framing the lifeguard stand print from 527 Photo! We also want to thank Brantley Photography for capturing the best angles and photos of the villa!
If you are thinking of coming to Palm Beach, you have to check out the "Sisters Suite" for your stay! Guests of the villa receive all the same benefits as the hotel, in addition to other amenities. You can learn more about the villas here.  And when you book the villa online or over the phone, be sure to include or mention code "PBL" to get an exclusive welcome gift from Palm Beach Lately for your stay! 
Click here to book your stay!
Also while you are here, don't miss Serena & Lily's brand new Design Shop located in the heart of Palm Beach. The shop blew us away with creativity, colors, fabrics, materials and an exclusive Palm Beach collection. It is truly a treat to welcome the shop, and we can't wait to keep using their pieces in our upcoming projects. If you have any questions at all, please feel free to email us at hello@palmbeachlately.com or leave a comment below. You can also see some fun behind-the-scenes clips in our Instagram stories at @palmbeachlately!
We hope everyone has a very happy holiday, whether it's sunshine or snow! xo
Many thanks to the wonderful crew who helped to make this happen:
Treasure Coast Carpet & Interiors
Chelsea Lane & Company (Wallpaper)
JVH Fine Carpentry
John Garell for custom drapes