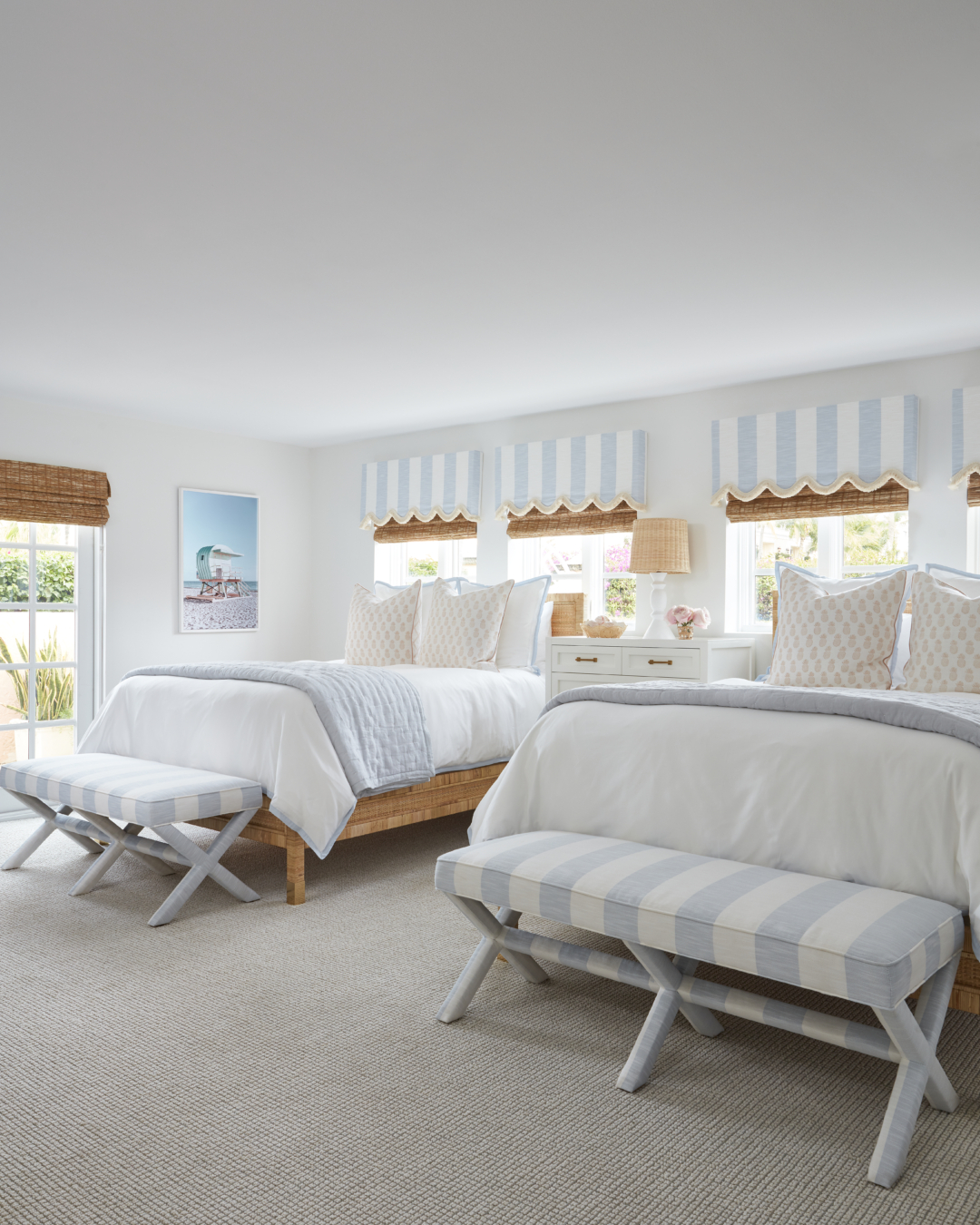 If you have been by our blog lately, you may have seen the "before" and "after" posts of our new "Sisters Suite" with Serena & Lily and Palm Beach Lately at The Colony Hotel. There are still so many details that we haven't shared, so we want to take you room by room to show them to you. Today we are walking you through one of two master bedrooms to share our faves that include new Serena & Lily items that just launched in their latest collection!
When we were designing this extra large bedroom, we really wanted it to appeal to all guests – from little sisters or brothers to girlfriends or couples – so we chose the universally pleasing palette of blush and light blue. The room is very large in size and easily fits two queen beds, so we started with two Natural Balboa Beds by Serena & Lily as the foundation. Between the beds, we placed the Pierson Dresser as an oversized nightstand and across the room, we placed the Blake Raffia Dresser with a flatscreen tv hung above it on the wall.
For the bedding, we spotted and instantly loved Serena & Lily's new blush pineapple pillows. Each bed has a pair, as well as luxurious white duvets, sheets and soft blue quilts on top. To pull in more blue, we really love the light blue beach stripe fabric that can be bought by the yard or used in custom S&L pieces. We ordered the fabric and had our drapery guy, John, make these adorable striped cornices with scalloped fringe edge. And we ordered two Parker Benches in the light blue beach stripe fabric for the ends of the beds.
On the walls, we hung this chic lifeguard stand print by 527Photo that was framed by our favorite company, Framebridge. We also bought this Surfboard Wall Decor and had our painters paint it blush before we hung it on the wall. On a smaller wall by the door, we hung this Rattan Wall Hanger for hats, bags or towels that guests use as they come and go!
In the corner near the closet, we added a custom blue Thompson Swivel Chair with a raffia pom pom pillow. Next to it, we placed a round side table that is perfect for guests to rest their glass, magazine or book, and the brass floor lamp located on the other side of the chair adds the perfect glow when the sun goes down. Above the chair, we hung a small round white rattan mirror that brings in a subtle nautical vibe. We also chose the new blush pineapple wallpaper for both the closet and the en-suite bathroom that we'll show you next!
The full master bathroom did not need to be completely made-over, but it did need a little lift. The blush pineapple wallpaper was the perfect hue and pattern to brighten the space and balance out the black and white checkered floor. Then we refurbished the cabinets by painting them white and updated the handles to gold hardware. We also updated the bathroom fixtures to this gold sink faucet, this gold towel bar and this gold towel ring.
We hung the medium sized natural rattan mirror to bring a fun shape and allow for more of the wallpaper to show. We stocked the bathrooms with luxurious white washcloths, hand towels, bath towels, and bath rugs all from Serena & Lily as well. And our favorite finishing touches include this Teak Step Stool for little kids who need a little height, this wicker vase and crochet bowl <similar> filled with The Colony's signature toiletries and the cute pink rubber ducky that makes you want to hop right into the shower!
This bedroom has us so ready for a sistercation, and if you are wanting a sunny getaway, the "Sisters Suite" is the perfect place for you! If you book the suite, be sure to use code "PBL" for an extra special welcome gift upon arrival. And to book your stay, just click here! We hope to have you as our guests at the "Sisters Suite" very soon! xo
P.S. Locals… you can now shop all of these beach-friendly goodies and much more at Serena and Lily's newest Design Shop located right here in the heart of Palm Beach!
Credits:
Photography: Brantley Photography
Treasure Coast Carpet & Interiors
Palm Beach Painting Service
Chelsea Lane & Company (Wallpaper)
JVH Fine Carpentry
John Garell for custom drapes