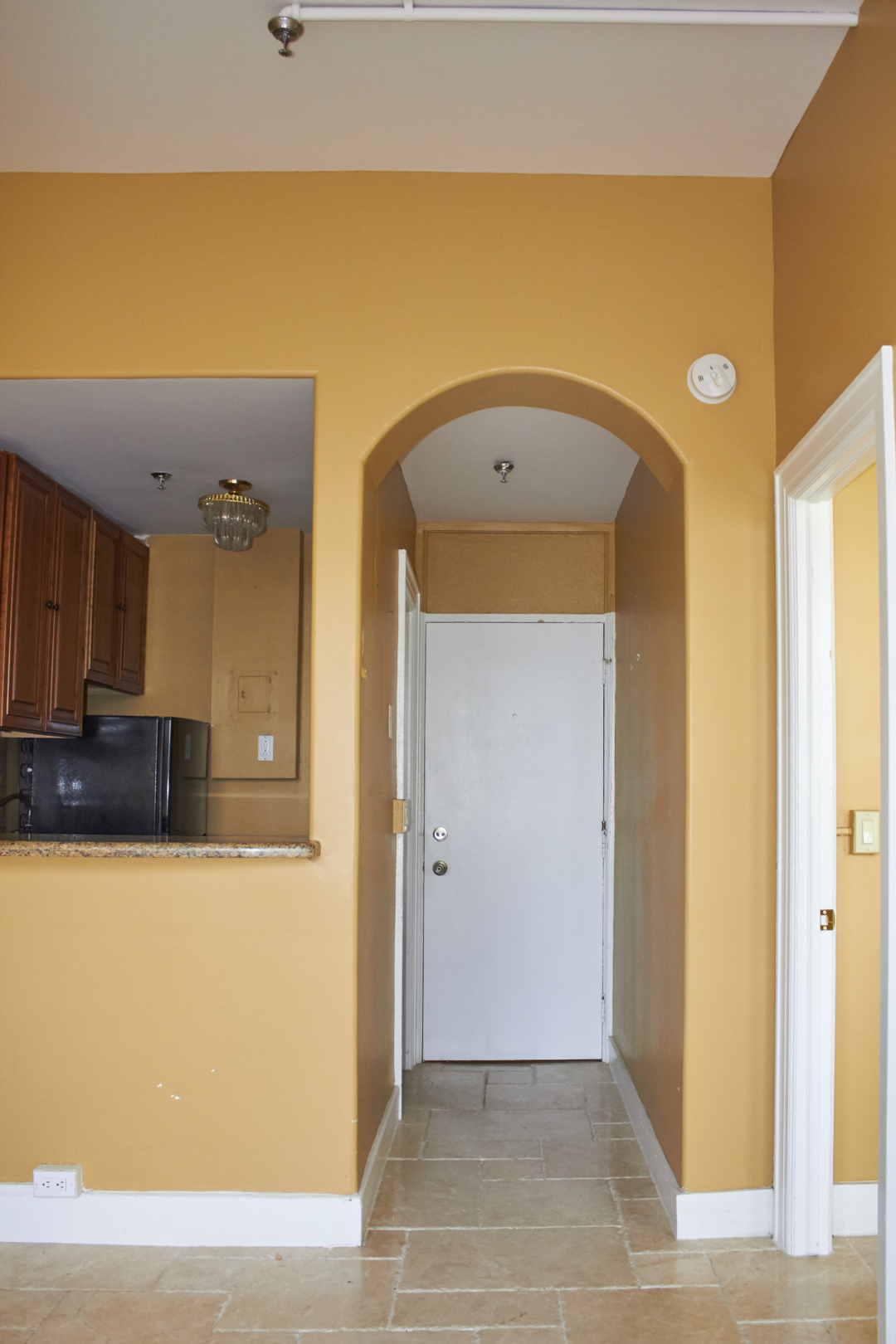 Last month we made a big announcement that later this summer we will be opening a vacation rental right here in the heart of Palm Beach! Come along today as we share the "before" and initial renovation photos taken by the lovely interior photographer, Brantley Photography, as well as a few of our design ideas and the great team of people who are helping us to make it happen!
This project has truly been a collaboration with family and friends. We started with Lindsay Goldberg's cousin, Hillary McClain, AIA of McClain Architecture, who drafted the plans for our nearly 400 sq. ft. space in the Palm Beach Hotel. She made tweaks to the kitchenette, living room, bedroom and bathroom before we sent her plans to the town for approval.
Our dad also came on board as the general contractor with his construction company, Gregory James, Inc., as well as our friend Dave Hobgood of Hobgood Construction as the project manager. They have been on top of all of the details both big and small and helped take out the cabinets, countertop, sink, refrigerator, bathroom console and toilet. We watched our dad build many homes from the ground up and grew up on lots of construction sites, but this is our first renovation project for Palm Beach Lately and we are so grateful for them walking us through this renovation process!
We have also been working with a super sweet duo, Patty Anderson of Waterview Kitchens and Joy Capo of Treasure Coast Carpet and Interiors. Joy's team swiftly took out the old tile flooring and bathroom tiles and will soon be installing new wood floors and bathroom tiles. Her team will also be shiplapping nearly all of the walls to give it a fresh and clean beach feel <bye, bye mustard walls!>. And Patty helped us to pick out the perfect cabinets and open shelves for the kitchenette that her team will be installing very soon!
The kindest team from Kasper Electric is helping us with our electrical needs. Seriously, they are nothing but smiles. And in the living room area <pictured above>, E.D.S. Air Conditioning will be replacing the current a/c unit with a brand new one <not so funny story: the old one started smoking really bad and set off the fire alarm when we were working in the unit one day!>. We have also been working with a few of our favorite home decor brands and can't wait to share the furniture and decor very soon!
Joy's team is updating the bedroom floors to new wood floors and walls to white shiplap, and The Louver Shop will be installing new plantation shutters in the bedroom and living room, too. And we can't wait to share the fun furniture and decor we picked for this space!
Hobgood Construction is also installing new bedroom and bathroom doors and will be transforming the closet into a stylish space for guests to keep their clothes <see above>.
Last but not least, Joy's team from Treasure Coast Carpet and Interiors took out the old tub and will be transforming the space into a shower with brand new tile in the bathroom. Shane Stinson Plumbing has been fabulous for all of our plumbing needs, and we just picked out some gorgeous brass fixtures and new sinks for both the bathroom and kitchenette from Ferguson and Signature Hardware!
We couldn't have asked for a better team of people to work with, and we aren't just saying that. They are all honest, hard working, efficient, reliable, and have great reputations in the area. If you're looking for any services in their fields, we highly recommend them and are happy to put you in touch if you email us at hello@palmbeachlately.com.
For more behind the scenes sneak peeks and to stay in the loop on project updates, be sure to follow our insta stories and feed on Instagram at @palmbeachlately! xo
Credits:
Photography: Brantley Photography
General Contractor: c/o Gregory James, Inc.
Project Manager: c/o Hobgood Construction
Realtor: Sarah Koenig of Brown Harris Stevens 
Architect: Hillary H. McClain, AIA, McClain Architecture, hhm@mcclainarchitecture.com
Kitchen cabinets: c/o Waterview Kitchens
Wood floors and tiles: c/o Treasure Coast Carpet and Interiors
Plumbing: c/o Shane Stinson Plumbing
Electrical: c/o Kasper Electric
Air conditioning: c/o E.D.S. Air Conditioning
Plantation shutters: c/o The Louver Shop
Kitchenette and bathroom fixtures: Ferguson and Signature Hardware