When we were choosing the bedding for our new Pineapple Pad vacation rental, we knew we wanted to work with our friends and the amazing luxury linen specialists at Pioneer Linens. They are a local, family-owned shop and have been in the business for more than 100 years. Sisters Camille and Marissa recently came by to help us style the beautiful bed in the bedroom and stock towels in the bathroom, and we'd love to share that with you today!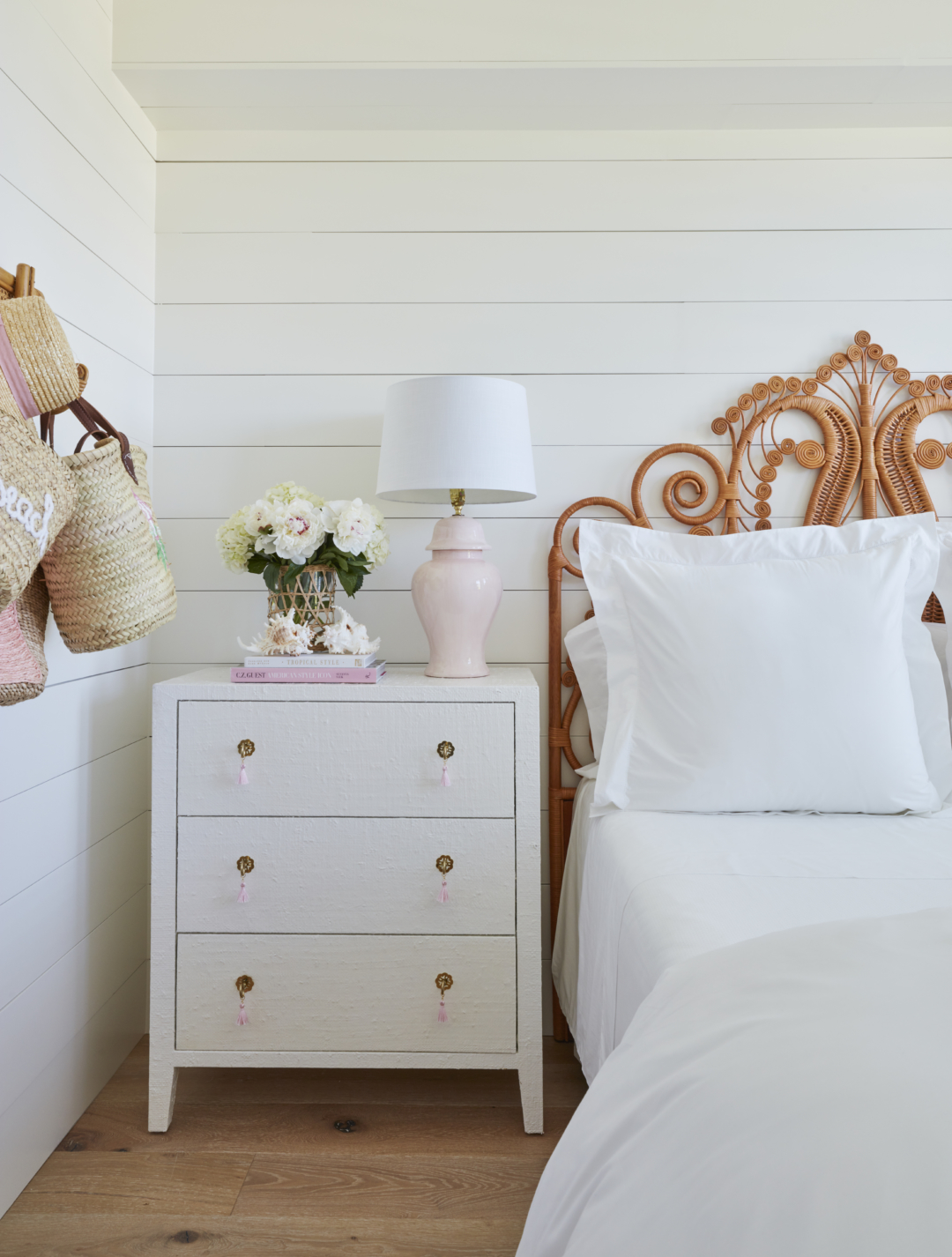 We started the bed with the softest and most crisp white sheet set that includes a duvet cover, flat sheet, fitted sheet, and pair of pillow cases. Then we added a coverlet set that includes the cutest scalloped coverlet and pair of shams. We filled the pillowcases and duvet with fluffy pillows and an insert that feels like you are sleeping on a cloud. Guests will enjoy how luxurious these linens are and will definitely have some of the best sleep ever!
We also added this adorable boudoir pillow with our Pineapple Pad logo that Emily McCarthy created for us on it! We love how she created a beautiful design that included all of our favorite things for the Pineapple Pad – a pink pineapple, a striped beach umbrella, a pair of P's for Pineapple Pad, and a pair of palms and orchids. It's such sweet touch throughout the Pineapple Pad, especially on the linens and towels from Pioneer Linens!
In the bathroom, guests will enjoy bright white wash cloths, hand towels, bath towels and bath mats. The sisters at Pioneer Linens shared that they are crafted from 100% Turkish cotton with low twist yarns to weave a terrycloth that is both soft and absorbent. We also love that they have a simply finished hem and no dobby for a clean, modern look. And how cute is the embroidered tip towel they created for us also with the Pineapple Pad logo?!
When we stay in hotels, we love to wear their robes and slippers to relax and unwind. For an extra comfortable stay, guests can find a pair of one-size-fits-most robes and slippers in the closet of the Pineapple Pad. These cool-in-all-seasons robes are a lightweight woven pattern and the slippers are adjustable and plush. Both look so great with the Pineapple Pad custom logo and so cute with the blush and white striped wallpaper in the closet!
When in the area, be sure to visit Pioneer Linens on Clematis Street to see the latest bedding fashions, fine quality bath products and experience the individual service of knowledgeable personal shoppers. You can also click here to shop online for all of the linens in the Pineapple Pad. And to check out the Pineapple Pad and book a stay, click here!
Credits:
Photography: Brantley Photography
Bedding, towels, robes and slippers: c/o Pioneer Linens
Pineapple Pad logo: Emily McCarthy
*Thank you to Pioneer Linens for partnering with us on this post!