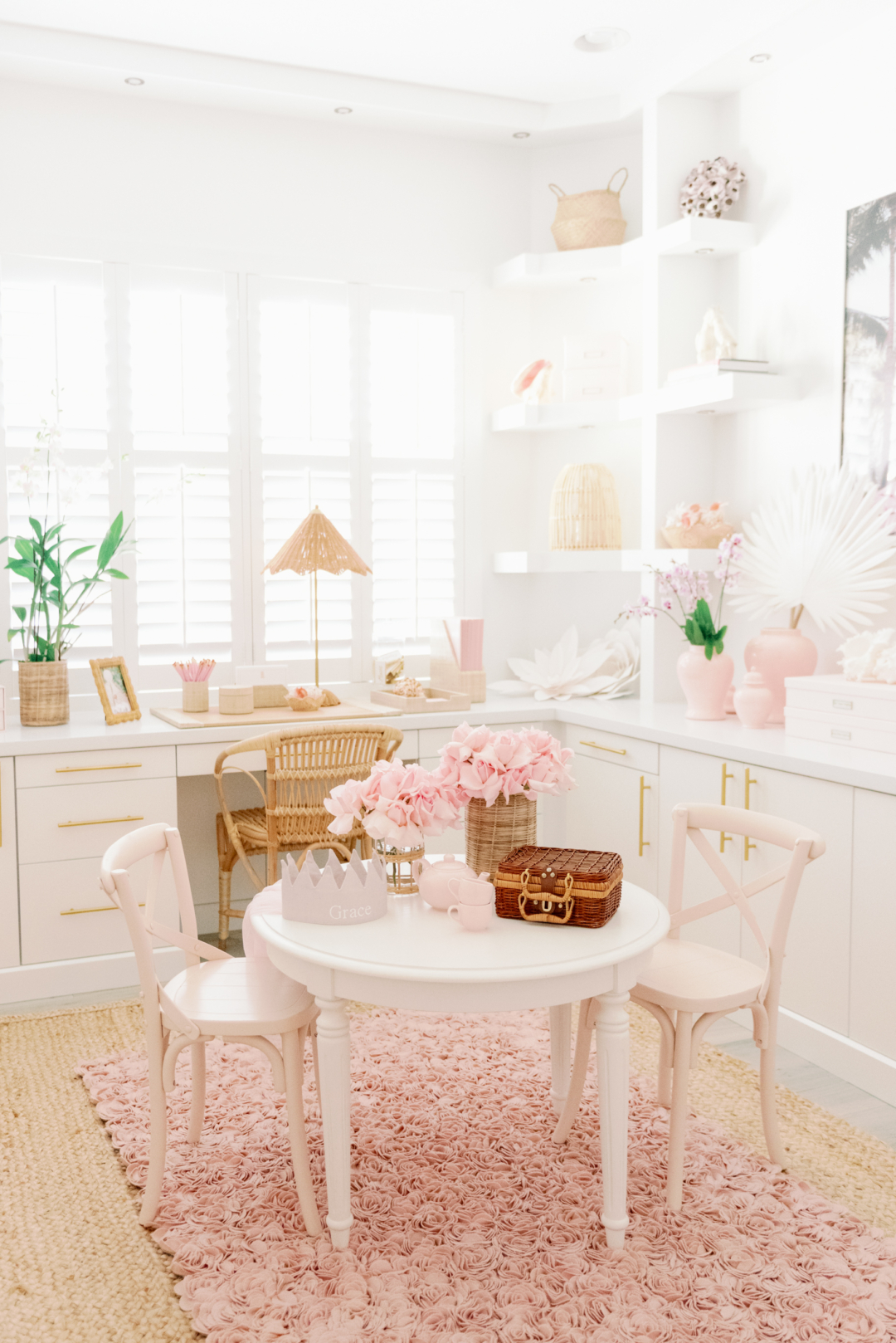 With the baby coming soon, my husband and I decided to switch a few rooms around to best accommodate our growing family. We decided my husband and I would switch desk space in the house and turn the office into a playroom/office. The original design was for his office needs, so I enlisted the help of Korinne from Urban Simplicity to help me best utilize the cabinet space to organize the toys, books, games, etc. The original office had grey shelving and cabinets, so I first had it painted all white and switched the silver to brass hardware.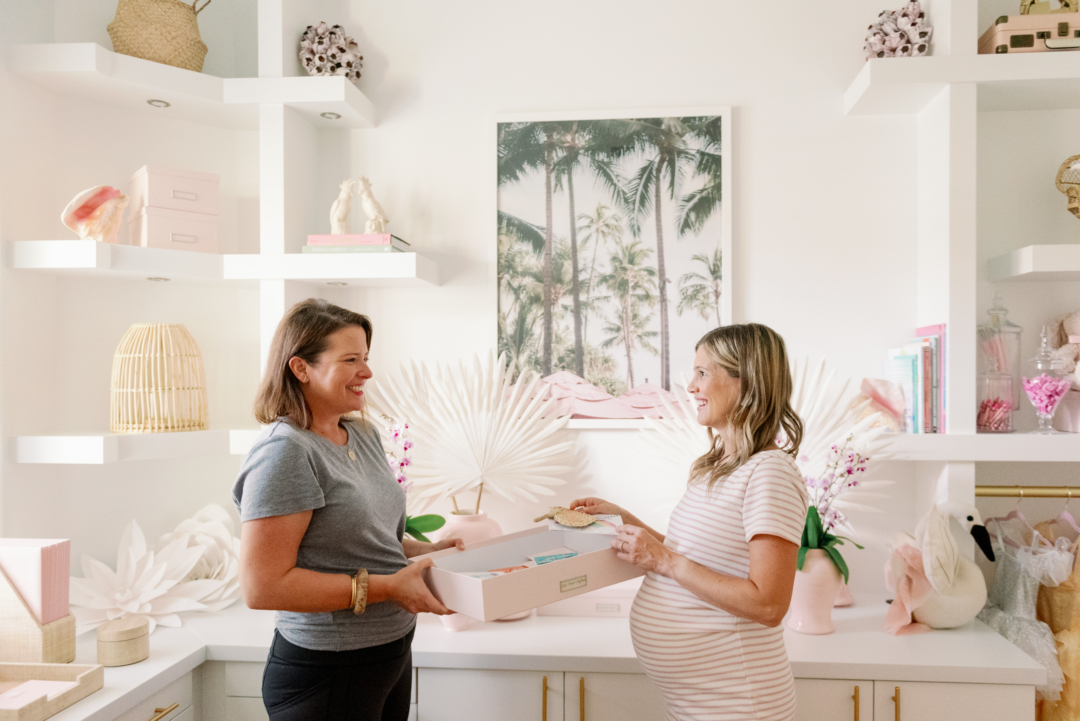 Korinne started Urban Simplicity in 2010 after working for a decade in politics and splits her time between Palm Beach and New York. She combines a passion for problem solving with a sense of humor, cheerful nature and Southern charm.
Korinne organized what was in the old playroom and helped me pare down to only what we wanted to keep. We simplified it to keep what Grace currently plays with and saved some toys for the baby and donated the rest of the old toys and stuffed animals to charity.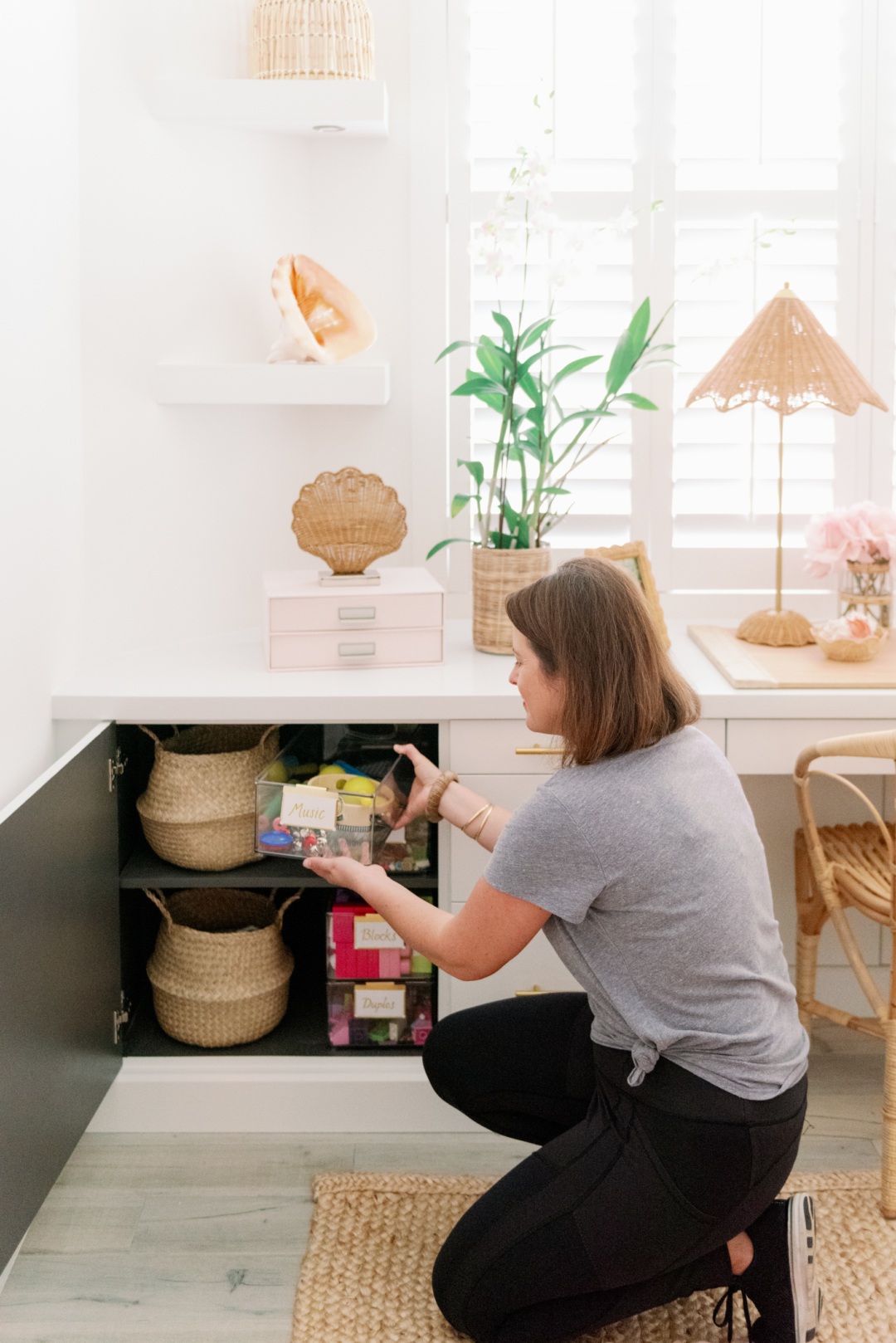 Korinne came up with a plan to best organize everything in the new playroom and sent me a list of products from The Container Store <sharing the products she used below> that was best used for everything from drawers for markers and crayons to bins for dolls and toys.
I also have a lot of keepsakes that I wanted to organize from baby shower and baptism to school and cards we keep. She selected these adorable blush boxes in different sizes to accommodate what we planned to store.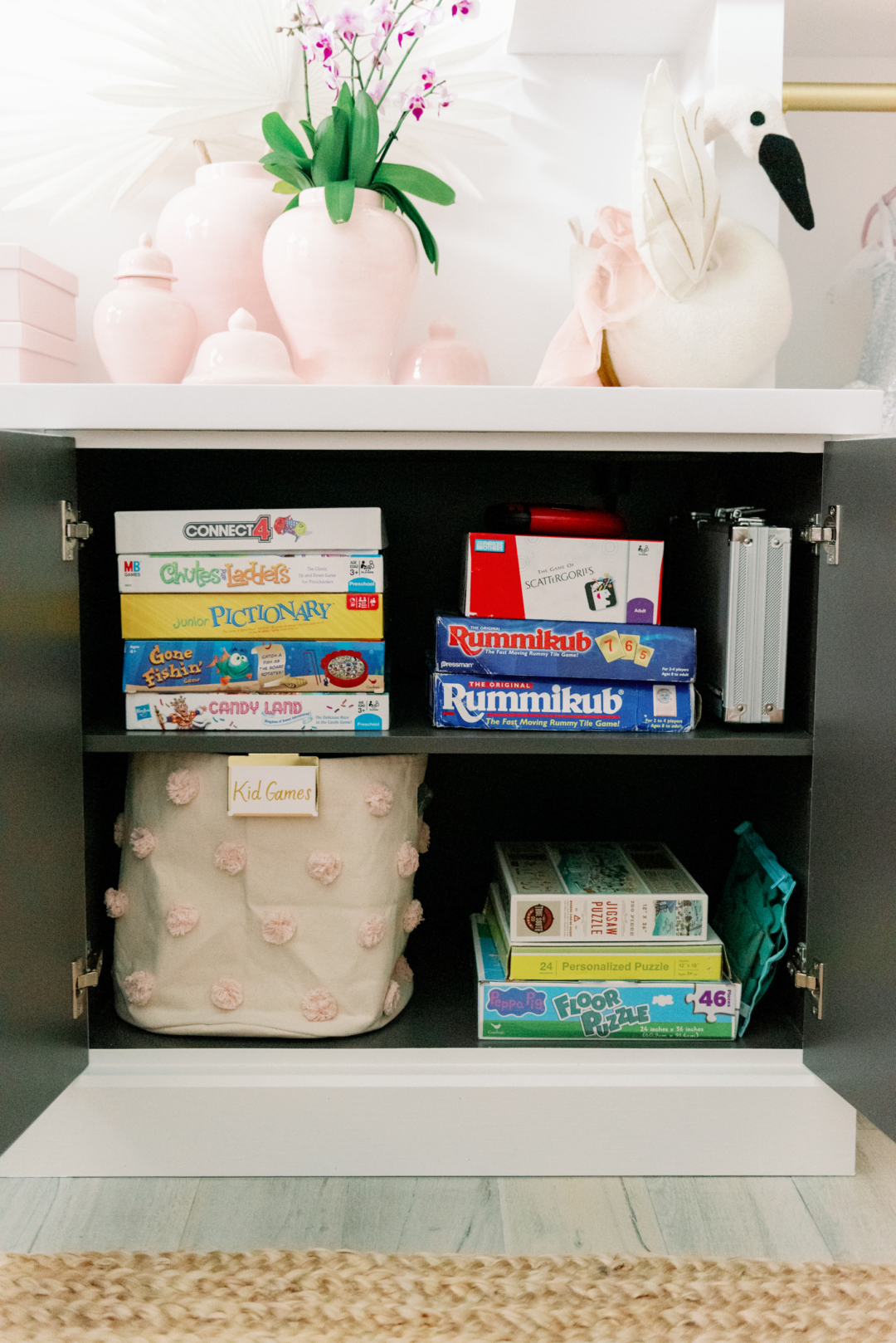 I also enlisted the help of my friends from Luxe Report Designs to style the shelves with a mix of blush pink ginger jars, shells and rattan accessories.
My desk is my new favorite place in the house! I love how Luxe Report Designs incorporated the rattan desk accessories and chair from HIVE. They used the new beehive lanterns Lindroth Design as well as our favorite rattan hurricane vases and raffia baskets with shells mixed in blush pink file folders, stationery and more. I have wanted this lamp by Celerie Kemble / Kemble Interiors at The Kemble Shop for a while and this was the perfect spot to put it!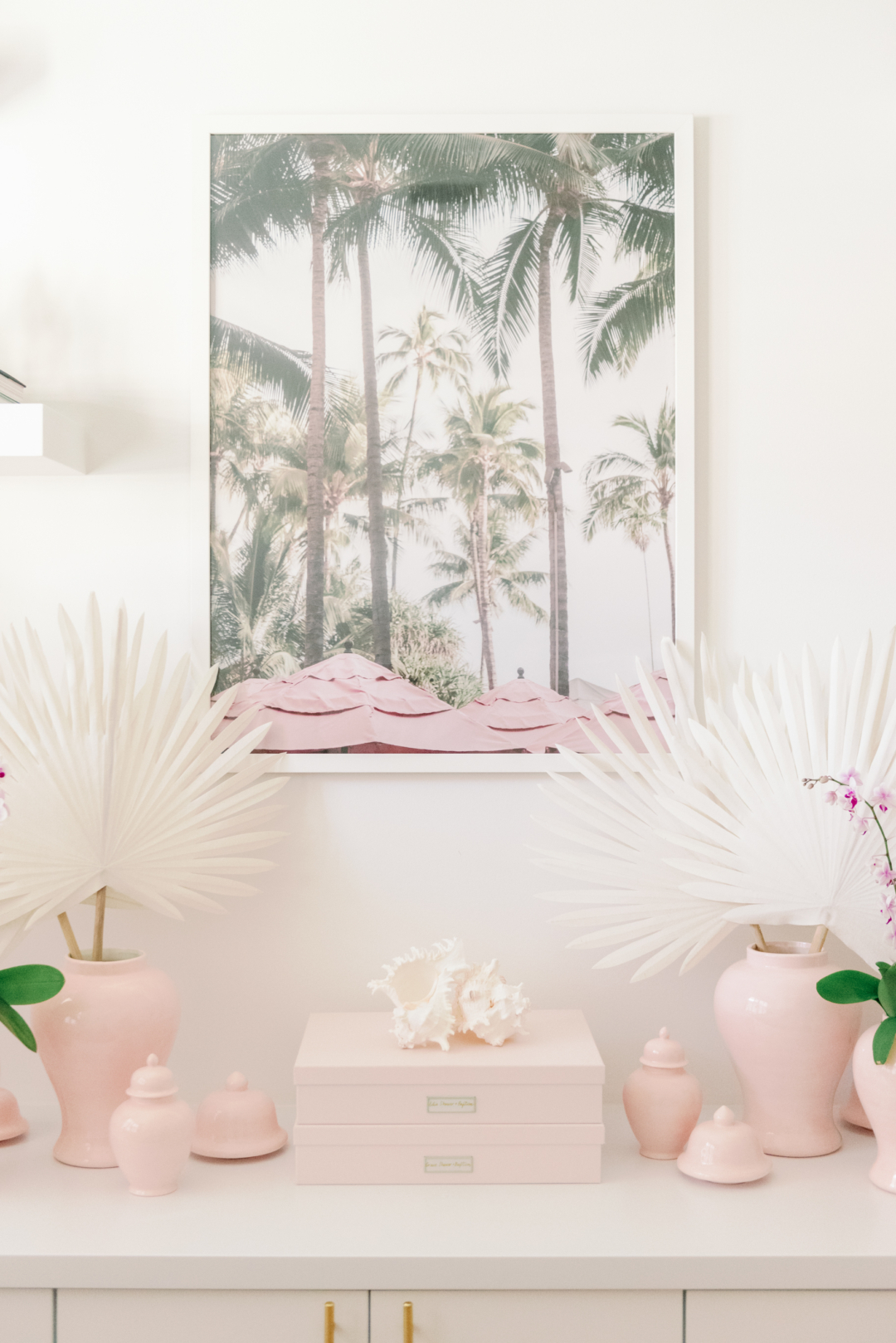 I came across 527 Photo on Etsy and she has so many beautiful tropical prints from Miami, Hawaii and other destinations. This one jumped out at me and I knew I had to include this relaxing palm and umbrella print it in this room. Framebridge did a beautiful job framing the art and the quality and turnaround time was excellent. The girls flanked the art with assorted blush pink ginger jars from Lauren Haskell Designs and white canvas palms from Matilda's.
The Container Store recently introduced a wide variety of kids' storage for playrooms, closets and everything in between.
Here is a list of the products we used from The Container Store:
Thank you Urban Simplicity and The Container Store for partnering on this post!
Credits:
Organizing: Urban Simplicity
Storage and organizing containers: The Container Store
Styling: Luxe Report Designs
Photography: Shea Christine
Desk Accessories and Chair: HIVE 
Artwork: c/o 527 Photo
PhotoFraming: c/o Framebridge
Lamp: c/o The Kemble Shop
Canvas Palms: c/o Matilda's
Beehive Lanterns, Rattan Vases and Raffia Baskets: c/o Lindroth Design
Pink Ginger Jars: c/o Lauren Haskell Designs
Play Table and chairs: Restoration Hardware <similar here>
Wicker Tea Set: Amazon
Pink Rose Rug: c/o Crate & Kids
Pink Pom Canvas Bins: Nordstrom
Wicker Frame: Williams-Sonoma
Wicker Shell on Stand: Williams-Sonoma
Beth Dress: c/o Pink Blush Maternity
Gold Calligraphy: Heartswell