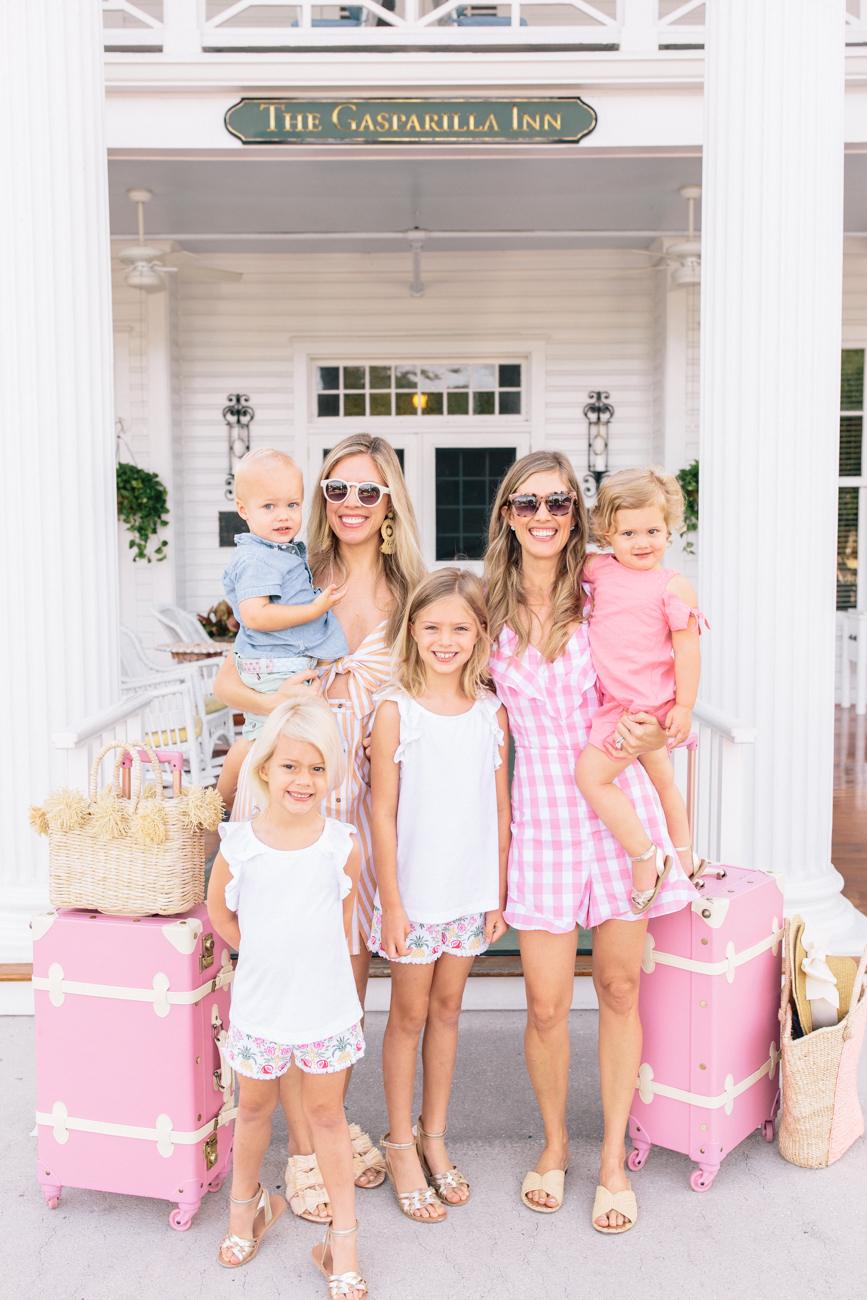 Thanks to a recent road trip to the west coast of Florida and a fun holiday weekend, it's really starting to feel like summer around here! It was our first time visiting The Gasparilla Inn & Club last week (don't miss what we packed), and words can't describe how much we loved it. It's everything you could ever want for a sweet family getaway, so today we are sharing our favorite highlights in hopes that you add it to your list of places to visit, too!
When we arrived at The Gasparilla Inn & Club, one of the beautiful options available on the beaches of Fort Myers and Sanibel, we instantly fell in love with its charming, Old Florida style. The pink sitting room, rattan seating, floral wallpaper, and striped umbrellas feel very nostalgic, and the quaint beach and boat town feels like you went back in time. It's no surprise that one of our favorite Palm Beach based interior designers, Kemble Interiors, has gradually been updating the decor for almost a decade. Every last detail suits our style and personalities so well; we kind of feel like moving in!
For accommodations, we stayed in one of the newer Sharp Houses that are very spacious, stylish, clean, and comfortable. We love staying together when we travel, and Beth and I had our own master suites for us and the babies and the two girls shared a twin room. Each bedroom had a big bathroom, plus there were two living rooms, a kitchen, dining room, front porch, and back porch. The property also offers several rooms, suites and cottages!
We enjoyed taking the pink bikes for a spin and bouncing around on the golf cart, but our very favorite thing to do was go up to the Beach Club. We would hop from the white sandy beach to the pool deck, where there were lots of toys available for the kids to play with. The sand is so powdery and soft with plenty of shells to collect. The property also offers a spa, golf, tennis, a marina, lots of adventures, shopping, a fitness center and so much more!
The island also had so many delicious restaurants, which is super important to us lol. For breakfasts, we sat down for pancakes, eggs and bacon at The Inn's Dining Room and also had fresh donuts at The Inn Bakery. For lunch, we enjoyed The Beach Club which is located both on the ocean and by the pool. We ate fresh sandwiches, salads, fruit and fries under their yellow and white striped umbrellas on the outdoor deck. For dinner, we ate casual dinners downstairs at The Pink Elephant (aka 'The Pink') and Miller's Dockside Bar and Grill. And for dessert, we indulged in yummy ice cream at the Pink Pony!
That wraps up our favorite highlights from the trip, but there is so much more to see and do at The Gasparilla Inn, on Boca Grande and at the beaches of Fort Myers and Sanibel. If you have any questions at all, please feel free to email us at hello@palmbeachlately.com so we can help you plan your vacay! xo
Outfits:
Beth – c/o Pink Gingham Romper by Red Dress, Madewell Pink Dress, c/o J.Crew Ruffle Plunge One-Piece Swimsuit, Pour La Victoire Julie Sandal, c/o Carrie Forbes Slides, Straw Boater Hat, c/o Indego Africa Pink Straw Tote Bag, Kayu Mini Piñata Tote, Loft Sunglasses
Danielle – c/o J.Crew Gingham Scoop Bikini Top and Gingham Lowrider Bikini Bottom, Madewell White Tiered Midi Dress, c/o Tuckernuck White Bow Sunhat, c/o Yellow Striped Dress by Red Dress, c/o J. McLaughlin Mini Jill Wicker Bag c/o Pour La Victoire Layne Sandal, Harper Cat Eye Sunglasses, c/o Indego Africa Palm Pom Tote
Kids – c/o J.McLaughlin Pineapple Palms Shorts, Metallic Strappy Sandals, Janie and Jack Pink Cat Eye Sunglasses, c/o J.Crew Lemon One-Piece Swimsuit and Lemon Ruffled Bikini, Crazy 8 Buttercup Stripe Dress, Crazy 8 Coral Stripe Dress, Janie and Jack Yellow Cork Sandal, c/o Minnow Swim Floridian Pink Stripe Boardie, Vineyard Vines Pink Boys' Polo, J.Crew Boys' Pull-On Short, J.Crew Boys' Chambray Shirt, J.Crew Critter Short
Credits:
Photography: Iris Moore Photography
Location: The Gasparilla Inn & Club
*Thank you to The Beaches of Fort Myers and Sanibel for partnering with us on this post!