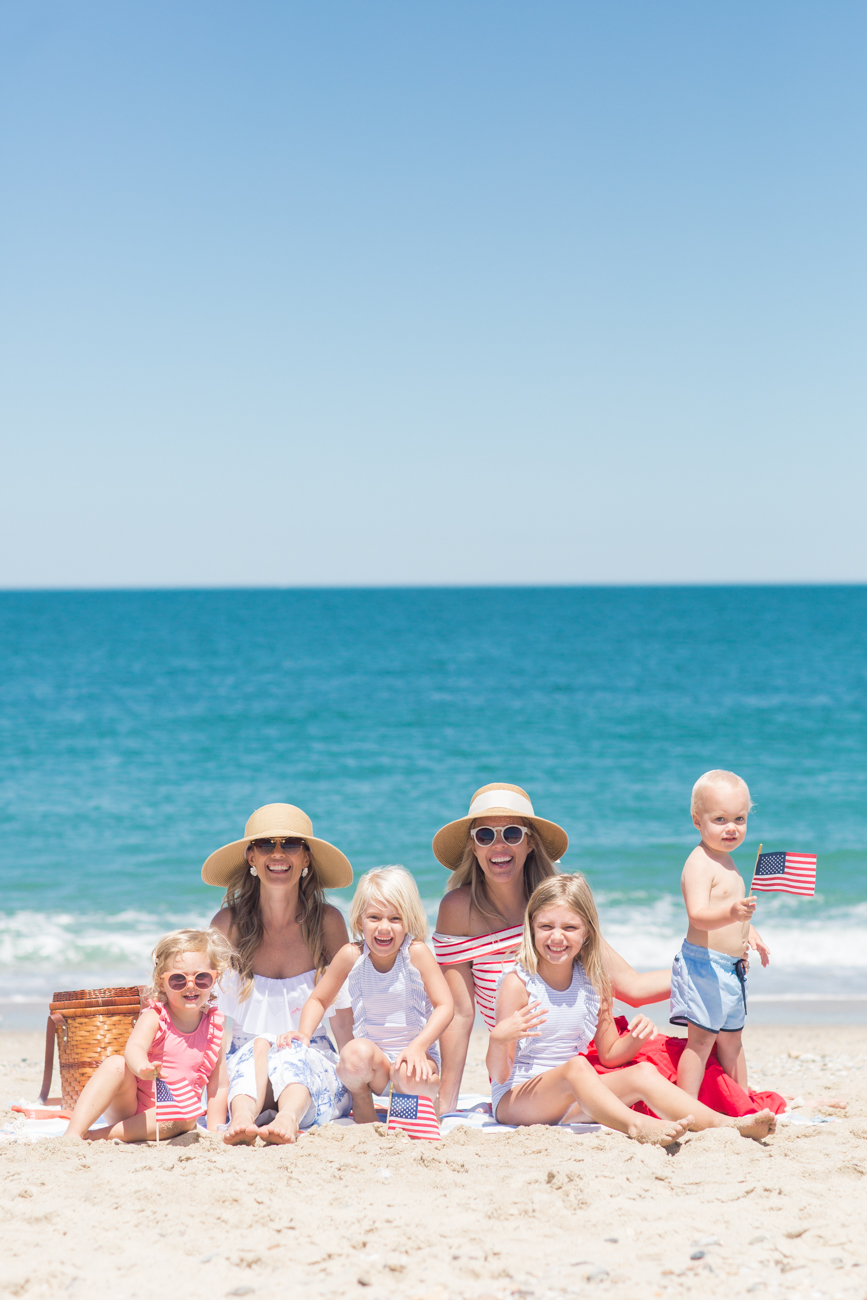 When we made plans to vacation on Nantucket this summer, we really wanted to take the kids for a drive along the beach and bring goodies for a picnic. The weather on Nantucket is definitely hit or miss, so we tentatively kept one day open for the beach and watched the radar with our fingers crossed for sunny skies. As luck would have it, our beach day brought the bluest skies without a cloud in sight, so we picked up a pair of Jeeps and headed off the beaten path along the coast to make summer memories we'll never forget!
Great Point is located on the northeastern side of the island and is home to one of the island's historic lighthouses, as well as wildlife like birds, deer and seals. It was at the top of our list to experience this trip, so our friends Ben and Lindsay Goldberg from The Enjoy Company on Nantucket graciously helped us plan our beach day and joined in for the fun.
Before we arrived on Nantucket, they suggested that we rent a pair of Jeeps from Nantucket Island Rent-A-Car and car seats from Petite Travelers for driving out to the beach. For our picnic, they recommended ordering Straight Wharf Fish Store's famous lobster rolls and Provisions' sandwiches and chips. Both are located on the wharf near Harborview Nantucket which made it so easy to pick-up our orders on our way out!
After we picked up the lobster rolls and sanwhiches, we put the tops and windows down on the Jeeps and played tunes as we drove across the island. Ben and Lindsay met us at the entrance of the Wauwinet Gatehouse near The Wauwinet to help us get our vehicle permit and let the air out of our tires so we could drive on the beach. Then we made our way through the bumpy back roads that led us out to the beach. The sun was shining as we cruised along the shore for a while, then we stopped to set up our picnic on the beach.
Ben and Lindsay brought an appetizer, cookies, Cisco's Whale's Tale Pale Ale and Sankaty Light Lagar and The Clambake's Chardonnay to add to our delicious picnic. We set up a blanket and chairs by the shore so we could chat while the kids ran around and played in the sand and sea. We were so happy to be in swimsuits <you can shop them below!> and every moment was spectacular, but the highlight of our day was seeing lots of seals swimming in the ocean. It was a truly a special experience for us; and trust us, you have to add it to your travel bucket list!
Credits:
Photography: Iris Moore Photography
Jeeps: c/o Nantucket Island Rent A Car
Car seats: c/o Petite Travelers
Lobster Rolls: c/o Straight Wharf Fish Store
Sandwiches and chips: c/o Provisions
Wine: c/o The Clambake's Chardonnay
Beer: Cisco Brewery
Picnic Basket: c/o Saltaire
Beth's Swimsuit: c/o Everything But Water Once Piece Bandeau
Beth's Skirt: Printed Button Skirt
Beth's Hat: c/o Vineyard Vines Straw Sunhat
Danielle's Swimsuit: c/o Tuckernuck Striped One-Piece
Danielle's Skirt: Faux Wrap Skirt
Danielle's Hat: c/o Tuckernuck Packable Bow Sunhat
Danielle's Sunglasses: White Sunglasses
Kids' Swimsuits: c/o Minnow Swim Blue Striped One-Piece, Nantucket Red One-Piece and Blue Boardie