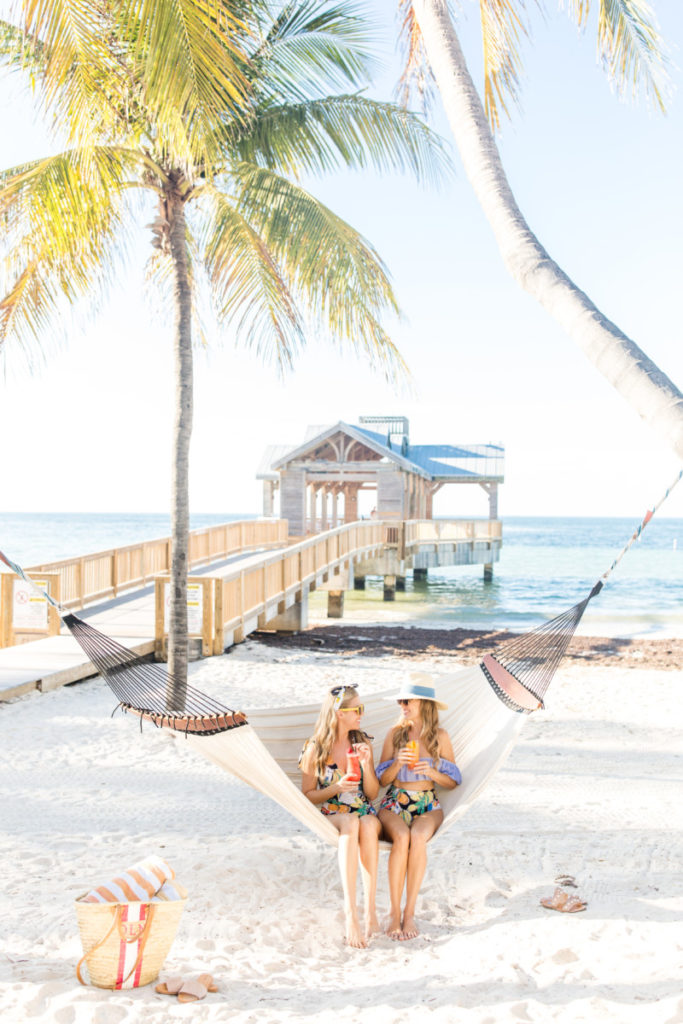 On Monday we shared what we packed for our "sistercation" in Key West, and today we are featuring our full "Guide to Key West!" Come along as we take you on our summer kick-off trip to the charming and historic destination located at the southernmost point of Florida!
Day 1:
We packed our pink suitcases in our SUV and hopped on the road by 9 am so we could leisurely make our way down to Key West. We were well into the Keys by noon and made a pit stop for lunch in Islamorada at The Beach Cafe at Morada Bay. This outdoor restaurant on the bay was the perfect place to order seafood at one of the tables with colorful seats in the sand. Don't miss: sitting in one of their Adirondack chairs under a palm tree, watching the iguanas run by and taking a pic in front of famous Pierre's located right next door!
As we drove from Islamorada to Key West, we enjoyed passing a mixture of local restaurants, popular vacation spots and ocean views as far as our eyes could see. We also loved traveling over the seven-mile bridge and seeing the remains of Flagler's Overseas Railroad.
When we arrived at Casa Marina, A Waldorf Astoria Resort in Key West, we could instantly feel the history that we read about prior to visiting. Fun fact: This property was Henry Flagler's last mission that was created as a destination for his fancy Oversees Railroad customers. It opened nearly 100 years ago; sadly, after he had already passed away.
Both of us have been to Key West a couple times over the years, but experiencing this iconic oceanfront resort was new to us. We appreciated how the historic property has stayed true to the original design and how rare it is to have a white powder beach in the Keys.
After we dropped off our bags in our roomy suites, we were ready for a sunset dinner. We wanted to stay on property, so Sun Sun was the perfect spot for a "toes in the sand" meal. We were still a bit full from snacking on the road, so we decided to share a few small plates like the Fresh Burrata Heirloom Tomato Salad, Yellowfin Tuna Poke and Coconut Grouper Ceviche.
After dinner, we strolled by RUMba – the hotel's quaint rum bar located in the lobby – to sneak a peek at guests enjoying rum tastings before calling it a night.
Day 2:
The next morning, we grabbed yummy breakfast sandwiches on the go at Rambler's <also located in the lobby of Casa Marina> before heading out to experience Key West culture at Earnest Hemingway's Home and Museum. We heard it can get pretty crowded, so we were there bright and early when it opened at 9 am <and lucky us, there wasn't a wait!>. Hemingway's Home was so unique and we enjoyed the guided tour, as well as the famous "six-toed" cats that roam the property. Note: Cash only and adults are $14/pp.
After the tour, we explored the island on foot and by car. It was fun to take in all of the colorful, historic cottages that are used for both residential and commercial purposes. Pastel colored homes are our absolute favorite and we got a kick out of spotting pineapple shaped fences sprinkled around the island, too!
When we were ready for lunch, we wanted to try a restaurant called 915 Duval that a good friend had recommended to us. This gem is located in a formerly private Victorian house that has been restored and has lovely wrap around balconies on both floors. Everything on the menu looked delicious, but the Roasted Beet Salad, Artisan Cheese Plate and Local Fish Tacos were calling our names!
After lunch, we went back to our hotel to change into our new swimsuits and then headed over to the beach at The Reach resort, Casa Marina's sister Waldorf property. It's known as the "only natural sand beach" and was the perfect place for relaxing in a hammock with fruity drinks in our hands!
That night, we grabbed an early dinner at our hotel and then hopped over to Key's West famous sunset spot, Mallory Square. While we were here, we enjoyed some of the street performers and sampled conch fritters from a well-known stand. It was a gorgeous night with boats cruising by as the golden sun slowly dipped to meet the horizon.
Day 3:
The next morning we wanted to have breakfast at a restaurant we consistently received rave reviews about called Blue Heaven. It is located in a part of town called the Bahama Village and has an authentic, local vibe with roosters and cats roaming the indoor-outdoor restaurant. Don't miss: Richard's Very Good Pancakes and the Blue Heaven Benedicts!
After breakfast, we wanted to soak up the beach at Casa Marina and booked a couple of paddleboards through Barefoot Billy's, conveniently located right on property. It was fun to paddle around and watch hotel guests ride jet skis off in the distance. Also, if spa services are more your thing, we highly recommend booking one of the resort's beach-side spa services. The open-air cabana that overlooked the ocean looked so relaxing!
When it was time to head home, we were very thankful for our "sistercation" in Key West. It was the perfect way to kick-off summer with delicious food, new sights, and lots of sunshine and laughs along the way!
*Thank you to Casa Marina for partnering with us on this post!
Photography by: Iris Moore Photography