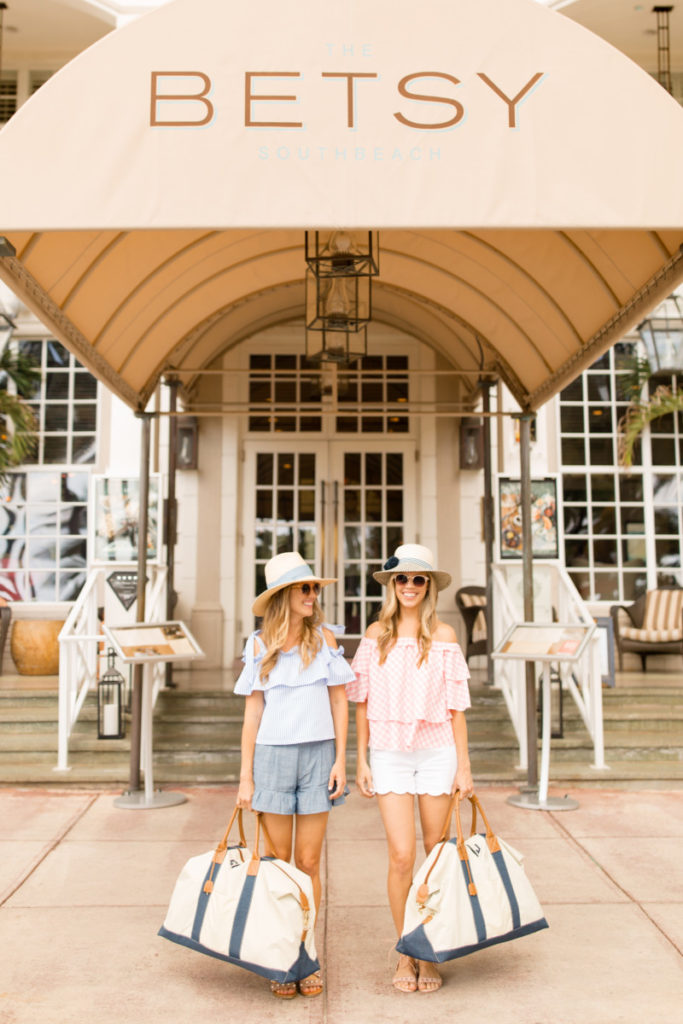 Almost every August since our early 20s, we have gone down to South Beach for a fun night away at one of their many oceanfront beach resorts. Over the years, we've been at least 10+ times and have stayed all over the place to celebrate everything from my 21st birthday to Beth's engagement and so many occasions in between. We don't go nearly as often now that we have kids, though, and have been wanting to make one of our overnight trips lately!
We have been hearing wonderful things about The Betsy Hotel and wanted to check out their recent renovations and expansion. When we arrived, we breezed through check-in and dropped our bags off in our cute room in the Colonial Wing. It was quaint and had comfy double beds with crisp white sheets and pretty lavender shams. For a fancier option, their new Art Deco Wing <they bought the old Carlton Hotel and fully renovated it> is stunning with rich blues, wood furniture, gold accents and lots of books <it even has its own library>!
After we dropped off our bags, we were ready for relaxation and fun. We headed down to the courtyard pool to enjoy a glass of rose and the perfect mojito in a couple of lounge chairs. The historic hotel also has an ocean front deck with views of Ocean Drive and the beach and a rooftop pool that overlooks the city. After experiencing all of these spots, it was time to freshen up and head back downstairs for appetizers, a fresh cocktail and dinner!
The Lobby Bar was a lively area where we enjoyed live jazz music and fresh appetizers, like their Watermelon & Heirloom Tomato Salad and Burrata. Then we moved across the lobby to their cozy restaurant called LT Steak & Seafood for a Miami Spice dinner. <Miami Spice offers a special pre-fixe dinner menu that includes a starter, main course and dessert, all for $39, at many Miami restaurants through September>.
Beth ordered the Charred Corn Salad, Black Garlic-Charred Hanger Steak and Chocolate Flourless Cake, and I ordered the Seafood Ceviche, Gigli Pomodoro and Passion Fruit Lime Tart. All of it was delicious! After dinner, we headed upstairs to dance a bit and watch the sunset before heading off to bed to get some much needed sleep <nights these days are very different than our old South Beach days, lol>.
The next morning, we weren't in a rush to rise and enjoyed resting a bit more before starting our day. Then we headed back down to LT Steak & Seafood to feast on a full American Breakfast that included Scrambled Eggs, Potatoes, Fruit, Sausage, Bacon and Toast. It was all so yummy and hit the spot! After breakfast, we ventured out to the courtyard to take a dip in the pool and then headed out to the beach. We loved all of the colorful lifeguard stands along the beach and could've spent hours capturing all of them!
It was a quick night away, but that little bit of time to ourselves was so great to rejuvenate us before the kids go back to school. And we absolutely loved the boutique hotel experience – it was fun bumping into the same guests throughout our stay and seeing some dogs staying there, too! Their many awards are well deserved, and we hope to go again sometime soon! So, tell us… have you ever been to South Beach? Where do you like to stay? xo
Credits:
Photography by: Iris Moore Photography
Location: c/o The Betsy Hotel, South Beach
SaveSaveSaveSave
SaveSaveSaveSave
SaveSave
SaveSave
SaveSaveSaveSaveSaveSave
SaveSave
SaveSave
SaveSave
SaveSave
SaveSave
SaveSaveSaveSave
SaveSave
SaveSaveSaveSave
SaveSave
SaveSave
SaveSave
SaveSave
SaveSave
SaveSave
SaveSave
SaveSave
SaveSave
SaveSave
SaveSave
SaveSave
SaveSave
SaveSave