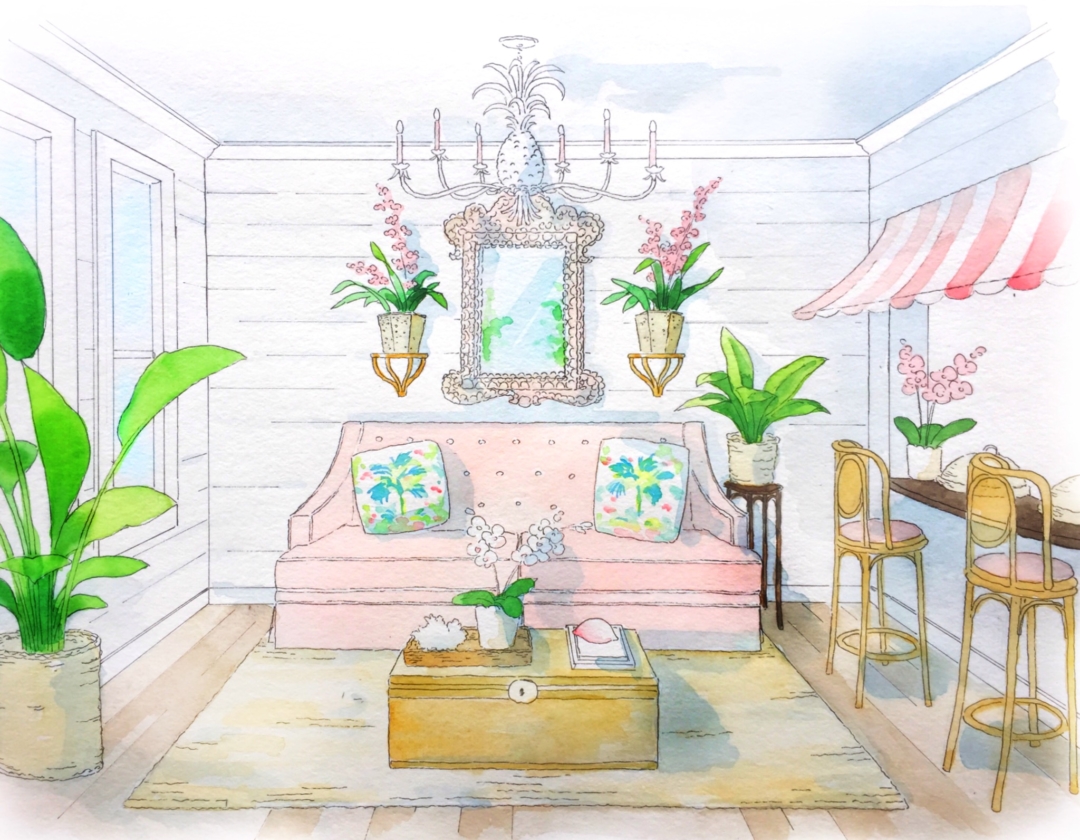 Pineapple Pad™ by Palm Beach Lately
Today is a big day for us… a day that has "officially" been in the works since early 2017 and "unofficially" been in the works since we created Palm Beach Lately in 2012. For the past six years, we have spent thousands of hours creating, styling, designing, shooting, writing, traveling and more to bring you the best fashion, home and travel content inspired by Palm Beach. We love dreaming up stylish new ways to experience Palm Beach, and today we are so excited to finally share the news that we are launching our own vacation rental right in the heart of Palm Beach!
Q+A
First things first… why start a vacation rental?
Beth: In the beginning of 2017, we started traveling more for the blog and featuring some of our favorite charming vacation destinations on PalmBeachLately.com. We love nostalgic getaways and have shared some of our favorite spots like Amelia Island, Harbour Island, Nantucket, Sea Island, and most recently Boca Grande. While traveling to these beautiful spots, we decided that we had to create our own vacation rental right here in Palm Beach!
Danielle: Our new vacation rental is such a natural fit to take what we are doing on our blog and social media platforms and create an actual place for our followers to experience Palm Beach in our own style. We will be designing a place that fits our fresh Palm Beach style and creating a luxurious, one-of-a-kind island experience around it. Everything we have worked on over the years has definitely prepared us for this next step!
How did you make it happen?
Beth: When we decided to take the leap, we started researching properties, following the market, brainstorming how it would look and what we would offer, and talking to potential investors.
Danielle: It was really important to us that we took our time and researched the ins and outs of this new venture. It took a lot of patience and persistence, but being thorough helped to ease any uncertainties. We got all of our ducks in a row and when the right property came along, we moved fast. It's been such a pleasure to work with like-minded entrepreneurs like Ben and Lindsay, and we can't wait to have guests at the Pineapple Pad!
Where is the vacation rental located and what can we expect from it?
Beth: The Pineapple Pad is a one bedroom, one bathroom unit located in the Palm Beach Hotel on Sunrise Avenue, one of our favorite streets on the island. We love that the space also features a separate living room and kitchenette so guests will feel very at home. There is a also a private pool and gym on the property, and guests can easily walk to some of Palm Beach's best dining, shopping, beaches, and more!
Danielle: The 400 square foot unit will be completely renovated to feature our sunny Palm Beach style. We want it to feel like an old-meets-new island bungalow with lots of personality and special touches that are all hand-picked by us. We are well into the design process and can't wait to share all of the pieces we are picking, but you can definitely expect lots of blush and mint, rattan and brass, and pineapples and palms!
When will it launch and how do I book a stay there?
Beth: We will begin renovating the property in a few weeks and it will be completed by the end of summer. We estimate to launch in late August or early September, but it could be sooner or later depending on the renovation process. We will be documenting all of the renovations from start to finish, so you'll definitely want to follow PalmBeachLately.com and our Instagram for lots of design inspiration, ideas and updates!
Danielle: As soon as the project is complete, you will be able to see the vacation rental, learn more about it and book your stay on our VRBO.com page. Until then, we are now accepting inquiries and highly recommend signing up for email updates at pineapplepadpb@gmail.com. You can also email us there with any questions, suggestions or collaboration ideas!
We have lots more to share with you, so get ready to hear from us soon. And from the bottom of our hearts, we can't wait to open the doors and have you as our guests!
xo,
Beth and Danielle
Credits:
Photography: Heather Holt Photo
Illustration: Aldous Bertram
Location: The Palm Beach Hotel Condominium
Dresses: c/o Tuckernuck <white eyelet and floral>
Shoes: c/o Pour  La Victoire <Beth and Danielle>
Vintage flower bag: c/o Palm Beach Thrifters
Hat: c/o Tuckernuck
Beth sunglasses: Curate Clothes + Accessories <similar here>
SaveSave
SaveSave
SaveSave