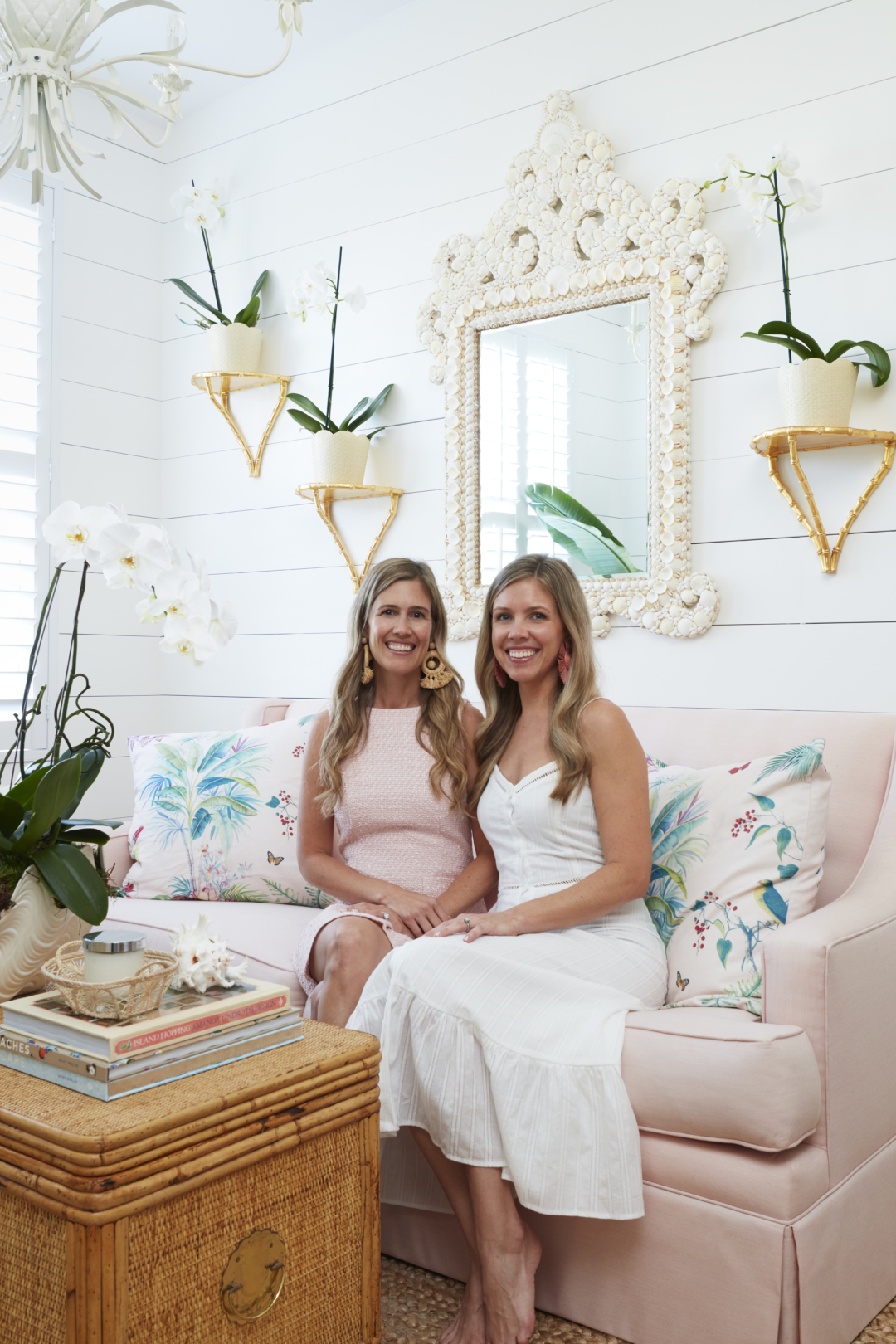 This year as we head into Thanksgiving, we are overflowing with gratitude! At the top of our list, we are so thankful for the talented team of people who helped us bring our new "Pineapple Pad" vacation rental to life. In the last couple of weeks, we moved in the furniture, styled the décor and photographed the condo with the super sweet Brantley Photography. The vacation rental is even more beautiful than we envisioned, and we are so excited to say it is now available to book!
The 400 square foot space features a kitchenette, living room, bedroom and bathroom. When guests arrive, we want them to feel welcomed and at home in our stylish bungalow. Guests are greeted with classic beach styles like white shiplap walls and oak floors and a fresh pink door with a gold pineapple knocker. In the entryway, guests will also spot a pink retro phone with a "Talk to the Palm" print and two vintage tennis rackets personalized with the letters "PB" as our playful way of saying, "Hello!"
The kitchenette has been transformed to feel like a stylish cabana bar with a custom pink and white striped awning, rattan barstools, pink cabinets, and gold hardware. Guests can serve bites and drinks on the bamboo plates, bowls and serving ware, floral plates, wicker drinkware, and a pineapple cutting board from the open shelves. We imagine our guests brewing a fresh cup of coffee with buttery croissants for breakfast and enjoying cheese and chilled wine from the luxurious beverage cooler in the evening!
In the living room, we wanted to create a special space where guests can curl up and relax. The custom blush couch is the perfect spot for reading a good book, watching a favorite show or movie or relaxing after a day in the sun. Above the couch, we hung our favorite pineapple chandelier, shell mirror and gold brackets with fresh orchids sitting on top to bring the outdoors inside. The vintage rattan trunk and grasscloth credenza are also stocked with some of our favorite books, playing cards, and throws for guests to use.
The bedroom feels like a chic beach retreat with clean and simple white shiplap walls, oak floors, a rattan headboard and white lacquered raffia chests with blush tassels. Guests can look at the beautiful photograph of Palm Beach while resting on the comfortable mattress that is fitted in luxurious white scallop linens and palm print linens. We also hung our favorite straw beach bags on the rattan wall rack and have felt hangers, an iron and ironing board available for use in the custom pink and white striped closet.
Last but not least, the petite bathroom has lots of personality with pink and green pineapple wallpaper. We transformed the space to include a brand-new shower with gold fixtures, a brass washstand sink and a vintage rattan mirror. Guests can find plush white washcloths, hand towels, bath towels and bath mats, as well as sunscreen, shower gel, shampoo and conditioner for use. And we complete the luxe getaway experience with a pair of cozy robes and slippers that are personalized with our "Pineapple Pad" logo!
That about wraps up our tour of the "Pineapple Pad!" We couldn't be more excited to say it is now officially open for bookings and available for stays starting December 1st! You can click here for more information, availability, rates, policies and bookings. If you have any questions, you can also email us at pineapplepadpb@gmail.com. We truly hope you can come visit us in Palm Beach very soon! xo
P.S. Don't miss our new "Guide to Palm Beach" to see all of our favorite spots on the island! xo
Credits:
Photography: Brantley Photo
Location: Palm Beach Hotel
Book: VRBO
Dresses: The Skinny Dip Palm Beach
Realtor: Sarah Koenig of Brown Harris Stevens
General Contractor: Gregory James, Inc.
Project Manager: Hobgood Construction
Architect: McClain Architecture
Demo, Flooring, Shiplap and Bathroom Tile: Treasure Coast Carpet and Interiors 
Kitchen Cabinets: Waterview Kitchens
Electric: Kasper Electric
Plumbing: Shane Stinson Plumbing
A/C Unit: EDS Air Conditioning
Painter: P&M Custom Painting
Paint: Farrow & Ball
Plantation Shutters: The Louver Shop
Awning: John Corral
Barstools: Overstock
Floral and bamboo plates, bowls, mugs, serving ware and utensils: Juliska
Wicker cups, planters, baskets, and vases: Amanda Lindroth
Beverage fridge and microwave: Monark
Wine: The Palm by Whispering Angel
Toaster and kitchen goods: Williams-Sonoma
Pink Fiat Jolly print: Pip and Kate
Talk to the Palm print: Willa Heart
Personalization on tennis racket: Lycette Designs
Palm Beach map print and custom frame: HeartSwell and Framebridge
Gold frame: West Elm
Pink couch and grasscloth credenza: Society Social
Shell mirror, pineapple chandelier and seagrass rug: Frontgate
Gold bamboo brackets: Williams-Sonoma
Orchids: OAPB Exotic Floral and Plant Design
Vintage rattan trunk: Palm Beach Thrifters
Beach books: Gray Malin
Mattress: Leesa
Bed frame: Frontgate
Bedding, towels and robes: Pioneer Linens
Nightstands, lamps and blankets: Lo Home by Lauren Haskell Designs
Beach print: Gray Malin
Pineapple Pad Tote: Hathaway Hutton
Custom closet: CG Custom Closets
Pink and white striped wallpaper in closet: Caitlin Wilson
Pink and green pineapple wallpaper: Chelsea Lane & Co.
Pink and white striped beach towels: Frontgate
Vintage rattan mirror: Palm Beach Regency
Gold washstand sink and faucet: Signature Hardware
Pineapple Pad logo: Emily McCarthy
Pineapple Pad cups, napkins and towels: Social Graces
* For any additional sources not listed, feel free to email us at hello@palmbeachlately.com!