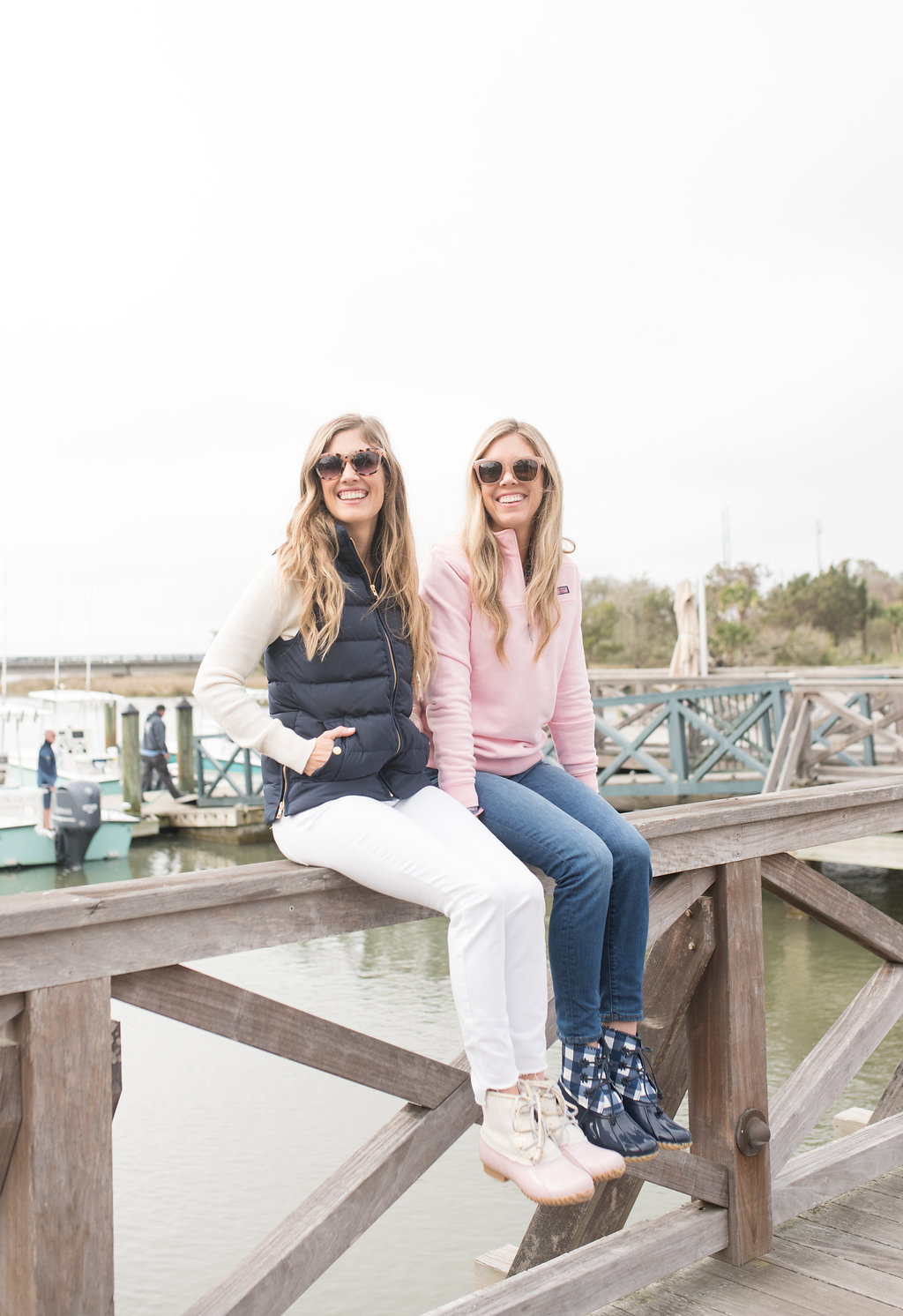 Earlier this week, we shared what we packed for our weekend getaway to Sea Island located on Georgia's southeastern coast. Our sweaters, jeans and boots worked perfectly with the cooler weather, and we enjoyed the dip in temperatures before the season begins to change.
Today, we are excited to share this luxurious, Forbes Five-Star resort and all of the fun, family-friendly activities we were so lucky to do together <sadly Beth's husband wasn't able to make it and we so missed him>. From biking to boating, Sea Island has something special for everyone – so come follow along for our "Guide to Sea Island!"
When we first arrived, we headed over to The Lodge and hopped on a pair of beach cruisers that were calling our names. Riding bikes is one of our family's favorite activities, and we enjoyed riding under the moss-draped oak trees while the afternoon sun glowed all around us. Another great place for riding bikes was from The Cloister to the stunning residential area, and we had a blast pointing out our favorite southern-style homes to each other!
After biking, we went inside The Lodge to pick up a few s'mores kits for the kids before heading out back to their sprawling lawn that overlooks the St. Simons Sound. Then we all cozied up to one of the fire pits to roast marshmallows and make s'mores. The kids loved having this special afternoon treat, and the adults enjoyed listening to the bagpiper play off in the distance. This nightly experience is definitely one of Sea Island's best-kept traditions!
That night we wanted to have dinner by the water, so we drove over to the Beach Club and ate at their oceanfront restaurant called Southern Tide. Chef Robert Raynaud was very friendly and made us delicious Maine Lobster Tacos, Ahi Tuna Crudo, Shrimp and Grits and a few kid-friendly meals. After dinner, we took the kids down to the seashore to run around and pick up handfuls of shells before retiring to our rooms for the night.
The next morning, we woke up feeling ready for a full day of activities. First on our list was checking out The Spa, Fitness Center and indoor swimming pool thanks to a couple of babysitters the resort coordinated for help with our kids. The 65,000 square foot facility is full of world-class amenities and services that had us feeling very relaxed and well rested. Our favorite experiences were the massages, mineral and hydrotherapy pools, and jacuzzi!
It was hard to leave The Spa, but we were looking forward to an afternoon at the beach and pool with the kids. The weather was a bit warmer, and we enjoyed walking along the shore and collecting sand dollars and shells. Then the kids wanted to swim, so we hopped over to the heated pool and took turns going down their epic waterslide! That night, we had a yummy, wood-fired pizza dinner at their newly renovated Italian restaurant called Tavola.
The next morning, we went for a boat ride on the salty marsh waterways so we could get fresh air and hopefully see some dolphins. The scenery was so peaceful and we spotted a couple of dolphins, as well as a bald eagle in one of the trees. When we got off the boat, we rented a couple fishing rods on the dock and the kids had a wonderful time catching fish. We didn't have time for horseback riding, the Shooting School or tennis, but all of those looked like fun, too!
Before it was time to head home, we wanted to spend more time around the resort. The Cloister's atrium was our favorite sitting area and go-to spot for warm biscuits and tea. We also enjoyed browsing all of the old photographs of the almost 100-year old resort and past visitors who frequented it. Sea Island is a gem that we'll return to again and again – and if you have any questions or want to plan your getaway, feel free to reach out to us any time!
Credits:
Girls blush ponchos: c/o Lilly Pulitzer
Girls blush ruffle sweaters: c/o J.Crew
Beth sweater, vest and jeans: c/o J.Crew
Danielle plaid shirt and jeans: c/o J.Crew
Danielle pink pullover: c/o Vineyard Vines
Blush and cream sweaters: Burgess Sweaters
White jeans: c/o Vineyard Vines
Duck boots: c/o Jack Rogers
Bags: c/o Barrington Gifts
Photography: Kelli Boyd Photography
*Thank you to Sea Island for partnering with us on this post! 
SaveSave
SaveSave
SaveSaveSaveSave
SaveSave
SaveSave
SaveSave
SaveSave
SaveSave
SaveSave
SaveSave
SaveSave
SaveSave
SaveSave
SaveSave
SaveSaveSaveSave
SaveSaveSaveSave
SaveSave
SaveSave
SaveSave
SaveSave
SaveSave