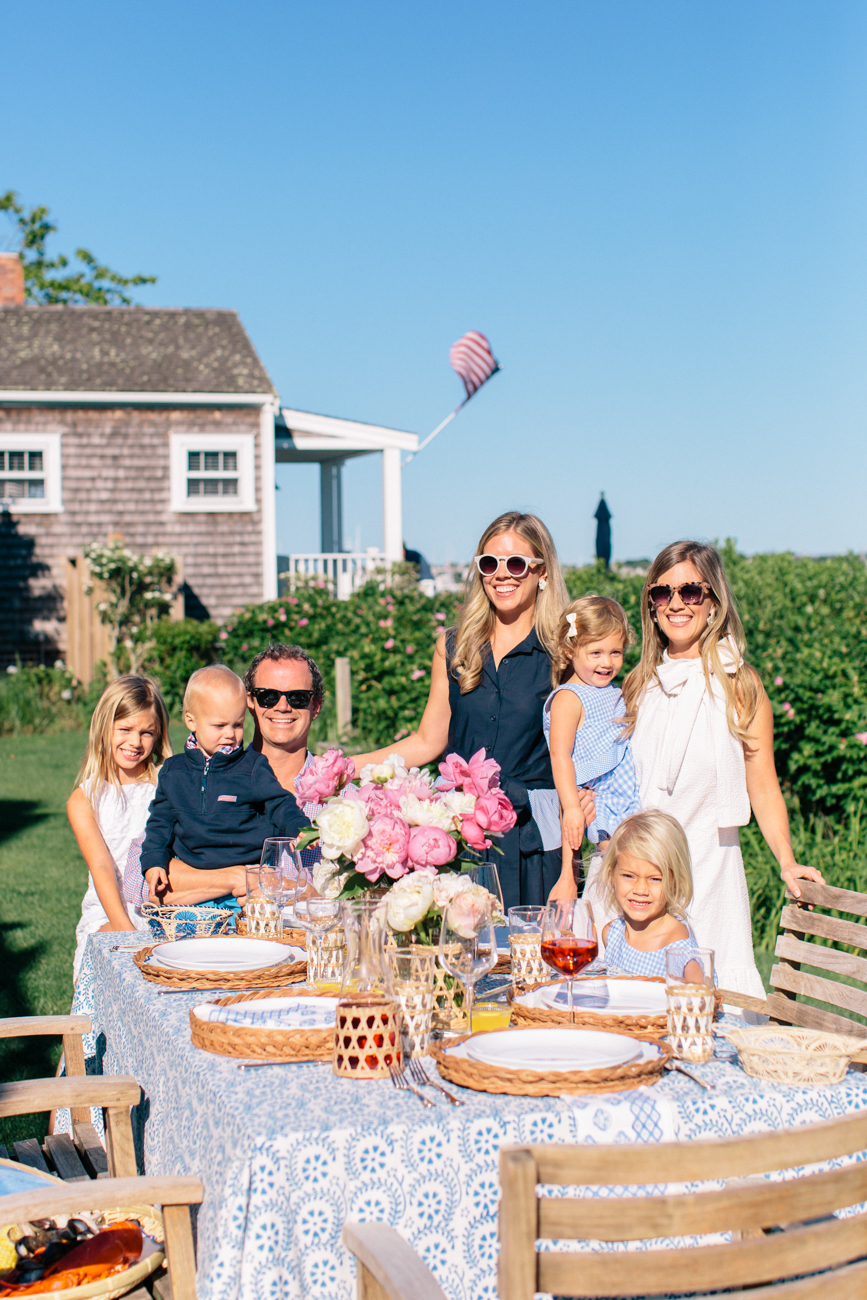 While we were vacationing on Nantucket a couple weeks ago, our hearts were set on having a clambake dinner behind our cottage at Harborview Nantucket. We wanted to soak in the sunset and linger around the dinner table while the kids ran around, laughing and playing barefoot in the private backyard. On the most beautiful afternoon, our wish came true thanks to the help of Harborview's wonderful married team of property managers, Morag and Matt. Come along today as we share more from our special summer dinner with you!
Our family loves the lush green lawn behind Harborview's 11 cottages. It's where we like to take leisure strolls in the morning, play games of corn hole and use the oversized pinwheels from the toy box. On this clear afternoon, "Mo" and Matt helped set up a dinner table for our family right behind our "Sea Breeze" cottage <you can see more pictures of our cottage in our "Guide to Nantucket" here> with an extra special tablescape.
India Amory's hand blocked linens and Amanda Lindroth's straw island pieces perfectly complimented each other for a relaxed summer style. The table was set with India's Blue Fleur Provencale Tablecloth and Lindroth's natural wicker dome chargers, white seagrass glasses, natural seagrass carafe, medium natural seagrass vases, large seagrass vase, and mesh dome picnic tent. And the beautiful pink peonies and roses from Soiree Floral were the final touch that brought the table to life!
Mo and Matt picked up a few clambake dinners from Sayle's Seafood for us, which were a big hit with the whole family. Their fresh seafood dinners are cooked in their market for takeout and include clam chowder, lobster, steamers, mussels, steamed red potatoes, corn on the cob, butter, broth and lemon. We taught the kids how to eat lobsters for the first time, and they loved the potatoes and corn. The adults also enjoyed wine and beer from the island's local winery, brewery, and distillery, Cisco Brewers. Their fun spot on Nantucket is open to the public and makes for a great afternoon unwinding with friends!
After dinner, we walked down to Harborview's private beach where the kids played in the sand and on one of the boats on the shore. The blue and white outfits our family wore from Vineyard Vines were made for this summer night, and you can shop them below. We wear their clothes whenever possible because they are stylish, comfortable and very well made. You can also click here to see more of what we packed for our vacation!
This evening was definitely our favorite this summer, and we are so thankful for everyone who helped make it happen! If you have any questions at all about Nantucket or Harborview, feel free to email us at hello@palmbeachlately.com. And if you plan an al fresco summer dinner, be sure to tag @palmbeachlately so we can see! xo
Vineyard Vines Outfits:
On Beth – Seersucker Flounce Tie Neck Dress
On Danielle – Sleeveless Tiered Shirt Dress
On Danielle's Husband, Jason – Point Gammon Gingham Slim Murray Shirt, Stretch Breaker Pants, Fish Hook Belt <similar>
On Kids – Girls Gingham Mix Dress, Girls Eyelet Patchwork Dress, Girls Ruffle Placket Cotton Cardigan, Boys Gull Island Gingham Performance Whale Shirt, Boys Stretch Breaker Pants <similar>, Boys Shep Shirt
Credits:
Photography: Iris Moore Photography
Location: Harborview Nantucket
Table linen: c/o India Amory
Tableware: c/o Amanda Lindroth
Flowers: c/o Soiree Floral
Clambake: c/o Sayle's Seafood
Spirits: c/o Cisco Brewers
Clothing: c/o Vineyard Vines
*Thank you to Harborview Nantucket for partnering with us on this post!