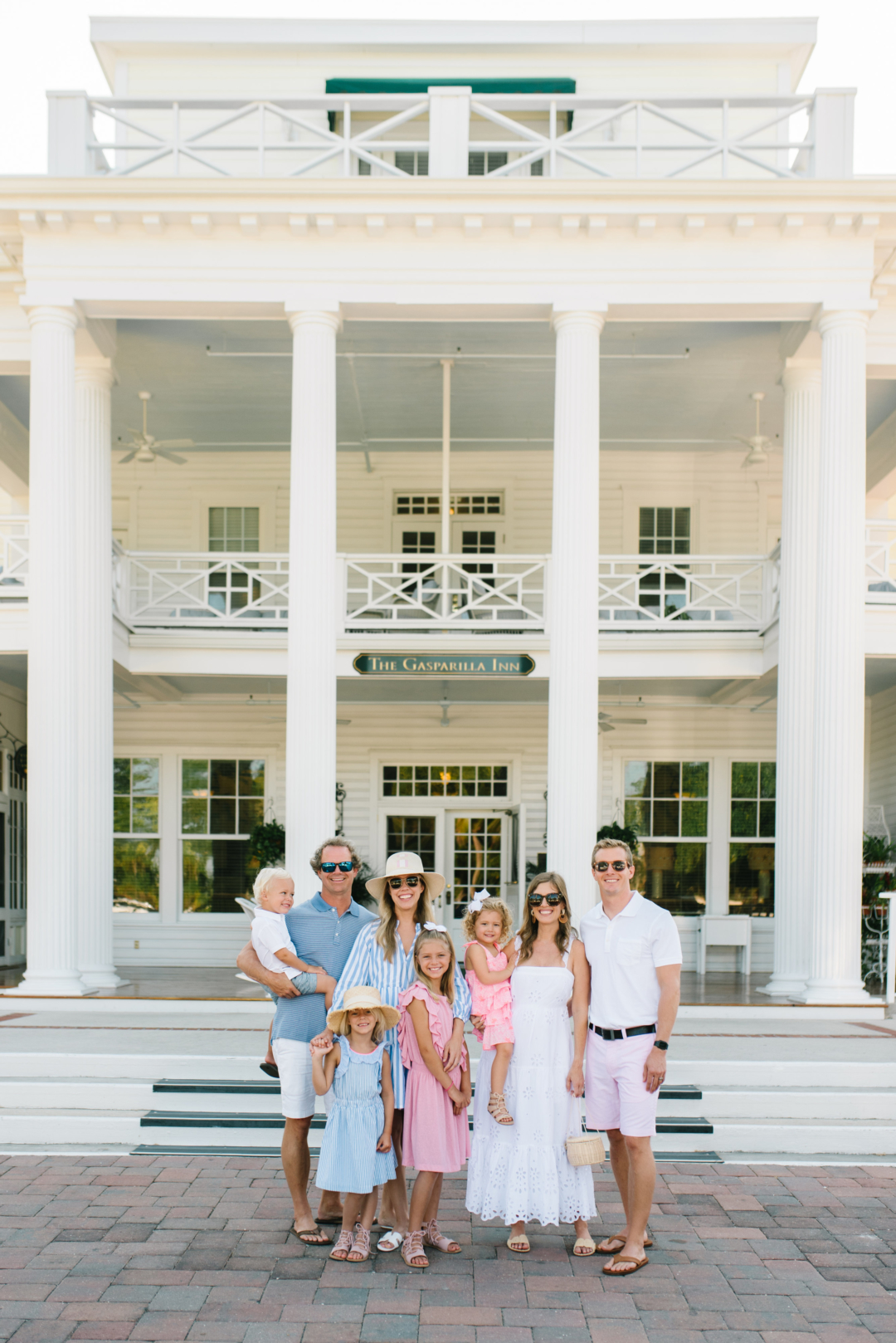 Last week we packed up our families and road tripped to The Gasparilla Inn & Club on Florida's west coast! We kicked off summer there last year, too, but our hubbies couldn't make it… and we were very excited to take them back. We spent a few days fishing, swimming, eating, beaching, playing, and relaxing in one the most charming places we've been to. Come along today to see all the things we love about our favorite Old Florida spot!
To start our mornings, we would hop out of bed early and have breakfast at one of the island's delicious restaurants. On this trip, we went back to The Inn Bakery for glazed donut holes and cinnamon sugar twists and tried The Outlet at The Innlet on the water which has a yummy full breakfast like omelettes, french toast and breakfast sandwiches. After breakfast, we had fun taking the kids fishing on a little dock near The Pink Elephant. We had a contest to see who could catch the most fish which made it exciting for everyone!
<Tip: Boca Grande is known as the "Tarpon Capital of the World," and they have lots of fishing charter options if you ask the Inn or Marina. For fishing off the dock, we bought live shrimp for bait at Whidden's Marina, which is a short golf cart ride from the Boca Grande Marina. It was established in 1926 and has been run by the Whidden family ever since!>
After fishing, we passed by the Inn's beautiful golf course on our way into the little town. The lush, green grass and palm tree lined golf course is right on the water and looked very inviting to our hubbies. Unfortunately they couldn't play this time, but they're definitely bring their clubs next time! Then we cruised around on our golf carts and went by Newlin's Gourmet to pick up lobster rolls for our crew. Just across the street we had the sweetest little picnic on the garden patio behind Boca Blooms, and the lobster rolls were heavenly!
After lunch, we went back to Gasparilla Inn to relax and play. The Inn is as cute as can be and each little sitting area has it's own style and purpose. They have rocking chairs on the front porch that are so fun to rock in and several other rooms and seating areas to hang out and people watch. The dads also had fun teaching the kids how to play ping pong on the back patio, and BZ's is a great gathering spot for after dinner drinks and is open daily!
Of course, we spent the majority of our time at the beach and pool. The Inn's Beach Club overlooks the bay with its calm, turquoise waters and pretty white sandy beach that is full of shells. We bounced back and forth between swimming in the pool and the sea, laying under yellow and white striped umbrellas and even had a fantastic lunch at the Beach Club as soon as we arrived on the first day. The whole beach and pool area is perfect for families!
In the afternoon, we would all take a quick rest in our rooms before freshening up for an early dinner. Then on the way to dinner, we would cruise around in our golf carts to look at all of the charming, colorful cottages and peek in the waterways to spot manatees! For dinners, we love the Boca Grande Marina for an easy, family-friendly spot and The Pink Elephant for a more upscale seafood spot. And for a really fancy treat, we hear the four-course dinner at The Main Dining Room in the Inn is excellent!
We could go on and on about more things to do, and  we can't say enough wonderful things about The Gasparilla Inn & Club! From a family getaway to a picture perfect wedding, it really has something for everyone. And if you have any questions, please don't hesitate to email us! xo
** Giveaway: Don't miss a chance to win a getaway to The Beaches of Fort Myers & Sanibel, too! Be sure to hop over to this page to hear all about their summer sweepstakes!
Credits:
Photography: Alisia Thompson Photography
Location: c/o The Gasparilla Inn & Club
Family outfits: c/o J.Crew
White and lemon dresses: c/o Gal Meets Glam <Floral stripe dress, Ivory two-piece set>
Danielle's sandals: c/o Tuckernuck
Beth sandals: c/o Carrie Forbes