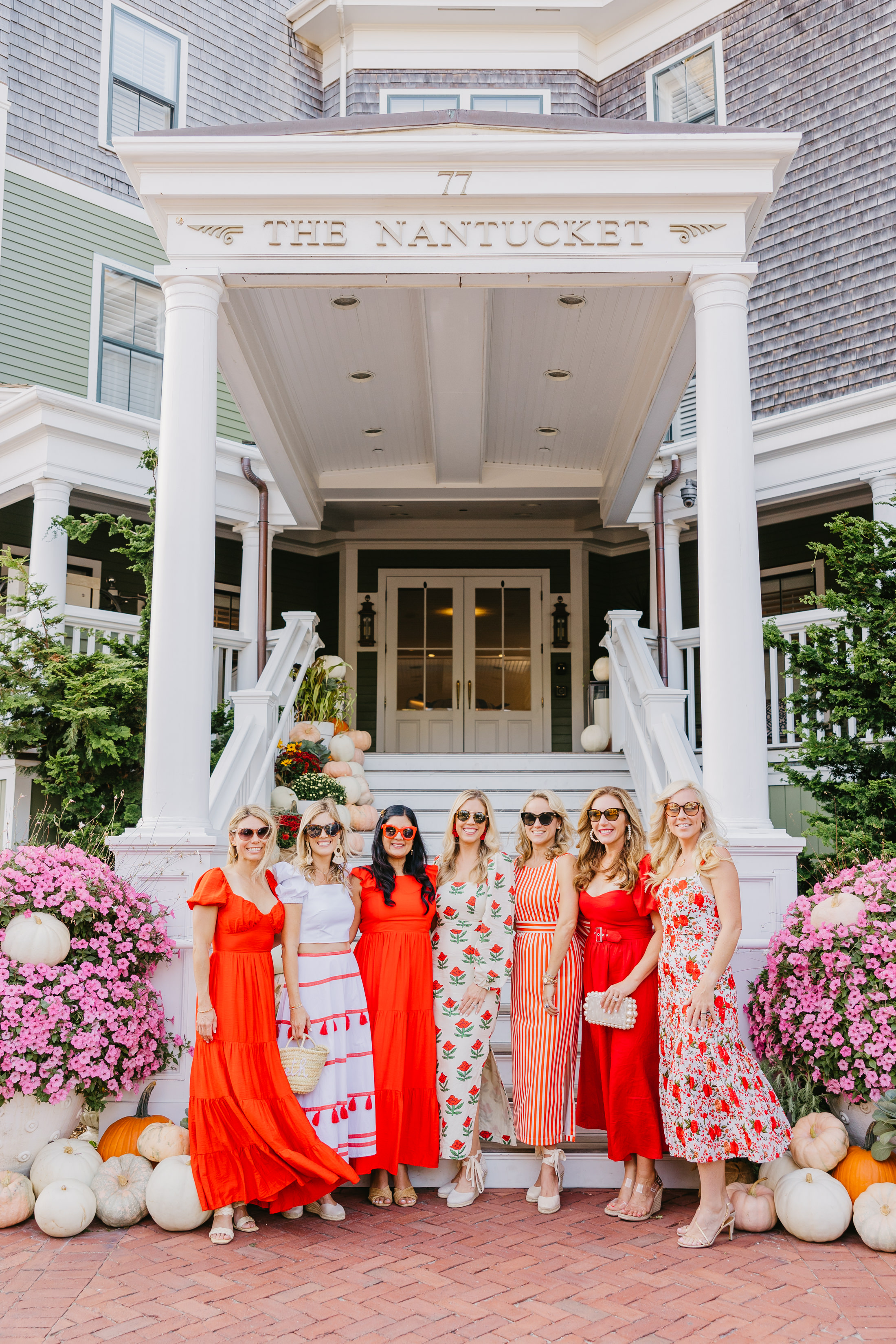 One of life's greatest gifts are friends, and we have been blessed with some truly special ones. We met these ladies nearly 20 years ago (some even longer) and have walked through life's ups and downs with them. It had been a while since we had a few days away with just the girls, so for my birthday I decided it was time for a girls' getaway. My favorite vacation spot is Nantucket and most of the girls had never been, so I was thrilled to share it with them. Come along today to see some of our favorite highlights from this special vacation!
The Nantucket Hotel graciously hosted our crew to celebrate my 40th birthday. We had previously stayed here with our families (seen here and here) and love their spacious accommodations that feel like a house inside of a hotel. This time, we stayed in the Captain Daggett Three Bedroom Suite that features a living room, dining room, kitchenette, king bedroom, queen bedroom, loft with two queen beds and a set of bunk beds, and three full bathrooms. And can we talk about their front door stoop (seen above) that is beautifully decorated with pumpkins and florals for the fall season?! It's a must see, for sure!
Before we arrived on the island, we shipped a few of our favorite things for each girl to Denise with ACK Gift Bags so she could help us put together gift bags. The girls were each given an itinerary and cup with a custom crest that I specially designed for the vacation with Simply Jessica Marie and Lovely Little Party, a personalized basket tote, a floral bow sunhat  from our Lisi Lerch x Palm Beach Lately collection, a blush Nantucket sweater from Ellsworth & Ivey, white tortoise shell earrings by St Armands Designs, and blush scallop pajamas. We wore all the goodies throughout our vacation and loved matching each other!
During our last visit with the kids, we took a ride through town on The Nantucket Hotel's vintage red fire truck, so I definitely wanted to take the girls for a ride on it, too. We each packed our favorite red dress, got dolled up, took fun photos in front of the fire truck, and hopped on for a ride through town to Galley Beach. It is unforgettable moments like these spent laughing, talking and smiling with your girlfriends that make life so sweet!
The hotel is currently offering a Girlfriends' Getaway that includes complimentary breakfast, a 60-minute massage per guest and lots more. They are very thoughtful with their guest services and their location is right near town, which makes it easy to walk to nearly all of the best restaurants and shops. Nantucket is bursting with a unique collection of restaurants, shops, beaches, and fun things to do that you could easily spend a week or more on the island. But for a quicker 4 day/3 night trip, we planned the following:
Day One
Fly into Nantucket
Lunch at Slip 14
Walk around the wharf and town
Bluff Walk and dinner at Chanticleer in Sconset
(Sconset is 15 mins east, so you'll need a taxi or Uber)
Day Two
Breakfast at Island Kitchen
Sandwiches to go from Something Natural for a beach picnic at Steps Beach
Ride firetruck to Galley Beach for a sunset cocktail
Dinner at Lola 41
Day Three
Breakfast sandwiches from Stubby's
Walk or ride to Brant Point Lighthouse
We were going to have lunch at Millie's, but decided to walk around town instead and had Juice Bar ice cream for lunch 🙂
Sailing on The Endeavor
Dinner at Cru
Day Four
Breakfast at Breeze in The Nantucket Hotel
Fly home
We hope you enjoyed this recap of our girls' getaway that was full of laughter and special memories. We highly recommend taking your girls to Nantucket if you get the chance! xo
Credits:
Photography: Emily Elisabeth and Georgie Morley (sailing photos)
Hotel: c/o The Nantucket Hotel
Custom floral crest on itinerary and cups: Simply Jessica Marie
Itinerary layout: Lovely Little Party
Custom paper cups with lighthouse basket: Etsy
Gift bag help: ACK Gift Bags
Personalized basket tote: Etsy
Shell earrings: c/o St Armands Designs
Blush Nantucket sweater: c/o Ellsworth & Ivey
Sun hat with floral bow: c/o Lisi Lerch x Palm Beach Lately
Sunhat with red ribbon: c/o Sarah Bray
Cane and leather tote: c/o Mark & Graham
Red floral earrings: c/o Tuckernuck
Tortoise sunglasses: c/o J.McLaughlin