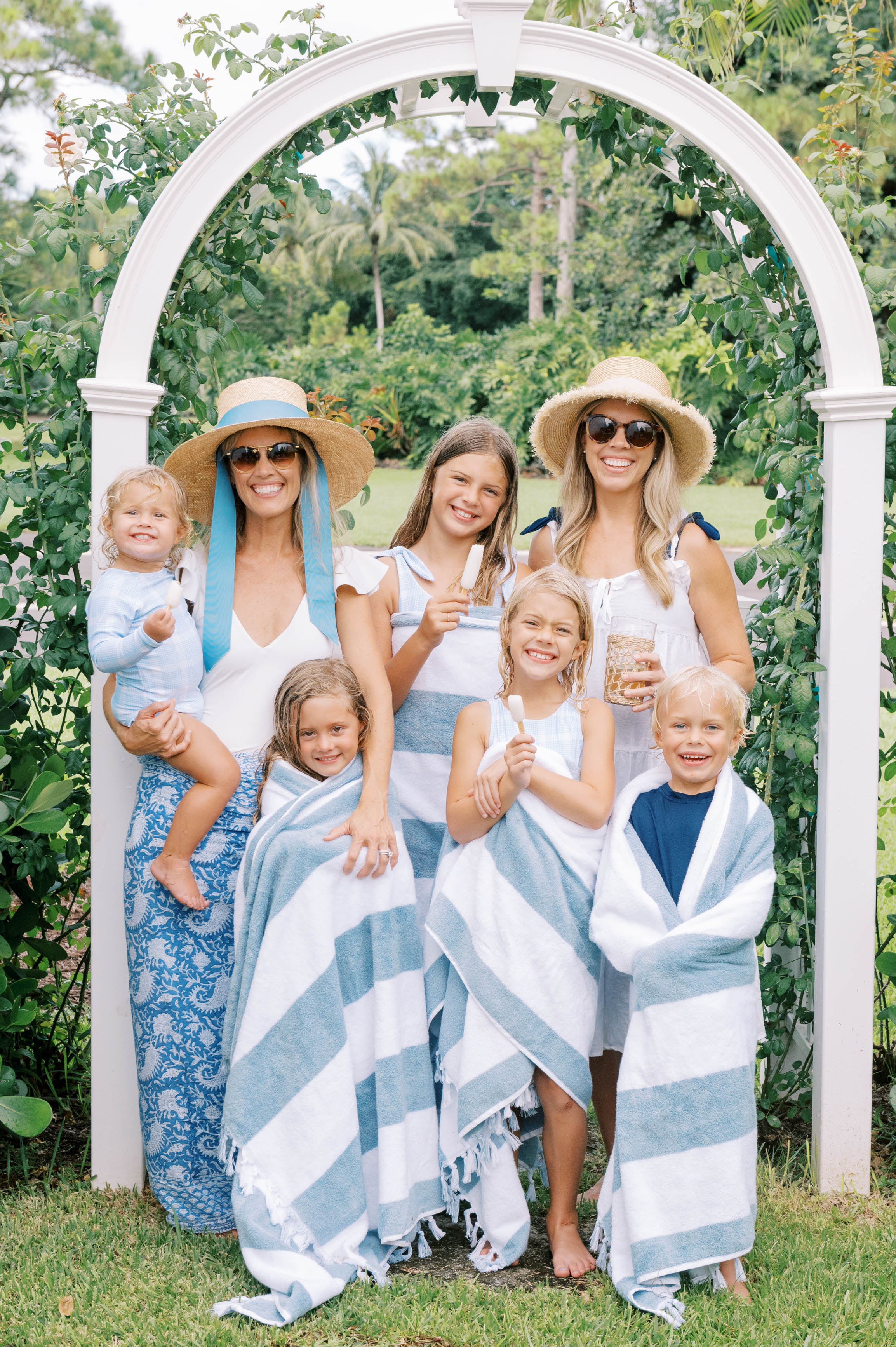 One of the best parts of summer has been spending time with family and friends outdoors. We recently transformed our side patio with our friends at Serena & Lily, and it has been such a pleasure to use this new outdoor space for dining and lounging. Last week, we spent an early evening barbecuing and playing in the sprinkler to celebrate going back to school this week. Come along today as we share our favorite pieces for dining and playing outdoors!
Since adding the beautiful Terrace Dining Table, Pacifica Dining Chairs and Sunbrella Lido Pillows in Coastal Blue to our side patio, we have been able to enjoy dinner outside as a family. On this night, my husband grilled lobsters with lemon and warm butter and I created a fresh peach, mint and burrata salad with crusty herb bread. Instead of setting a full table for this casual evening, I stacked plates and silverware with Salento Linen Napkins in Coastal Blue for our family to pick up when they were ready to eat.
Salad Recipe:
Bibb or spinach for base of salad
1/2 seedless cucumber diced
2 peaches diced
2 handfuls cherry tomatoes diced
2 handfuls dried cherries
Handful pine nuts
2 burrata balls
Mint for garnish
Dressing Recipe:
1/2 c olive oil
1/4 c balsamic vinegar
1/4-1/2 fresh lemon juice
1 tsp honey
1/2 shallot
2 pinches dried oregano
Salt and pepper to taste
Whisk in a bowl.
Directions:
Layer all salad ingredients in the order above in a bowl.
Top with dressing.
While our side patio is shaded in the early evenings, it is peak of summer now so we are always looking for ways to stay cool. We love sitting on the Pacifica Sofa and Lounge Chair in Light Dune while watching the kids play. Beth made a refreshing pink lemonade drink with mint, strawberries and lots of ice for the kids, and adults can add rosé and sparkling water to it for a delicious spritzer. We love the Cayman Seagrass-Wrapped Pitcher and Glasses and Catalonia Coasters that look great served one of their wicker trays, like this pretty Scallop Tray. The kids also had a blast playing in the sprinkler and then enjoyed popsicles while they dried off with the Mallorca Beach Towels in the Coastal Blue stripe.
Our Back-to-School BBQ was a big hit with the whole crew and was a memorable way to mark the end of summer. We can't wait to continue to use our outdoor furniture and decor, especially as the weather cools down in October!
Credits:
Photography: Shea Christine
Outdoor furniture, decor and towels: c/o Serena & Lily
Swimwear: c/o Minnow Swim
Sun hats: c/o Sarah Bray and Tyler Boe
**Thank you to Serena & Lily for partnering with us on this post!