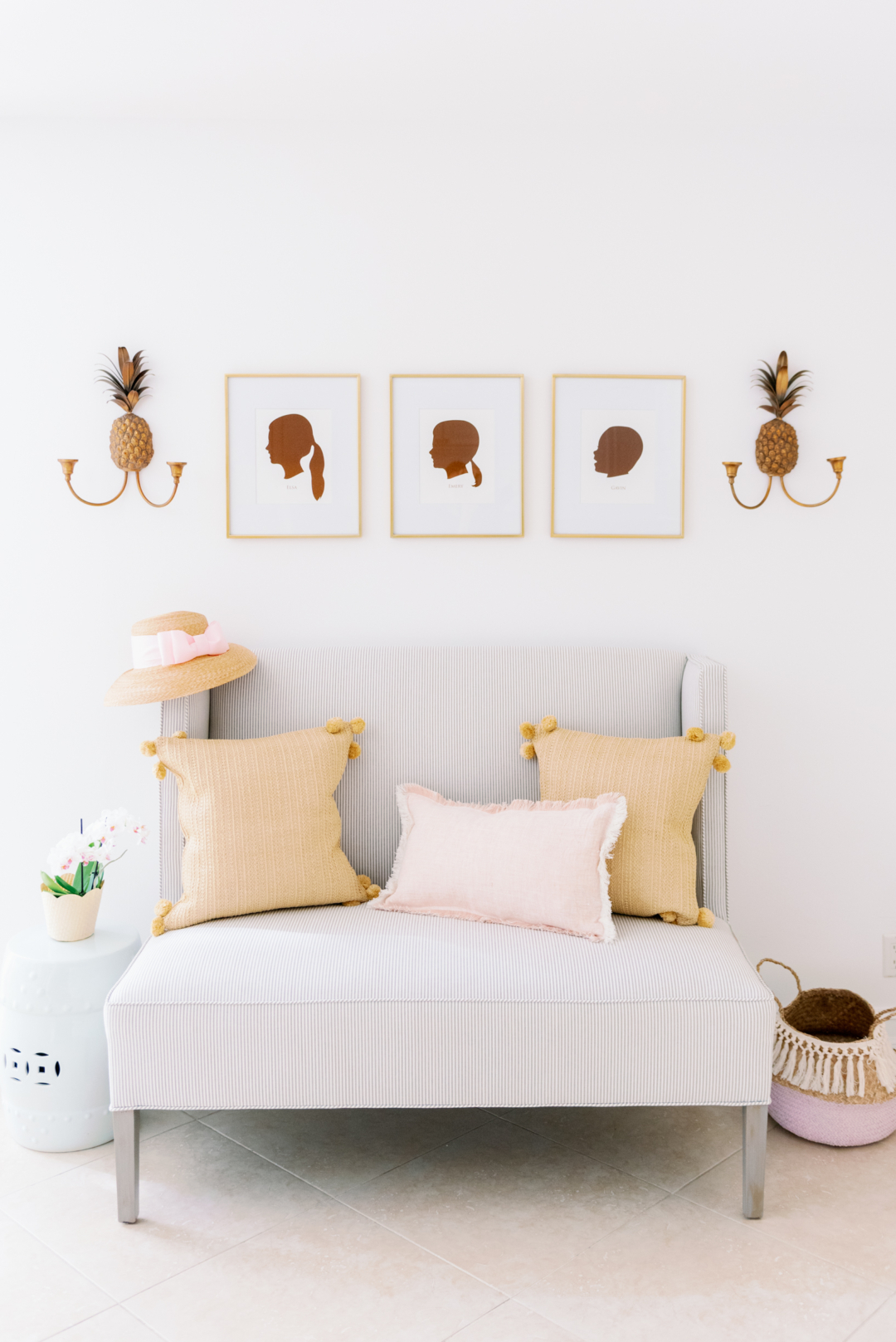 One of our very favorite home lines, Serena & Lily, knows that living well begins at home. We couldn't agree more and are very excited because today through October 14th, they are having their Friends and Family Event that offers 20% off of EVERYTHING! We look forward to this sale every year because 20% off really makes a big difference, and one of the most affordable pieces to buy during this sale are new pillows. Today we are sharing two of our favorite new pillows that I <Danielle> recently got to update my dining nook settee!
I have been working on a few rooms in our new home, and the little dining nook off our kitchen is coming together so well. The Painted Ox recently refurbished this settee for me <more on that soon!>, so I wanted to get new pillows for it. I'm working with greys, blushes, tans and golds, so I picked some fun raffia and blush pillows from Serena & Lily!
I love the Salerno Pillow in 20″ sq because it is made of a natural raffia and has fun pom-poms in the corners. It brings warmth and texture to the room and fits the island vibe that we love. I also love their new Avalis Pillow Cover in the 12″ x 21″ lumbar size. The blush color is so beautiful and the linen fabric with fridge border brings a casual feel to the settee!
Next up, I want to add a dining table with dining chairs so the kids can sit here to enjoy breakfast or do their schoolwork. We also have a counter that needs counter stools, so I'm wondering… what are your favorite Serena & Lily dining tables, dining chairs and counter stools?
Don't miss out b/c now is the best time to shop all of their pieces at really great prices!
** Use code "GUESTPREP" for 20% off
Credits:
Photography: Shea Christine
Pillows: c/o Serena & Lily
Madison Settee: c/o Taylor Burke Home recently refurbished by The Painted Ox