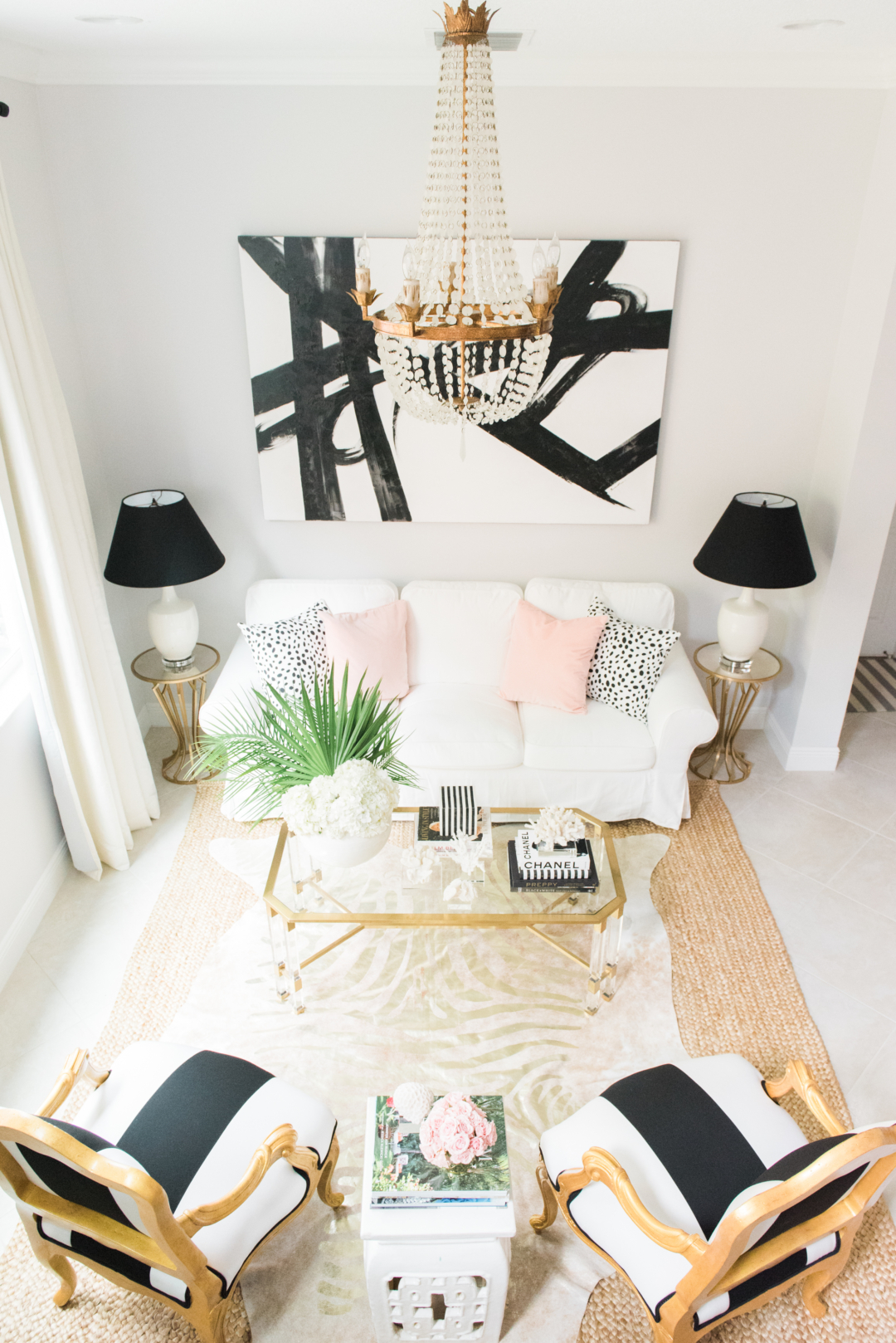 One of the ways we love decorating our homes is by re-imagining furniture we already have that no longer work. Refinishing and re-upholstering old furniture is so fun and more cost effective than buying new pieces. When we have old pieces we want to make new again, we love turning to our favorite local shop, The Painted Ox, to help us bring them back to life. Come along today as we share three different pieces that they recently made over for us!
When Erin Gates came out with her book, Elements of Style, Beth fell in love with the gold chairs on the front cover. She thought they would look beautiful in her living room, so when she found a similar pair of chairs through a local thrifter, she knew they were a great project for The Painted Ox! She had the girls paint the chairs gold and recover them in this black and white stripe fabric. They came out so beautiful – exactly what she always wanted!
Beth also had an old, outdated pair of stools in a hot pink color that didn't work for what she needed. She brought them to The Painted Ox and had them reupholster the seat cushions in a beautiful blush fabric and paint the legs a gold finish. The pair of stools look great under her acrylic console in her family room and are perfect for extra seats, too!
When we recently moved into our new house, I had a gorgeous Madison Settee in a navy velvet fabric by Taylor Burke Home. I love this piece and it's perfect for the dining nook I'm putting together, but the navy color didn't work with the softer hues in our home. I spotted a beautiful grey stripe fabric by Caitlin Wilson and had The Painted Ox reupholster it and paint the legs a light grey color. It is stunning and exactly what I wanted for this space!
If you are local and love shopping unique pieces, be sure to check out The Painted Ox's beautiful 6000 sq ft store! In addition to creating custom pieces for customers, they have a whole collection of items they have done that you can browse and purchase. It is an experience to shop hundreds of antique, consignment, vintage, new and used furniture. And all of their work is done in-house, so it's truly a special place that we are lucky to have right here. If you have any questions, feel free to contact them or us – we are happy to help!
Credits:
Photography: Shea Christine
Furniture re-design: c/o The Painted Ox
Lighting, art, lamps, side tables, and rug: c/o Frontgate
Settee: c/o Taylor Burke Home
Grey French stripe fabric: c/o Caitlin Wilson
Pillows: c/o Serena & Lily, Brooke & Lou
Sunhat: c/o Lisi Lerch
Silhouette prints: Le Papier Studio
Baskets: c/o Amanda Lindroth