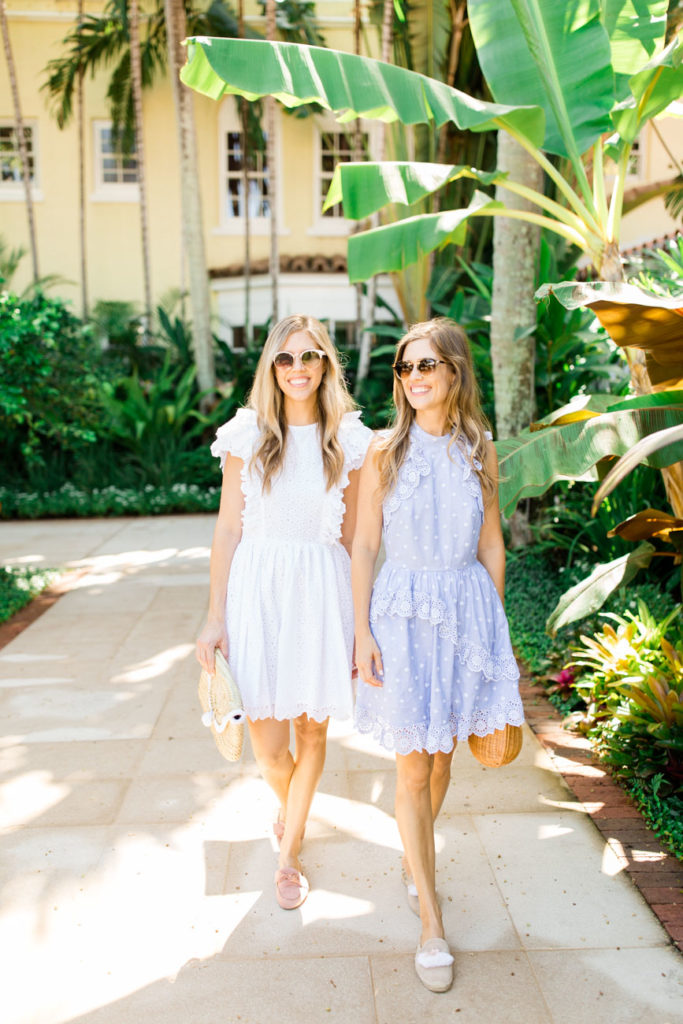 Lately we have been talking about how excited we are to start adding fall pieces to our closets. But since we live in Florida, we have to carefully decide what fall fashions will work as we wait for this super hot weather to cool down <hopefully sooner than later!>. Last week, we shared how mid-length skirts and capri pants are two adorable styles that will definitely work for pre-fall in Florida. Dresses are another go-to of ours, and we couldn't wait to share these cute, new eyelet dresses with you today!
The ruffle details on both this white dress and this blue dress, as well as the deep v, open-back cut on the blue dress, are beautiful. The fabric on both dresses are very detailed, yet light enough to wear in this heat and both styles will look great with light jackets or sweaters over them once it cools down. We also love how easy it is to throw on a dress. Just add a cute pair of sunnies, some loafer mules and a straw clutch, and you're all set!
On this day, we wore our new eyelet dresses to an al fresco lunch at Cafe Boulud at The Brazilian Court to try a special lunch menu for Flavor Palm Beach! Thanks to Flavor Palm Beach, September is one of our favorite months to dine out around town. We love trying the special pre-fixe menus at our favorite spots for just $20/pp for lunch and $30-45/pp for dinner.
Our lunch at Cafe Boulud at The Brazilian Court was fantastic, and we loved the steamed mussels and pommes frites and CBPB burger and chocolate mousse and berry bavaroise. To see the list of participating restaurants and make a reservation during the month of September, click here! Shop these and our favorite eyelet dresses below.
Credits
Photography by: Iris Moore
Clutch: c/o Mariella Vilar 
Wicker bag: c/o J. McLaughlin
Beth sunglasses: c/o Curate Clothes
Beth Hair: AIRBAR
SaveSave
SaveSaveSaveSave
SaveSaveSaveSave
SaveSaveSaveSaveSaveSave
SaveSaveSaveSave
SaveSaveSaveSave
SaveSave
SaveSave
SaveSave
SaveSave
SaveSave
SaveSave
SaveSave
SaveSave
SaveSave