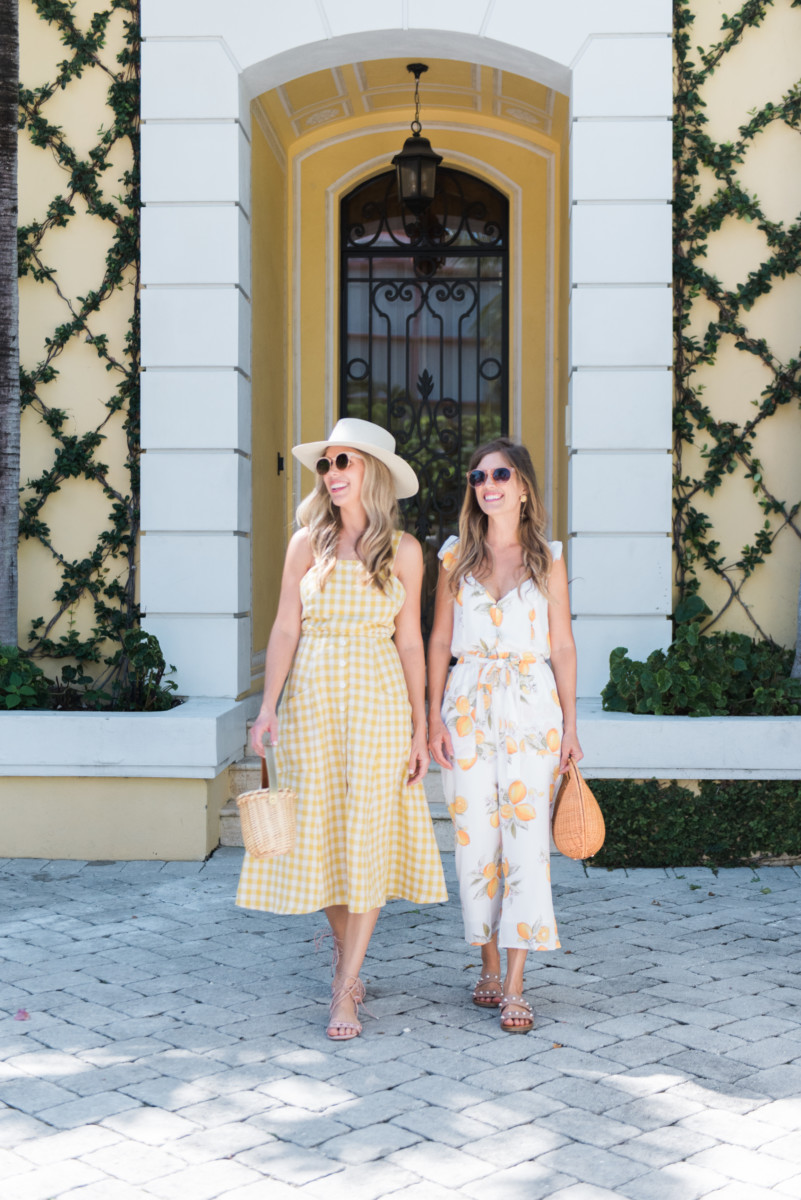 One of our favorite new fall trends that we are now seeing in stores is this new yellowish-gold color. It's being called everything from marigold to saffron to sunset gold, and whatever it is, it's SO pretty! Since it's still very warm down here in Florida, we can't wear the beautiful fall sweaters and jackets that are now out in this new hue <yet!>. BUT, we aren't letting that stop us from creating our own fall spin on it!
We found this dress and this jumpsuit, both in this season's popular yellowy-gold tone, that are perfect to wear in fall in Florida. The marigold gingham dress <on Danielle> is a flowy piece by a popular brand called Reformation <you can see more of their pretty dresses here>. It's now sold out, so if you're looking for something in yellow gingham, don't miss our last post about Elizabeth Wilson Designs. We also love this citrus jumpsuit <on Beth> by For Love & Lemons. The flutter sleeves and belted waist are so flattering!
Other Florida-friendly marigold pieces we currently love include this ruffled gingham top, these three-tiered sphere earrings, this asymmetric top <now on sale for only $29!>, this wool flannel ruffle skirt, this pleated midi skirt and this gingham swimsuit top and bottom <also on sale!>. And this dress, oh this dress is GORGEOUS for a special occasion or event!
So, after seeing some of our faves… what do you think about this color? Do you love it or will you pass on it? And are you eyeing any fall pieces in it? We'd love to hear! xo
Credits:
Photography by: Shea Christine
Panama hat: c/o Lindroth Design
Mini Birkin Basket: c/o Lindroth Design
Wicker bag: c/o J.McLaughlin
SaveSave
SaveSave
SaveSave
SaveSave
SaveSaveSaveSave
SaveSaveSaveSave
SaveSave
SaveSave
SaveSaveSaveSave
SaveSave
SaveSave