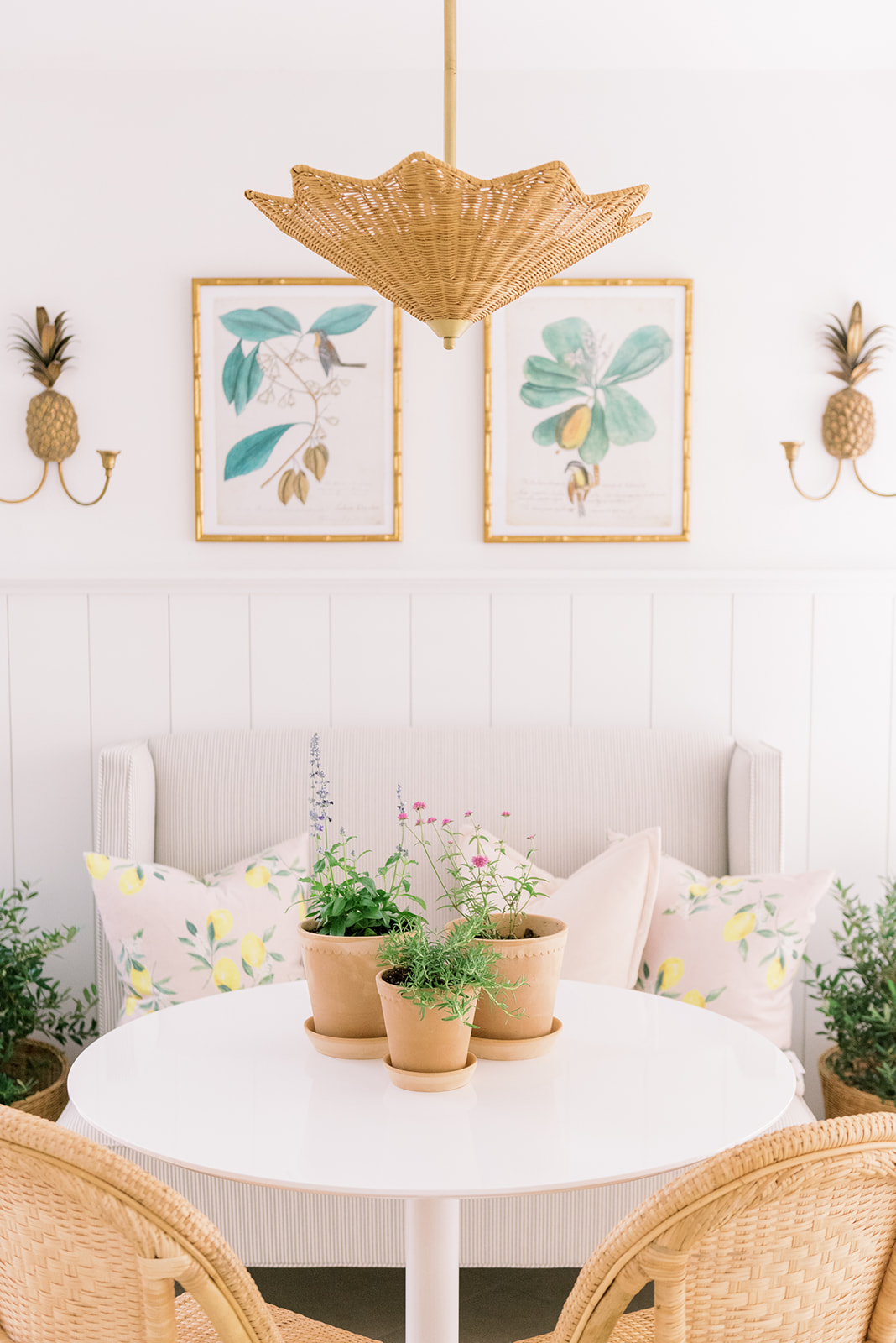 Breakfast nooks are one of my very favorite rooms! They are more informal and playful than dining rooms, and I love designing and styling smaller spaces. Our cozy dining area has become the perfect spot to sit with my kids or catch up with my husband throughout the day. I've had fun making little updates to our breakfast nook here and there that I'll share with you below. And most recently Teddy and Matt from Property Solutions and SF Woodworks came by to install shiplap on the wall that brought the cutest cottage charm to the space!
I started this space with a 40″ Round Tulip Dining Table, a pair of Sunwashed Riviera Dining Chairs and a grey striped settee with floral pillows on it. I then hung a cute rattan pendant light and a pair of botanical bird prints in gold bamboo frames and brass pineapple candle sconces on the walls. Most recently, I added these scallop pots with saucers to the table and a pair of olive bushes in wicker planters on either side of the settee.
I also really wanted to do some kind of woodwork on the wall, so we called upon our friends Teddy and Matt of Property Solutions and SF Woodworks to install vertical shiplap. They did a fantastic job creating exactly what I wanted and it has made a huge difference in elevating the style. You can see pictures of the space before the shiplap was installed here to see how simple it was before and how gorgeous the shiplap looks now. I highly recommend Teddy and Matt for woodwork and other handy work around your home!
1 pineapple candle sconce (currently sold-out, but see more similar options below) /2 vintage finch botanical print / 3 vintage bird botanical print / 4 wicker light pendant / 5 shiplap installation by SF Woodworks / 6 scallop pot and saucer / 7 sun washed riviera dining chair / 8 40″ white tulip table / 9 josephine tufted loveseat / 10 blush pillow cover / 11 lucille floral pillow
Credits: 
Photography: Shea Christine
Home projects and Woodwork: c/o Property Solutions and SF Woodworks (Teddy + Matt)
Rattan parasol pendant: c/o Celerie Kemble's The Kemble Shop 
Gold bamboo frames: c/o Framebridge