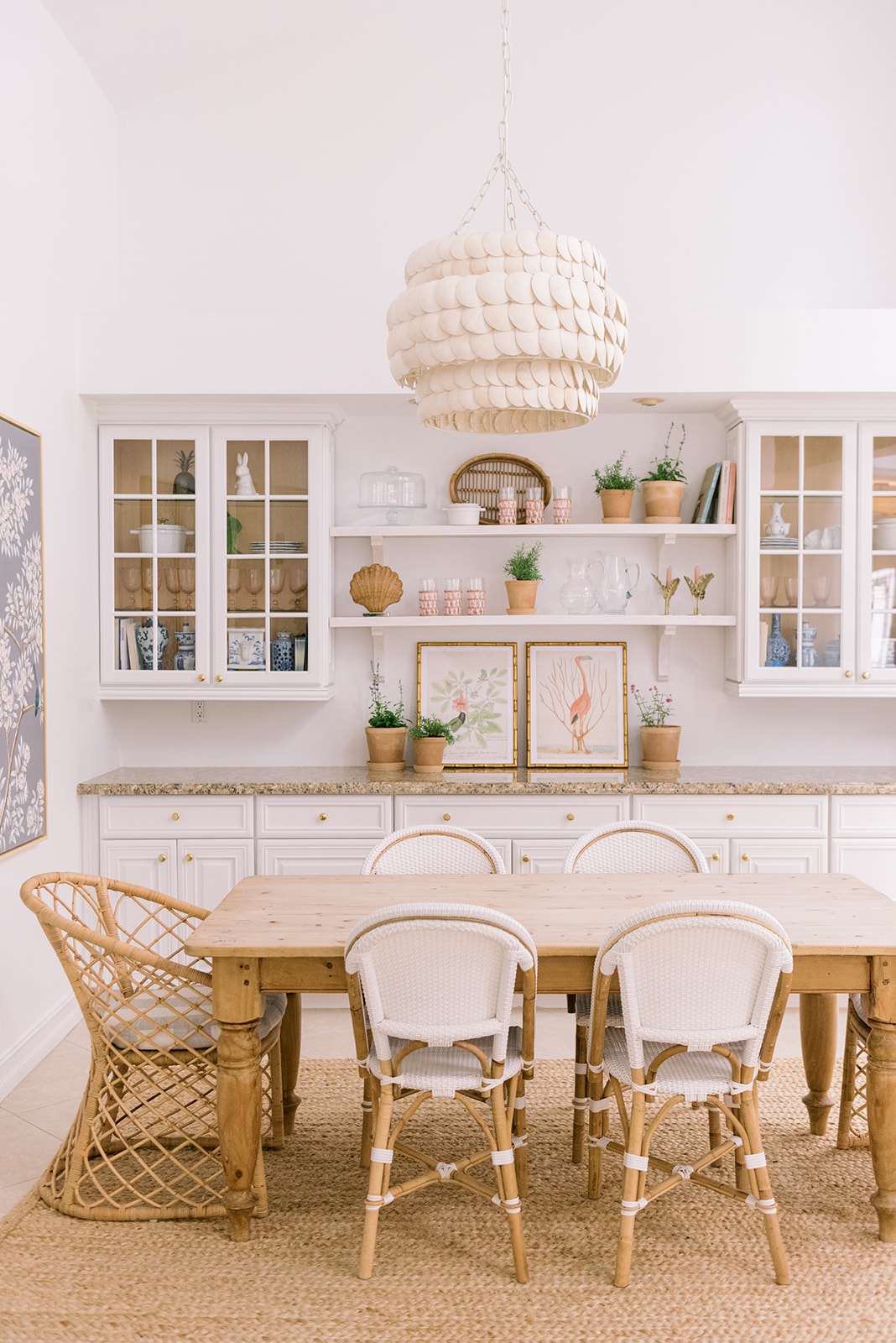 For the past year and a half, Jason and I have been updating our cottage-style home little by little with various projects. When it comes to bringing design ideas to life, Beth and I are always on the lookout to collaborate with kind, creative, hardworking people who see our vision. One of my recent ideas was to create a pair of shelves in our dining room that would give the space more storage and style, so my husband Jason suggested Teddy and Matt of Property Solutions and SF Woodworks. Teddy had already hung new light fixtures and other various projects around our home, but with the help of Matt he has now branched into a complete woodwork company, too. Over the next week, I will be sharing three woodwork projects they recently installed for us that have made such a big difference!
First things first, this is the "before" photo of the dining room right before we moved into our home that we lovingly call "Birdie Cottage"…
"Before"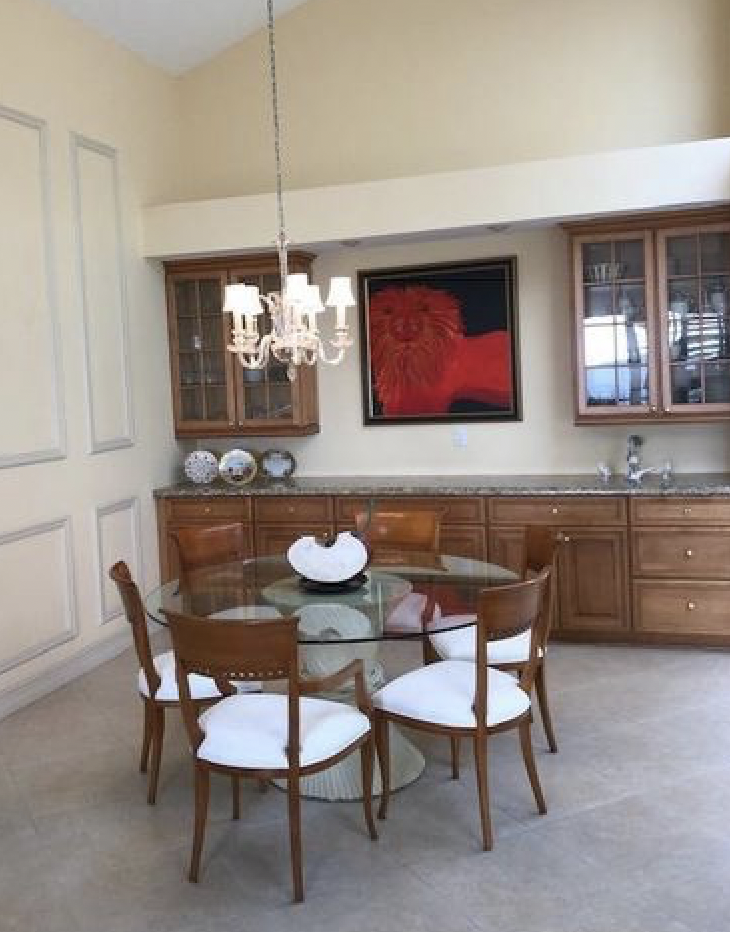 The above shot was taken of our dining room before we moved in and the first thing we did after closing was paint both the walls and the cabinets in SW Extra White. It is incredible how transforming white paint is, as it really freshens up a space and brings it to life! But there was still a big blank wall in between the upper cabinets that I wasn't quite sure what to do with at first. Then I recently decided that a set of custom cottage shelves would be a great way to connect the space between the cabinets and add extra style to that wall!
Teddy and Matt with Property Solutions and SF Woodworks did a fantastic job creating and installing the shelves! I picked out four of these wood brackets to go under the shelves and Teddy and Matt did all of the shelf woodwork, installation and painting for us. They are very honest, punctual, efficient, and precise which are all important traits we look for when working with companies. The kids love to ask them a million questions about what they are doing and what tools they are using while they work. I can't say enough wonderful things about them and highly recommend them for a variety of projects around your home!
To complete the look, I first moved some of my favorite glassware and serving ware over to the shelves. Then, I filled them in with new pieces like these scallop pots and saucers that I used to plant new herbs and plants. You can shop all of our current favorite pieces below!
And be sure to come back next week when I share two more beautiful woodwork projects by Teddy and Matt that have made a big statement in our little "Birdie Cottage"!
Shop the look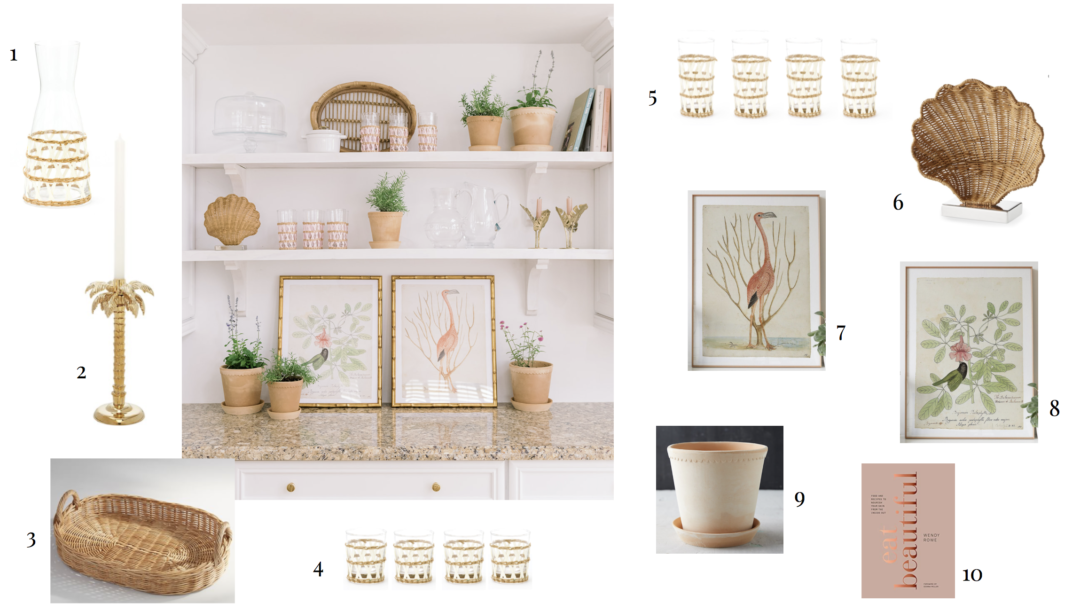 1 white island wrapped carafe / 2 palm tree gold candle holder / 3 wicker serving tray / 4 white island wrapped tumbler / 5 white island wrapped ice tea glass / 6 wicker shell on stand / 7 flamingo bird botanical print / 8 sparrow bird botanical print / 9 scallop pot and saucer / 10 eat beautiful cookbook
Credits:
Photography: Shea Christine
Cake stand and pitcher: c/o Juliska cake dome and cake stand and pitcher
Home projects and Woodwork: c/o Property Solutions and SF Woodworks (Teddy + Matt)
Sunhat: c/o Sarah Bray