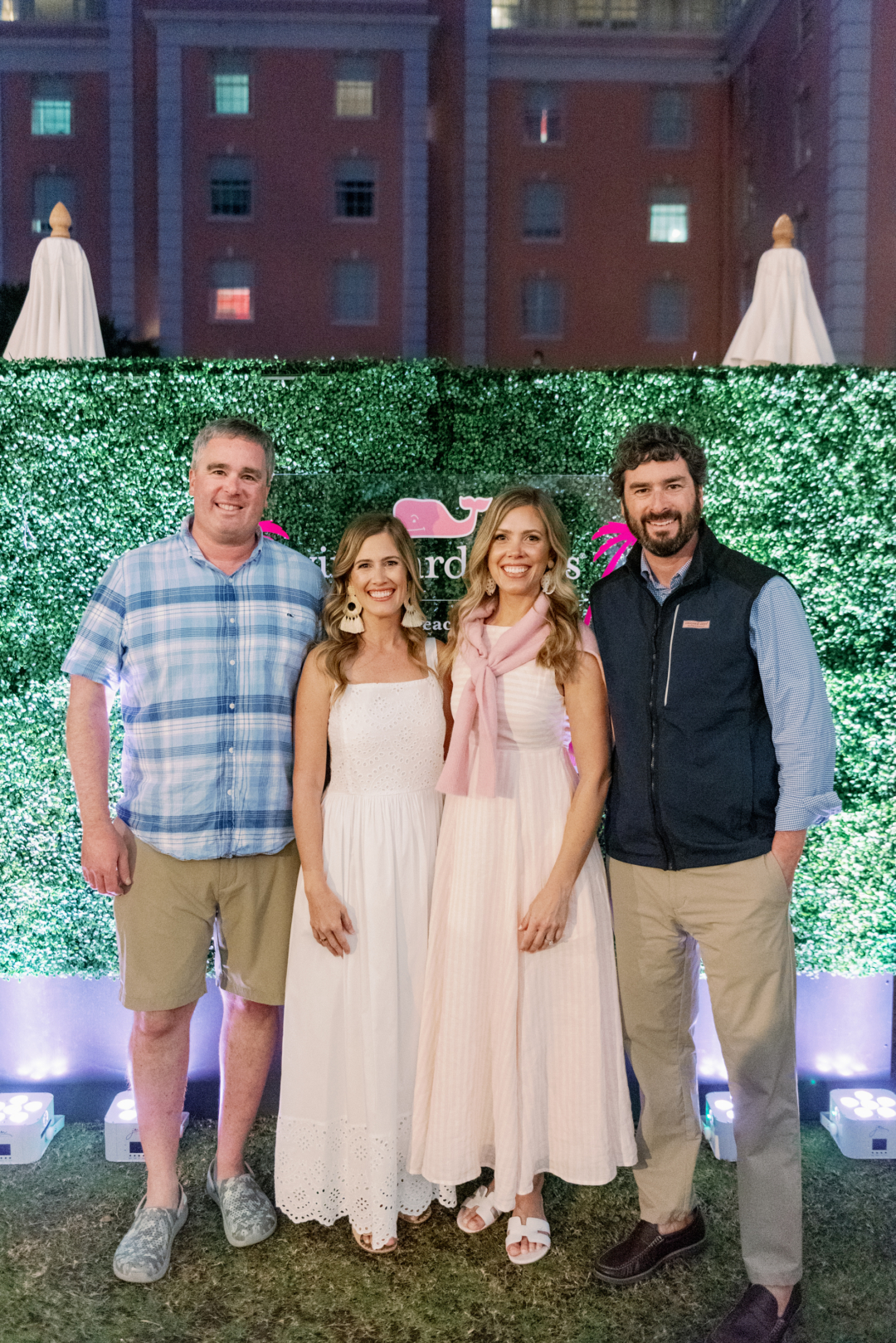 The vineyard vines x Palm Beach Lately limited edition collection hit stores two weeks ago, and we were so blessed to be able to celebrate the exciting launch with family, friends and the fabulous team who helped make this happen! The perfect backdrop for the event was The Colony, of course, and we had lots of fun touches to help bring the collection to life. Come along today for a sneak peak of the party and people who make us smile every day!
When we saw Sarah Tucker post The Wandering Whale bar for her husband's company holiday party on Instagram, we were smitten! We immediately contacted the company and booked them for our launch event. They pulled right into the event space and set up the cutest decorated bar we have ever seen that fit perfectly with the theme, all on their own! They served wine and a signature pink cocktail that guests enjoyed while they mingled.
We are also so grateful that our blogger friends – Ashley Brooke, Mackenzie Horan, Venita Aspen and Nita Mann – were there to celebrate with us! They look so beautiful in the vineyard vines and Palm Beach Lately limited edition collection. The striped jumpsuit, white maxi dress, blush striped maxi dress, and blush tiered dress were a big hit that night!
We were also excited that Shep and Ian flew in for the party, and Lindsey, Nicole and Emily from Marketing, PR and events pulled off both a beautiful event and few days of fun! The musician they booked played the best tunes and Renny & Reed created beautiful florals!
We really enjoyed spending time with our family, friends and community! Our parents, brother, husbands, and girlfriends were there to give us hugs and cheer us on. We also had the pleasure of catching up with many wonderful friends from local businesses like Lauren and Christin from Luxe Report Designs, the sisters of C.Orrico, Sarah, Bruce and Michael of The Colony, Stacey of The Scout Guide Palm Beach, Kristen and Dave Hobgood of Hobgood Construction, and Desiree of Beautifully Seaside to name a few. Many thanks again to everyone who helped us launch this collection and celebrated with us! xo
Credits:
Photography: Shea Christine
Location: The Colony
Clothing: vineyard vines x Palm Beach Lately
Bar: The Wandering Whale
Florals: Renny & Reed