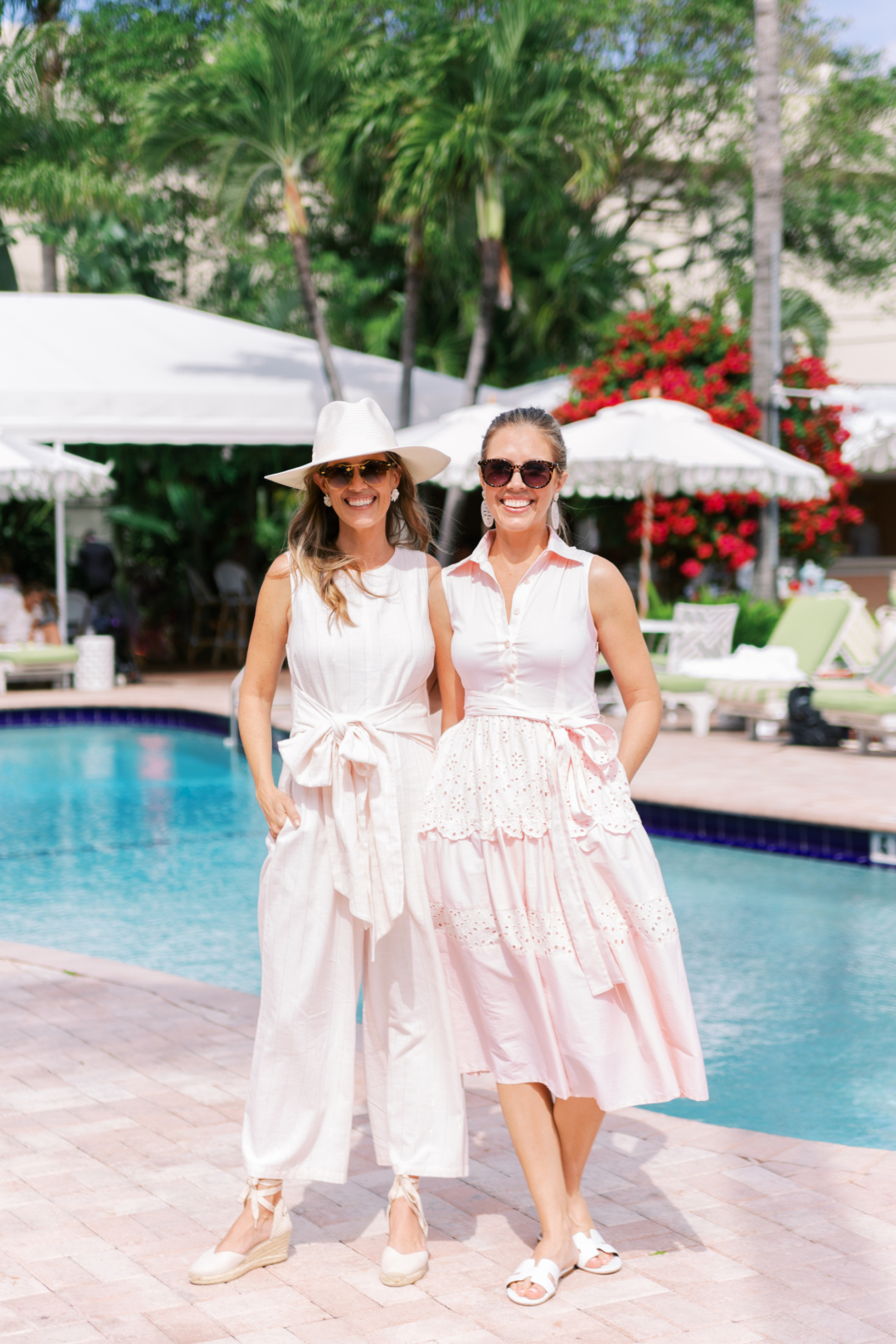 Two weeks ago, we co-hosted with vineyard vines some of our blogger friends to Palm Beach to celebrate the launch of our vineyard vines x Palm Beach Lately collection! We have spent time with each of these girls – Ashley Brooke, Mackenzie Horan, Venita Aspen and Nita Mann – and felt they were a great reflection of the love and sunshine we feel here in Palm Beach. Come along today to see all the fun things we did so you can do them, too!
After the girls checked into The Colony, we met them for some fun by the pool. We love The Colony's relaxed pool vibe. It feels like you're hanging out in the backyard of a Palm Beach estate with your besties. We especially love that Mackenzie and Beth introduced their adorable babies here and are convinced they will be getting married back here one day!
It was a little chilly so we weren't in bathing suits, but we did get to wear some of vineyard vines' new spring pieces like the Palm Beach Lately Tiered Dress, Palm Beach Lately Striped Wrap Jumpsuit, Palm Beach Lately Stripe Maxi Dress, Bamboo Lattice Halter Jumpsuit, Seersucker Harbor Shirt Cover-Up and Bamboo Lattice Caftan Cover-Up. The spring collection is full of soft colors, especially lots of blushes and blues – two of our faves!
After the pool, The Colony graciously packed up some treats and transported us on their buggy to the oh-so-popular needlepoint shop, Lycette. The weather was iffy, so instead of boating we thought needlepointing would be a great way to spend time together inside. And it may sound so grandmillenial, but we all honestly really enjoyed Jessica's instructions and advice on needlepointing. Some of us had done it before and some of us hadn't, and we were all raving about Jessica's adorable shop. It was, to some of our surprise, such a blast!
That night we had a delicious dinner in Renato's private room that we highly recommend. The food was perfect and the setting was intimate, which made it fun for all of us to chat over food and drinks. The next morning, we stopped by vineyard vines to take a peek at the Palm Beach Lately collection. People keep asking us, "How does it feel?" Honestly, it's cliche, but it all feels very surreal in the best way. Everyone has been so kind and generous sending us congratulations and positive feedback, which is really great to hear!
After stopping by the store, we all hopped on bikes we rented from the Palm Beach Bicycle Trail Shop at The Royal and headed north on the bike trail to check out the water and home views. Some hadn't been on a bike in years, but all the girls did great! This is one of our very favorite activities to do with the whole family, so we were excited to share it with them.
After riding bikes, we had lunch at Sant Ambroeus in The Royal. It is a great spot for lunch with girlfriends, and we enjoyed their yummy menu of salads, pastas, salmon and sweets. And thanks to our friends at Renny & Reed, Southern Belle's Cakery and Lovely Little Party, we had beautiful flowers, precious custom cookies and cute menu cards for the girls!
After lunch, we walked down to the beach to enjoy the gorgeous weather! The Colony created the cutest beach set up for us with white umbrellas, striped chairs, pink coolers, and treats. Thanks to cool temps, we all were comfortably wearing new sweaters from both the Palm Beach Lately collection and spring collection with their fabulous white jeans. Our favorite sweaters include the Palm Beach Lately Cashmere Sweater, Palm Beach Lately Cotton Striped Crewneck Sweater, Sunny Sweater, and Embroidered Sunshine Sweater!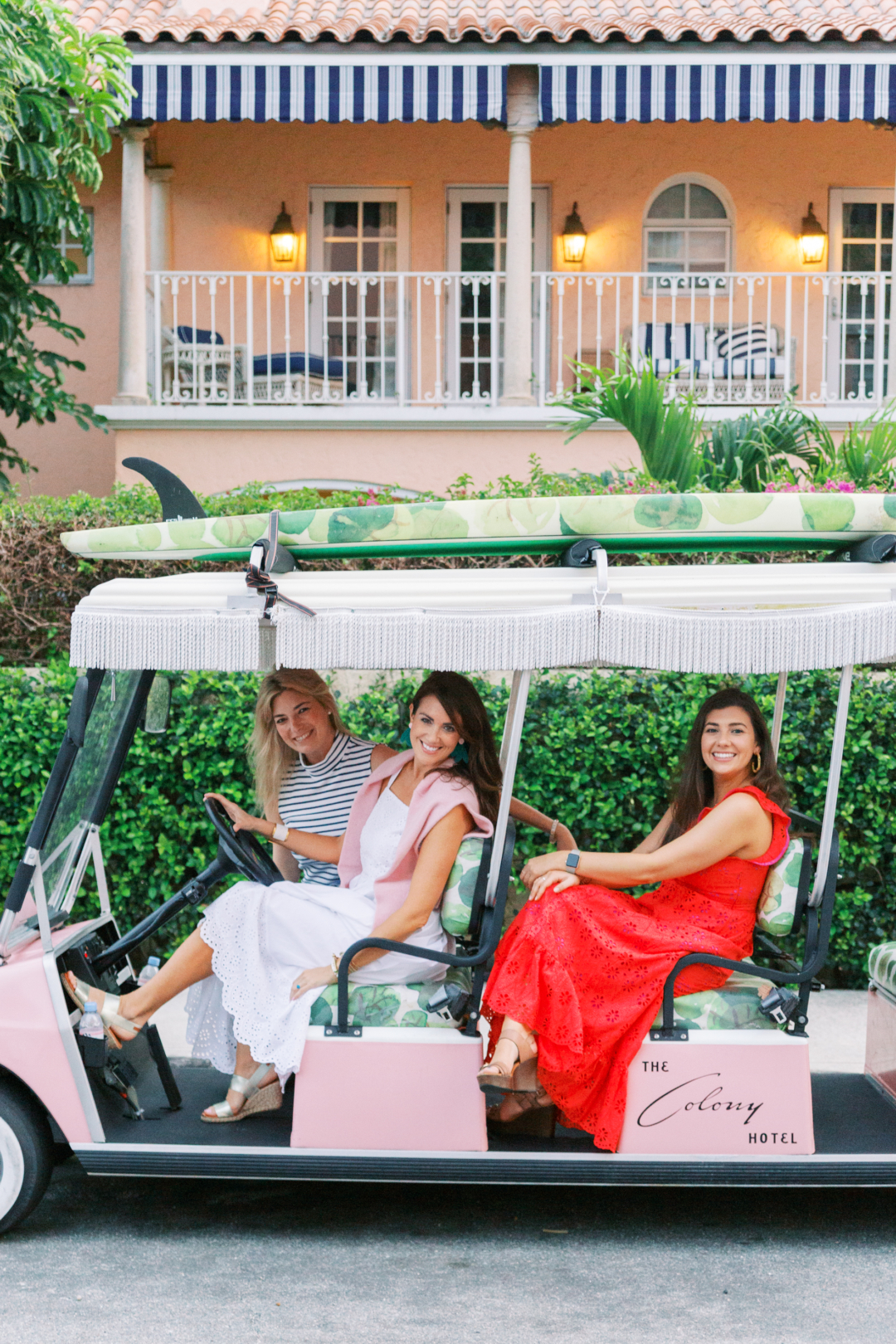 This truly was a quintessential Palm Beach getaway and dream come true partnership! We can't thank Ashley, Mackenzie, Venita and Nita enough for coming to Palm Beach to celebrate with us. And be sure to come back later this week, as we'll be sharing more from the launch party we had to celebrate the vineyard vines x Palm Beach Lately collection!
We also want to say a special thank you to the three ladies pictured above – Lindsey, Nicole and Emily! They are the fabulous Marketing, PR and Social Media team and have worked so hard behind-the-scenes to help make this collection and trip a big success. Not only are they smart and on-the-ball, they are a delight to spend time with and so beautiful inside and out. We miss their smiles and are so grateful for all of their hard work!
Credits: 
Photography: Shea Christine
Bloggers: Ashley Brooke, Mackenzie Horan, Venita Aspen and Nita Mann
Clothes: vineyard vines x Palm Beach Lately
Hotel: The Colony
Needlepoint: Lycette
Dinner: Renato's
Lunch: Sant Ambroeus at The Royal
Bikes: Palm Beach Bicycle Trail Shop at The Royal
Menu card: Lovely Little Party
Flowers: Renny & Reed
Cookies: Southern Belle's Cakery