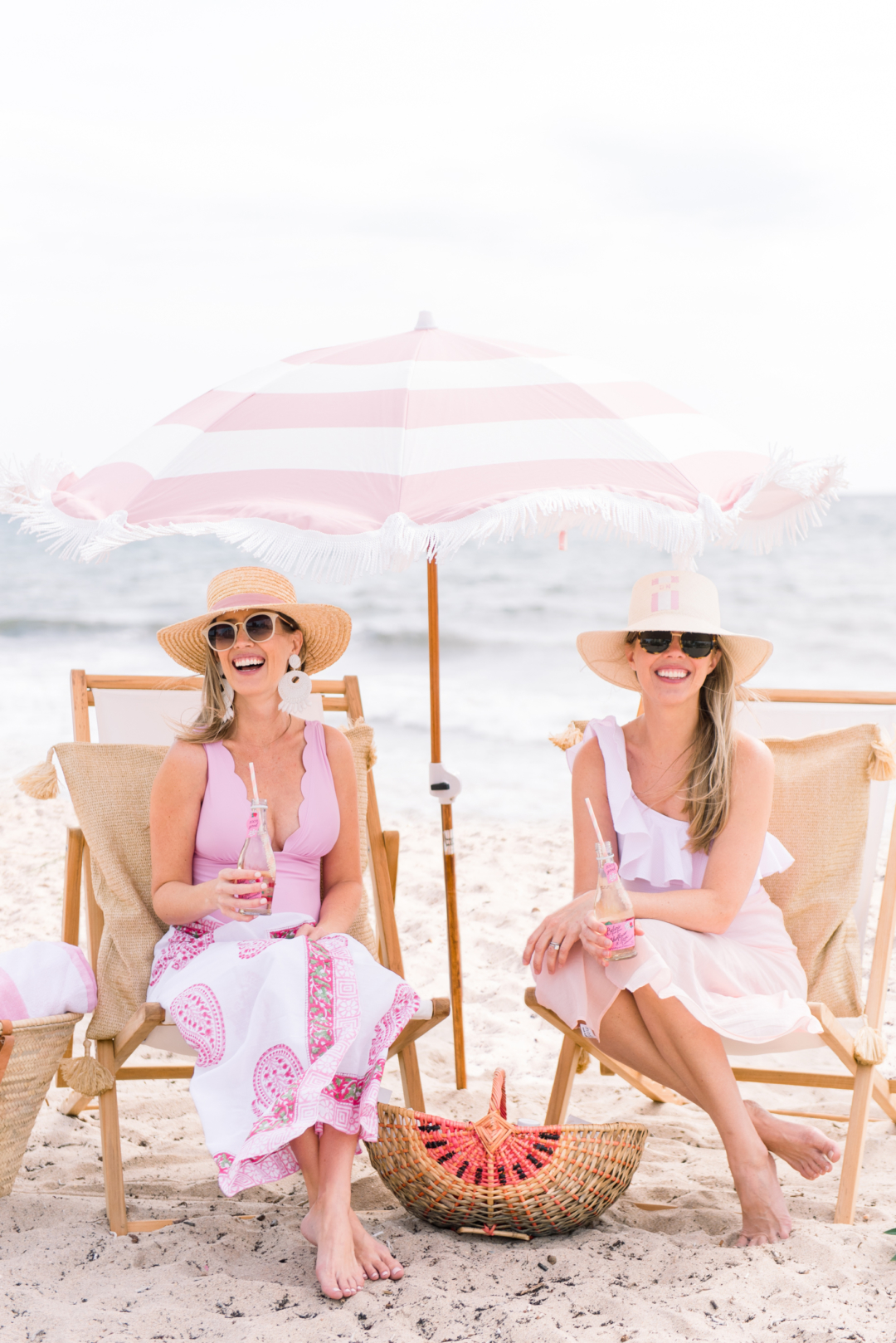 When we are on the island and want a quick lunch, one of our favorite spots to order from is The Sandwich Shop at Buccan. It's a little hole in the wall on the backside of their very popular restaurant, Buccan, and features a small but delicious menu of sandwiches, salads, chips, sweets and other goodies. We recently discovered that they loan picnic baskets to carry your lunch, so today we are sharing how much we loved having lunch at the beach!
First we stopped by our Pineapple Pad vacation rental to pick up a pair of beach chairs, an umbrella and cabana stripe towels for shade and seats at the beach. Guests of our condo can enjoy all of these amenities as part of their stay, so we really want to encourage using them! Then we placed our order at The Sandwich Shop for an assortment of sandwiches, chips, sweets, and drinks and stopped by to pick up our lunch on our way to the beach.
It's hard to pick our favorite sandwiches because we love them all, but the ones we order most are the Turkey Club Sandwich, Prosciutto Sandwich and Buffalo Chicken Sandwich. We also love their house made potato chips, pickles, cookies, and brownies. And they make the most delicious iced tea, lemonade or the perfect blend of both in their Arnold Palmer. Our entire lunch was neatly packed in the adorable watermelon picnic basket… so cute!
Eating at the beach can get mixed reviews thanks to sand and wind, but we love it! Looking at the waves and walking in the sand is a luxury we get to enjoy for living here, so we like to take advantage of it as much as possible. If you haven't been to the beach lately, we would love to have you as guests at our Pineapple Pad this summer! You can relax and rest and enjoy all of the perks of island life for a very reasonable summer rate of $225-250/night! xo
Credits:
Photography: Shea Christine
Picnic basket and lunch: c/o Buccan
Beach chairs and pillows: c/o Serena & Lily
Bathing suits: c/o J.Crew
Sarongs: c/o Minnow Swim and India Amory
Monogram hat and tote: c/o Amanda Lindroth