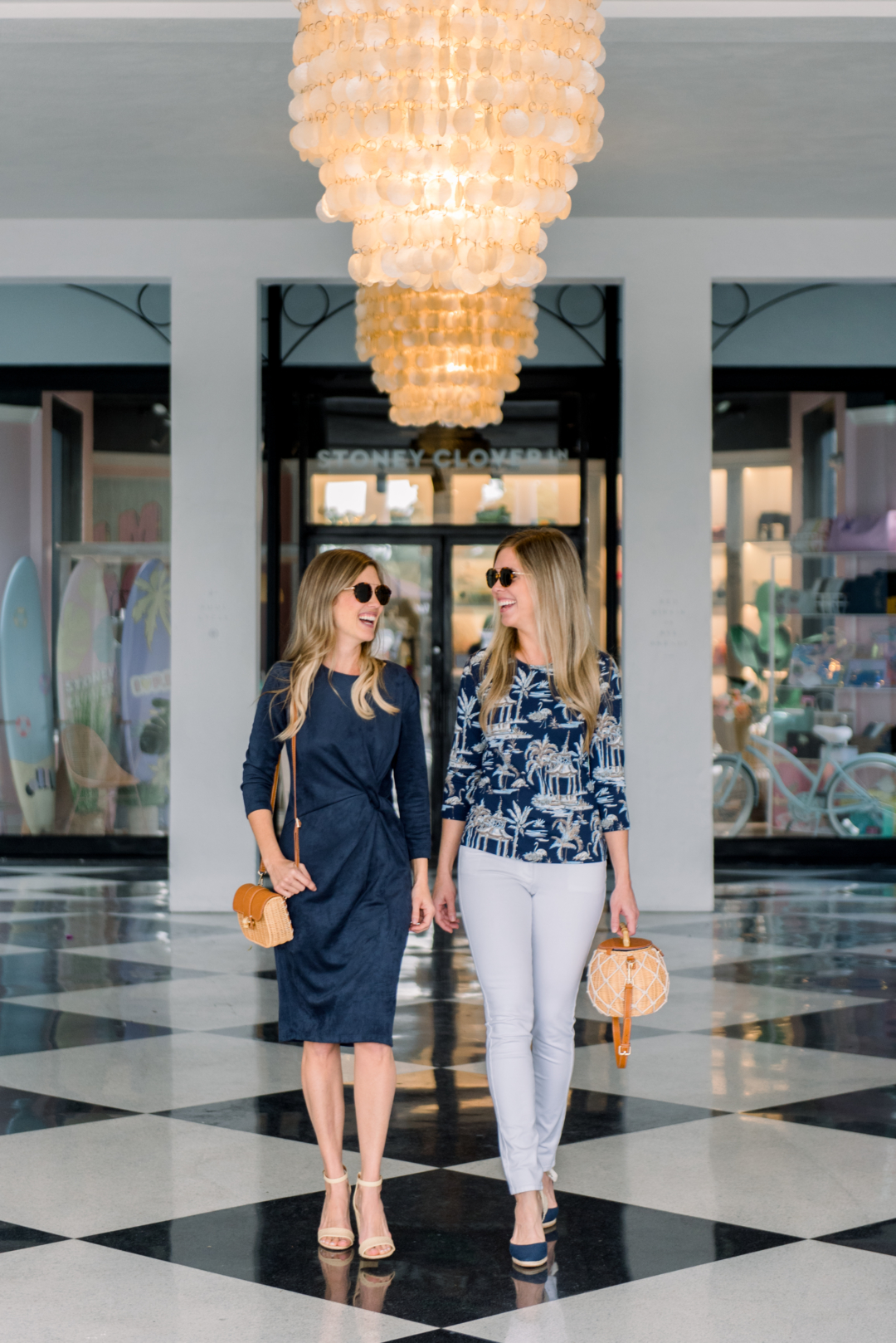 Happy Friday, friends! The weather has been so beautiful this week, and we are looking forward to popping by The Honda Classic or playing at the pool with friends this weekend. Since it's our favorite time of year here, we thought we should show you around a couple of our favorite old-meets-new Palm Beach hang out spots. We are also sharing some of our fave new looks by J.McLaughlin, so be sure to come along with us today to take a peek!
Shop the looks 
Beth: coral shirt dress, bag, heels // Danielle: blue shirt dress, bag, sunnies
The Colony
For a charming Palm Beach experience, we love The Colony! Located just steps from Worth Avenue and the beach, The Colony is known for its uniquely colorful personality and boutique hotel experience. The pink-hued hotel has been a Palm Beach landmark since 1947 and has hosted everyone from U.S. presidents to European royalty and winter season snowbirds. It also made a great spot for Beth's Baby Shower, too!
So many special touches have been added to The Colony since it is back in the hands of the Wetenhall family. At check-in, children receive a backpack with a Palm Beach coloring book, crayons and stickers. And when they arrive in their room, they'll find a stuffed animal version of the monkey JB, Johnnie Brown – it's a fun take on Addison Mizner's pet monkey!
The updated restaurant, CPB, is great for a yummy breakfast or lunch on their outdoor terrace that overlooks the backyard oasis with palm trees and a private pool. We also love their Bimini Bar that is located just off the pool. It is the perfect quaint place to sit back, relax and sip on a mimosa while you people watch!
Celerie Kemble Interiors recently redecorated the pool area with beautiful umbrellas and furniture. It's such a great spot to soak up the sunshine, plus they created a playful element with custom cornhole and life size jenga on the lawn. Guests can also ride their bikes with adorable Colony flags all over the island and hop on the pink beach buggy that offers beach service with pink and white stripe chairs, umbrellas and custom paddle boards!
Shop the looks
Beth: navy dress, bag, heels // Danielle: navy pergola top, white jeans, bag, sunnies
The Royal
We have been going to The Royal Poinciana Plaza, now known as "The Royal," long before it began its notable makeover back in 2016. But the talented team behind The Royal has brought so much new life, style and hospitality that we almost can't remember what the old plaza was like! It has been such a magical transformation to have here on the island, and we find ourselves wanting to come here all.the.time.
In the morning, we like to stop by Celis Produce to say hi to the sweet brothers and owners Alex, Camilo and Felipe and grab a fresh El Flamingo or The Glow smoothie or Classic Açaí Bowl.
After shopping for a bit, we like to break for lunch at Sant Ambroeus. Known for their Milan-meets-Manhattan vibe, we enjoy having Avocado Toast in their cafe, an Artichoke Salad on their patio, a big bowl of pasta in their dining room or a cocktail by the bar. We also love bringing the kids here for gelato <chocolate and coconut are our favorite flavors> after we ride bikes from the Palm Beach Bicycle Shop!
After lunch, we have to swing by Assouline to get lost in one of their luxury books. Their Palm Beach location is their second stand alone store and offers a variety of unique books that make a wonderful addition to your home library and coffee table… or a thoughtful gift!
And before our day is done, we like to get a bite to eat at The Honor Bar – Palm Beach Grill's casual new spot located right next door. We love that they have no reservations and welcome walk-ins for lunch and dinner. Our favorites from their menu include the Burrata on Toast, Tuna Tartare, Dip Duo and French Dip Au Jus!
Credits:
Photography: Shea Christine
Clothing: J.McLaughlin
Look 1 – Beth: coral shirt dress, bag, heels / Danielle: blue shirt dress, bag, sunnies
Look 2 – Beth: navy dress, bag, heels / Danielle: navy top, white jeans, bag, sunnies
Locations: The Colony Hotel and The Royal Poinciana Plaza
*Thank you to J.McLaughlin for partnering with us on this post!