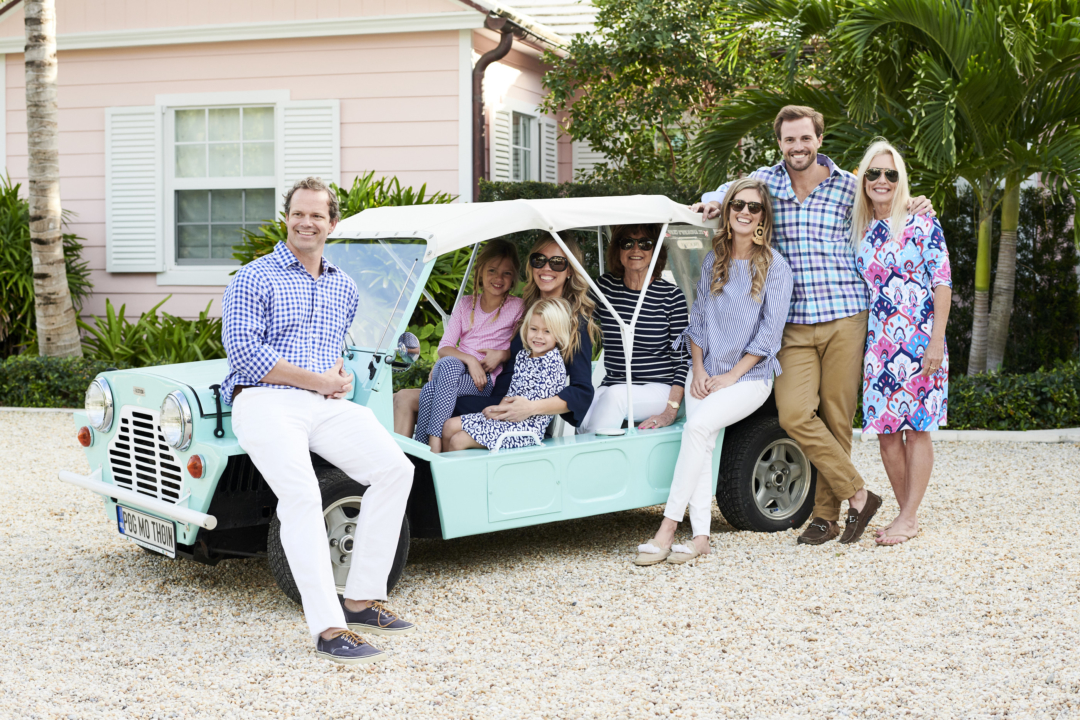 Ya'll must know by now that we love J.McLaughlin! We recently scrolled back through our blog and realized it has been three and a half years since we did our first post with them. Looking at that first blog post and several more we have done together over the years <here, here and here to name a few> makes us smile because they truly feel like family to us now!
So when the inspiring J.McLaughlin team was recently in Palm Beach shooting their new Spring Collection at our friends' beautiful home, we couldn't wait to stop by and say hi. And we were able to bring a few of our family members with us to show how perfect their styles are for the whole fam. Come along today to see how we all styled our new favorite looks and watch a fun video from their time here that we absolutely love!
It was a chilly afternoon, so our grandma, mom and my two girls cuddled up with us on the bench to stay warm. We had each picked out outfits that fit our personalities so well: Beth chose this blue striped blouse with these white jeans, our grandma chose this striped crewneck sweater with these white pants, our mom chose this colorful dress, and I chose this navy scalloped dress. All of these looks are fresh yet classic and chic and look great when paired with J.McLaughlin's latest shoes, sunnies and bags!
The best new addition to J.McLaughlin's fashion lineup is their new collection of children's clothes. "Mommy and Me" styles are our favorite, and we love how this cheetah dress, this pink gingham shirt and these navy gingham leggings can be found in adult sizes, too <dress here, shirt here and pants here>. The girls also loved this dress and this fish top with this white skort. Plus, how cute is this pink polo shirt and these fishbone shorts for little boys?!
Our family wouldn't be complete without the handsome guys in our lives, and on this day our brother and my husband were able to join us, too! We love including them in shoots and seeing what they picked to wear. My husband loves this blue gingham linen shirt with white pants and our brother liked this tailored check shirt with khaki pants. And before we go, we had to share this adorable "J.McLaughlin Life" video they shot while here, too!
Credits:
Photography: Squire Fox and PS Photography and Films
Hair: AIRBAR
Clothing, shoes and sunnies: c/o J.McLaughlin
*Thank you to J.McLaughlin for partnering with us on this post!