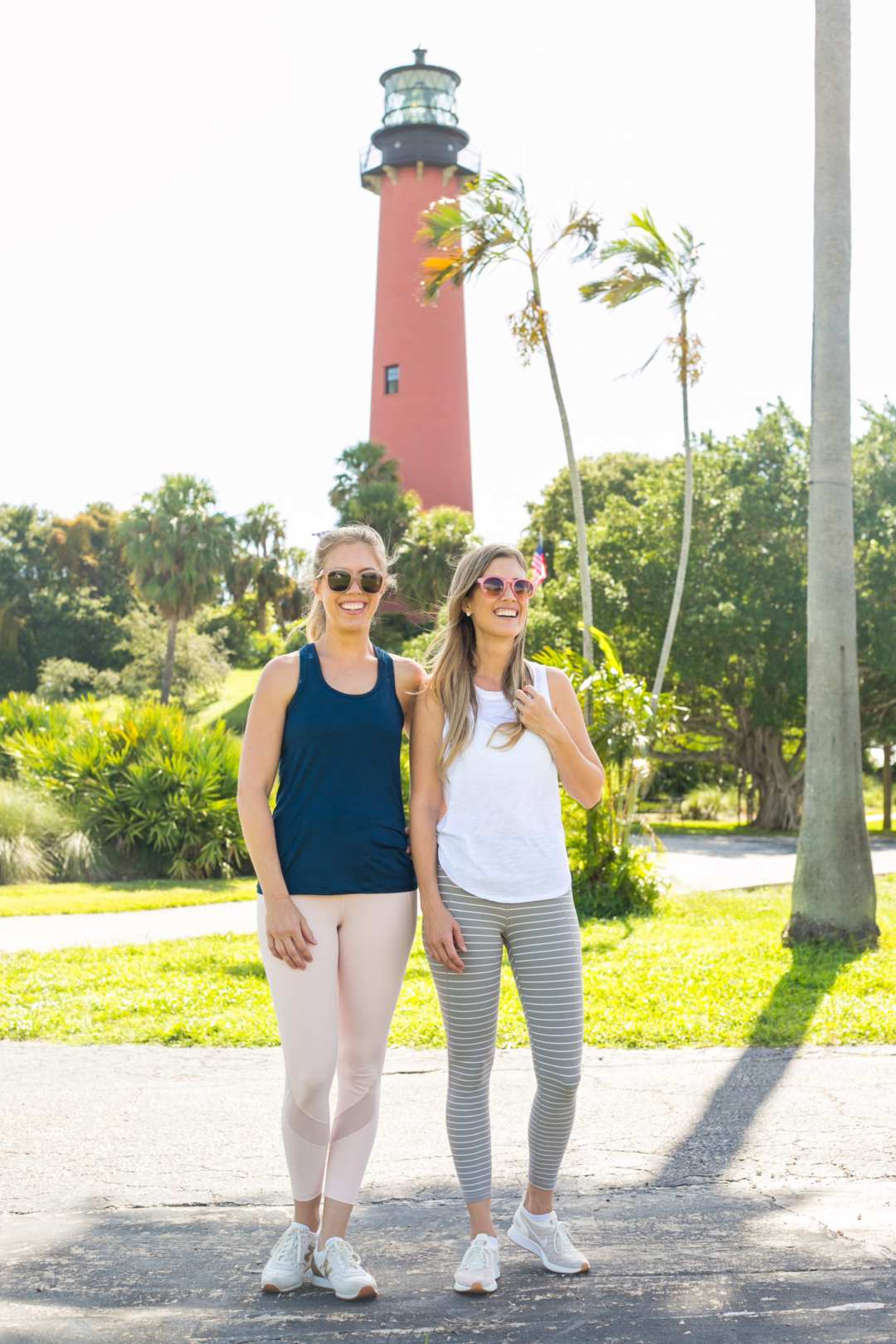 Earlier this summer, we kicked off our fun, new summer bucket list called "Summer Lately!" For the past couple months, we have been living summer to the fullest by road tripping to Boca Grande and Orlando, experiencing lobster rolls on Nantucket, finishing puzzles with the family, brushing up on tennis, and working on our new Pineapple Pad vacation rental. As the summer season starts coming to a close, we wanted to share one of the last activities we had left on our bucket list – climbing the Jupiter Inlet Lighthouse!
The Jupiter Inlet Lighthouse is one of our favorite lighthouses and is located right here in Palm Beach County about 30 minutes north of Palm Beach! It's on a beautiful piece of land that overlooks the Jupiter Inlet and is a very special part of the Jupiter community, as well as the oldest structure in Palm Beach County. Beth climbed it years ago, but I hadn't and was dying to, so we set aside some time last week to experience this authentic local activity!
Total disclosure: I'm not a big fan of heights, so I was a bit nervous to climb the lighthouse. But, I fully believe in facing your fears and was excited to see the view from the top, so I pushed myself out of my comfort zone and was so glad I did!
To get to the top, we took a steep, winding staircase up 105 steps. Every set of 20-ish stairs, we looked out one of the windows and got some fresh air before continuing to the top. And when we got there, it was breathtaking! On this sunny summer day, we were wowed by the blueish-green shade of the water and the clear view of the quaint town and homes.
A few tips for those interested in climbing the lighthouse:
Since it's pretty warm here in Florida, especially in August, and it's an outdoor activity, we wore workout clothes from Athleta at The Gardens Mall. Their clothes are simply flattering, and we love their blush and stripe leggings, navy and white tank tops, and floral sports bra!
You can find hours of operation, ticket prices and directions here. They do guided tours at 11 am and 2 pm or visitors can walk the grounds and climb at their own pace.
Moms of littles, please note: there is a 48″ tall height requirement to climb the lighthouse.
They also have some neat exhibits, fun activities, and some really cool upcoming events like this one and this one!
Credits:
Photography: Heather Holt Photo
Location: Jupiter Inlet Lighthouse & Museum
Clothing: c/o Athleta at The Gardens Mall