One of our favorite local photographers to work with is Alissa Dragun of South Moon Photography. She recently bought a home in the seaside town of Hobe Sound, FL and has been wowing us with how she has been fixing it up – like this Lowes hammock that she spray painted neon green! We love how she weaves together clean lines, bold colors, natural materials and abstract art with pieces from budget-friendly stores like Ikea, CB2 and Target. Her home tells her story, features her passions for art and photography, showcases her flea market and thrift shop finds, and is true to her earth-friendly spirit. Scroll down to see more exclusive behind-the-scenes pictures of her new home and hear more about her story!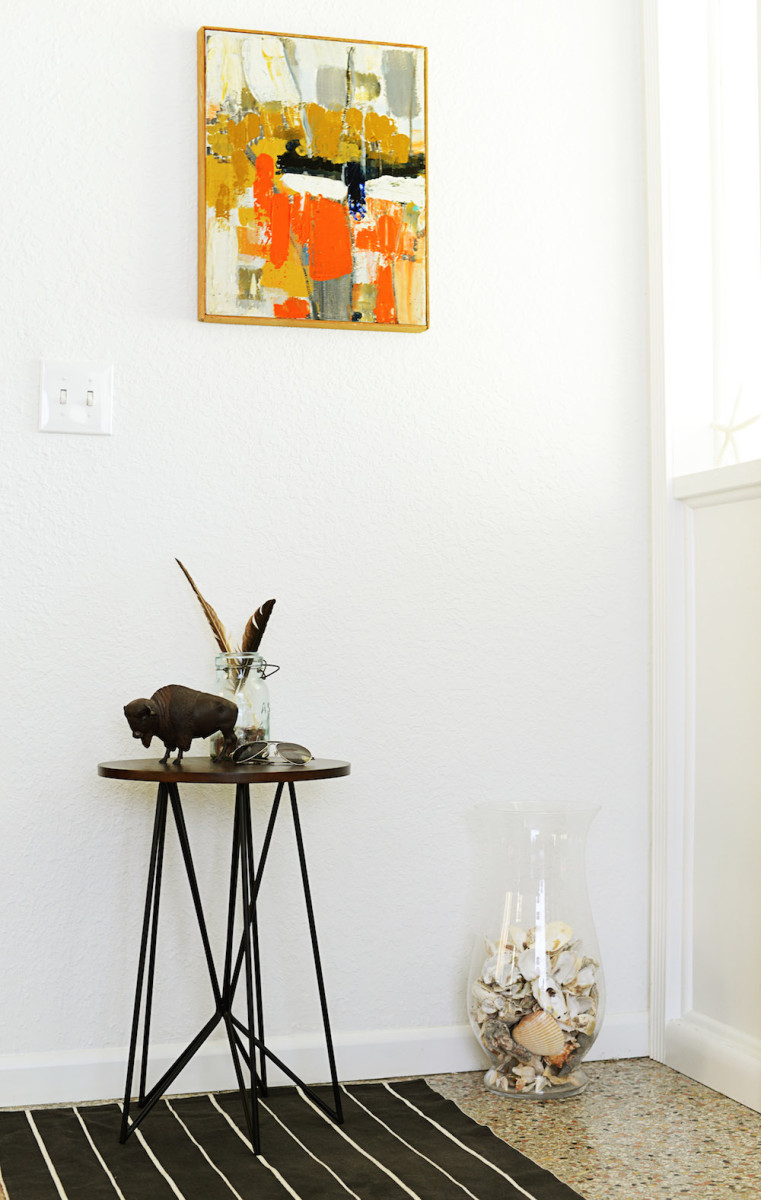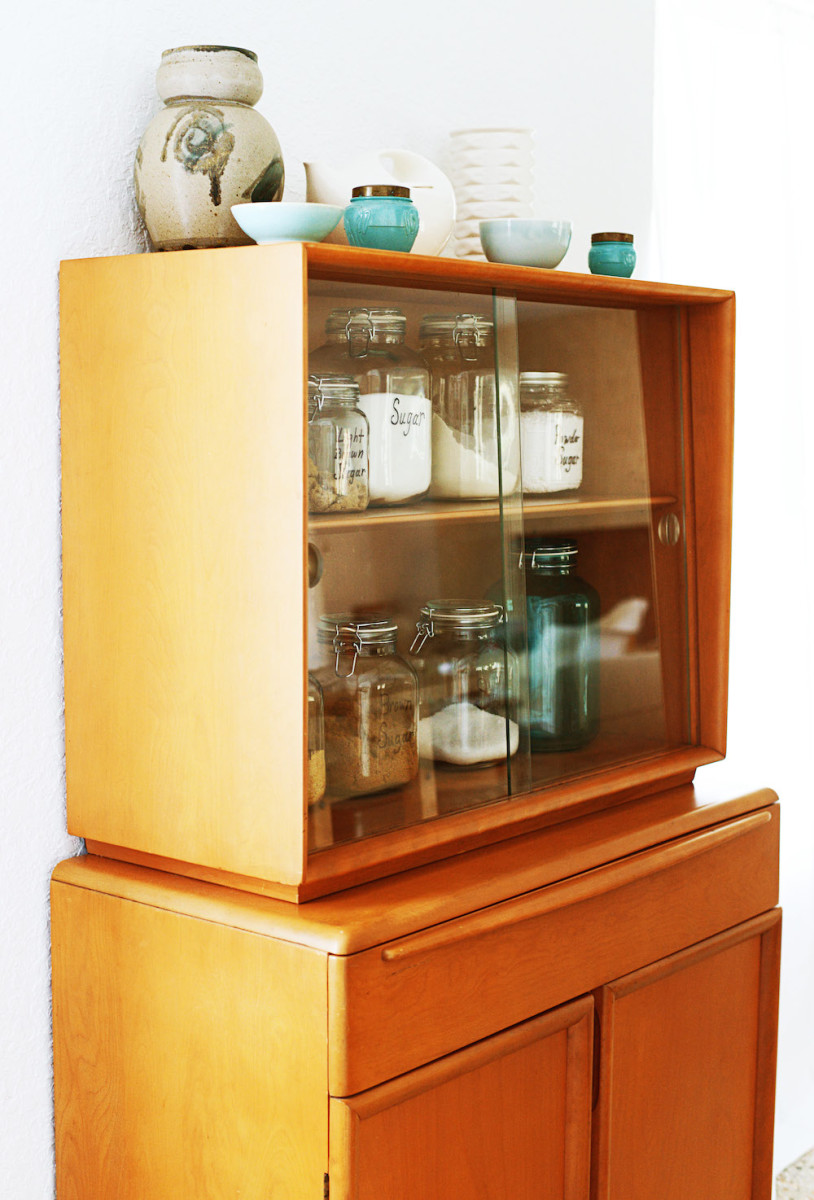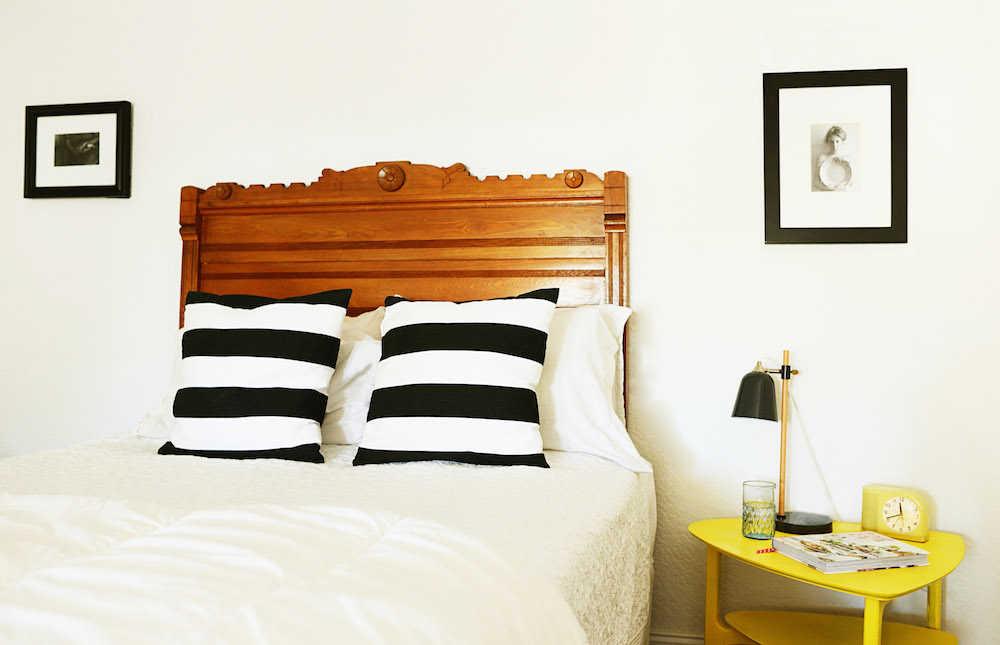 About Alissa
Alissa is a published editorial and commercial photographer in South Florida with more than 10 years shooting experience. She is known for her use of natural light, creating a fresh, raw and abstract quality to her photographic work and specializes in food, interior, portrait, lifestyle and travel photography. Alissa has been featured in several magazines like Bon Appetit, Travel & Leisure, Redbook, Town & Country and on shows like Bravo Top Chef and Good Morning America.
Growing up in a mid-western family with farming roots, she has a connection with farming and an understanding of farm to table. She also has a keen interest in mid-century modern housewares and interiors and is always on the lookout for interesting vintage finds. Most of all, she enjoys using her camera to document and create images that mankind savors.
She is Earth-Friendly: Ever since she was a child, her family has purchased used furniture, for the idea of recycling and not buying new, but also because usually it was better made. She has a laundry line in her backyard, both for the energy savings and for the smell of fresh sheets! She also uses glass containers instead of plastic and dish towels to save on paper.
Items in Her Home: IKEA, Anthropolgie, Target, CB2, Restoration Hardware, Crate & Barrel, West Elm, Urban Outfitters, Overstock.com, Vintage Finds
Her Collections: Vintage White Milk Glass Bowls, Cedar Boxes, Unique Linens, Native American Items, Unique Artwork, Cookbooks, Art Books, Vintage Cameras
Her Favorite Things: Native American Jewelry, Mid-Century Modern Furniture, Succulents, Black Tank Tops, Flip Flops, Vintage Finds, Flea Markets, Thrift Shops, Travel, Chocolate, Chocolate Croissants, Citrus Colors
Her Favorite Foods: She loves to bake. Mixing things together and seeing them pop out of the oven all baked and beautiful excites her. Beef Wellington is one of her favorite savory foods. She loves French, Indian, Chinese, Thai, Japanese, Mexican, Italian…anything of a different culture.
Her Favorite Places: St. Augustine, Cape Hatteras, Jupiter Lighthouse, Eiteljorg Museum in Indianapolis, Norton Museum of Art WPB, Vizcaya in Miami, Park Avenue Winter Park Tiffany Museum, Savannah, GA Historic District, Costa Rica
Studio: 224 Datura St. Suite 909 WPB, FL 33401    Open by appointment