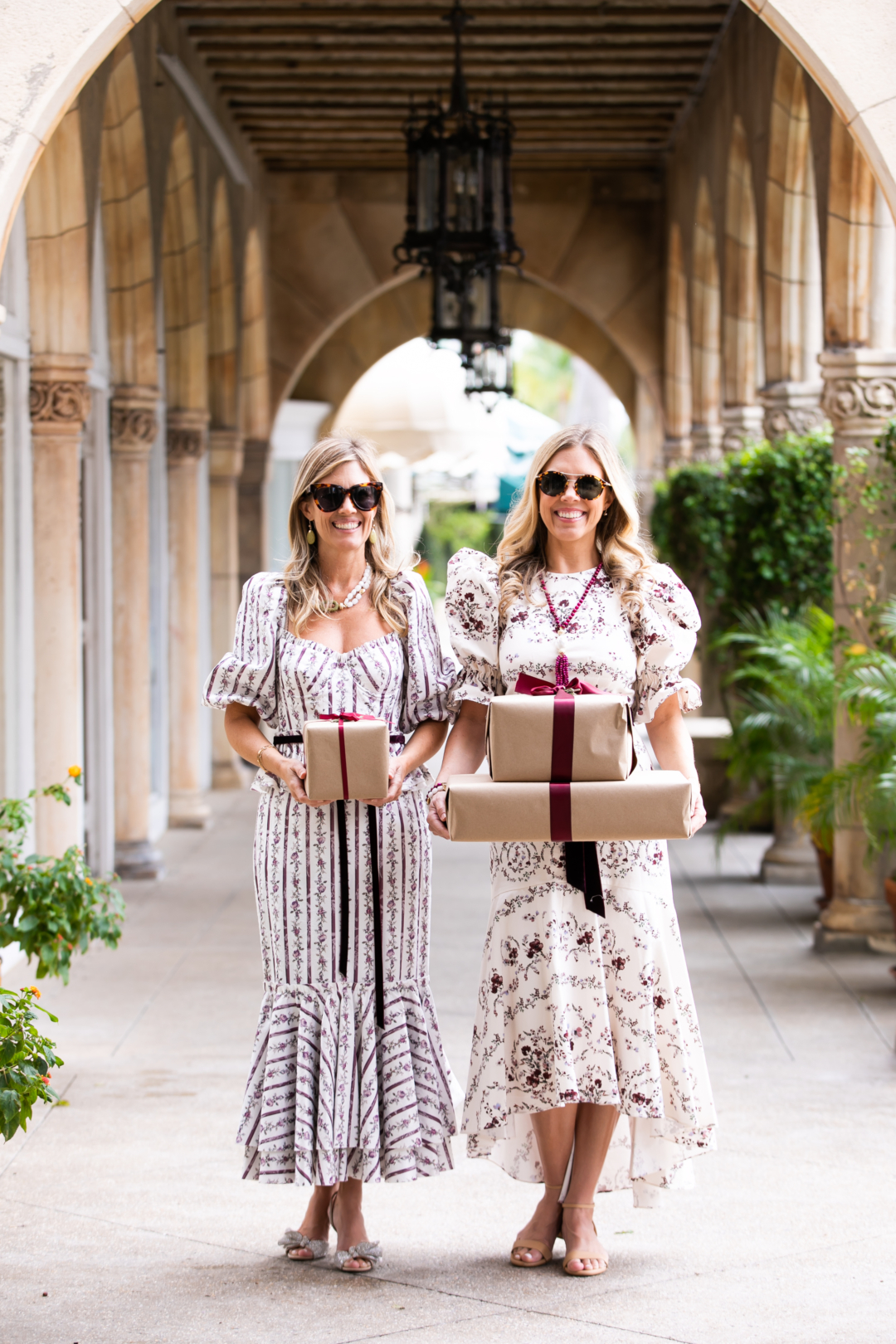 The holiday season is here, and we are officially collecting decorations, planning gifts and organizing get togethers. It is such a joyful time of year to celebrate with family and friends, and we have been on the lookout for the extra special touches that will make this season sparkle. At the top of our wish list this year are these elegant new jewelry designs by Clara Williams. Come along today to see how we styled them for a festive stroll down Worth Ave!
Clara Williams is known for designing unique jewelry that can be customized with your own special touch thanks to interchangeable magnetic necklaces and centerpieces, tassels or tags. We love that you can make the double strand necklaces long or short and swap out the centerpiece to completely mix and match pieces depending on your outfit.
For these looks, we chose our latest favorites that are mainly from her new Winter 2022 Collection. From classic whites and golds to a richer berry hue, these are all pieces that you can build a collection on for years to come. You can view each piece we wore below:
On Beth
Gold Rush White Jade Double Strand Necklace
Kiwi Stingray Link Centerpiece
14K Filigree Gold Thread Earrings
On Danielle
Victoire Pink Tiger's Eye Double Strand Necklace
Victoire Pink Tiger's Eye Tassel
14K Gold & Pearl Thread Earrings
Victoire Pink Tiger's Eye Stretch Bracelet
Gold Rush White Jade Stretch Bracelet
Aspen Leather White Pearl Bracelet
Victoire Rose Quartz Stretch Bracelet
And because the holidays are all about being extravagant, we swapped our cabernet-colored dresses for two more dressy looks that feature sparkles and green florals. With these styles, we leaned more into Clara Williams' classic pearl, mother of pearl, floral, and gold pieces. They are all truly stunning and so very versatile for both day or night!
On Beth
Classic Duet Pearl Double Strand Necklace
On Danielle
Aspen Leather White Pearl Necklace
Mother of Pearl Petal Centerpiece
Aspen Leather White Pearl Bracelet
Credits:
Photography: Heather Holt Photo
Jewelry: c/o Clara Williams
Floral square neck dress: c/o Nicola Bathie x Antonio Melani at Dillard's
Floral puff sleeve dress: c/o Nicola Bathie x Antonio Melani at Dillard's
Green toile dress: c/o Tuckernuck
Sparkle dress: c/o Sail to Sable
Sunglasses: c/o J.McLaughlin