We know that shopping for the perfect holiday gifts can be both fun and stressful, especially as the holidays get closer and your to-do list gets longer. To help take the sweat out of the hunt, we have put together our 2016 Holiday Gift Guide full of Palm Beachy gifts that are sure to be big hits. Our signature Palm Beach Lately style can be found in all of our picks, and you will see that we have a thing for blush, rose gold, copper and brass lately. These elements are festive, glam and so classy – a great combo for making someone feel special! Today we are sharing half of our gift list <the other half is coming later this week!>, so let's get right to it and get some of that holiday shopping checked off your list!
1. Hostess Gift // Pineapple Candle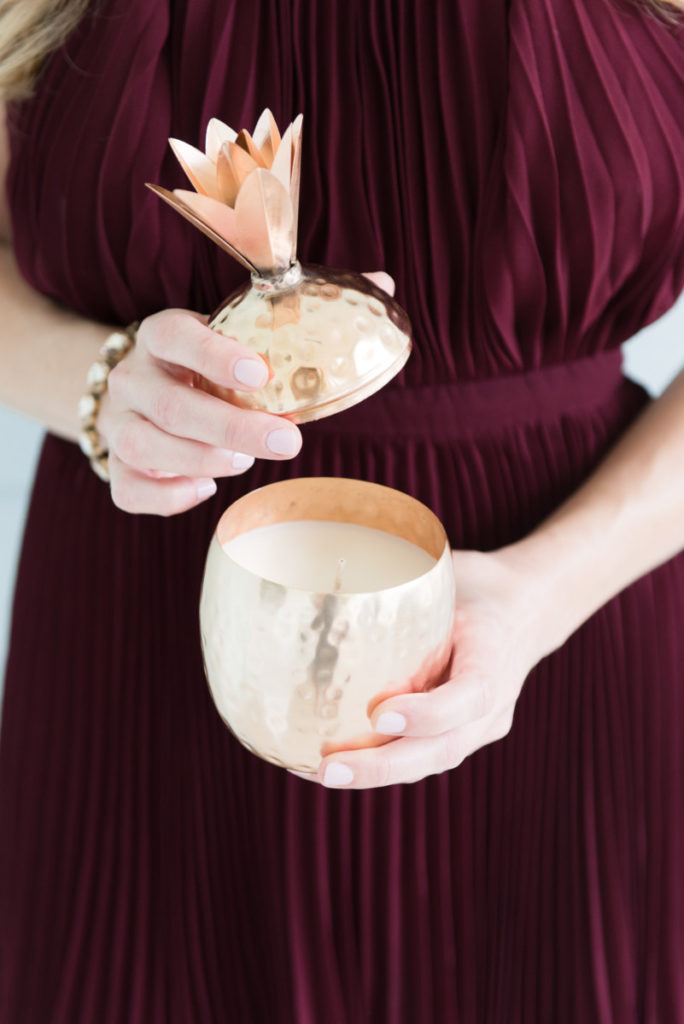 Why we love it: 
If you're like us and pineapples are your thing, Anthropologie has several great pineapple gift ideas for you this year. Our favorite one is this chic pineapple candle that doubles as decor… and you can't beat the $30 price point! We also love their brass pineapple measuring cups, pineapple pencil holder and pineapple shaped marble and acacia cheese board <for their full pineapple collection, click here>. Bravo, Anthro, you totally get us!
2. Bestie Gift // PBL "You've Been Flocked" Cocktail Kit
Why we love it:
Our Palm Beach Lately "You've Been Flocked" Cocktail Kit is the perfectly packaged postal party for two that includes two flamingo acrylic stemless wine glasses, two flamingo linen cocktail napkins, 2 pink striped straws with gold flamingos and our signature cocktail recipe card. Your bestie near or far will be so happy to get flocked by you!
3. Foodie Gift // "Hello Lovely" Gilded Greetings Cheese Board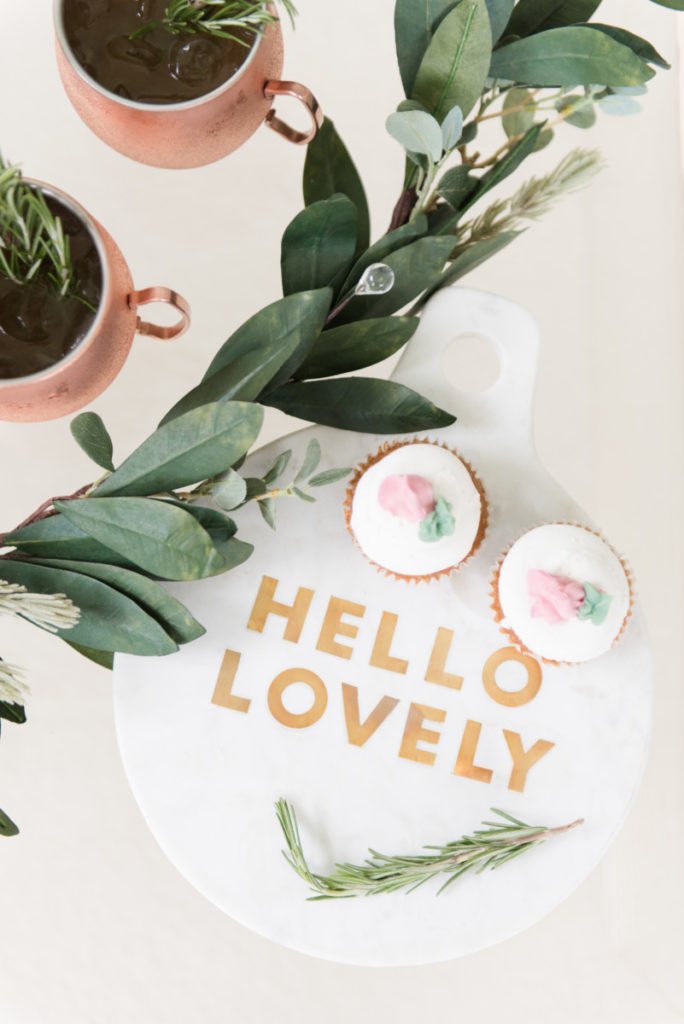 Why we love it:
We looove pretty marble cheese boards and this one is especially beautiful thanks to the brass letters that spell out "hello lovely". The round marble board is the ideal size to serve an appetizer or dessert on, and bonus alert: it also looks darling on your kitchen counter when styled next to cookbooks and utensils!
4. Stocking Stuffer // Blush Boot Bows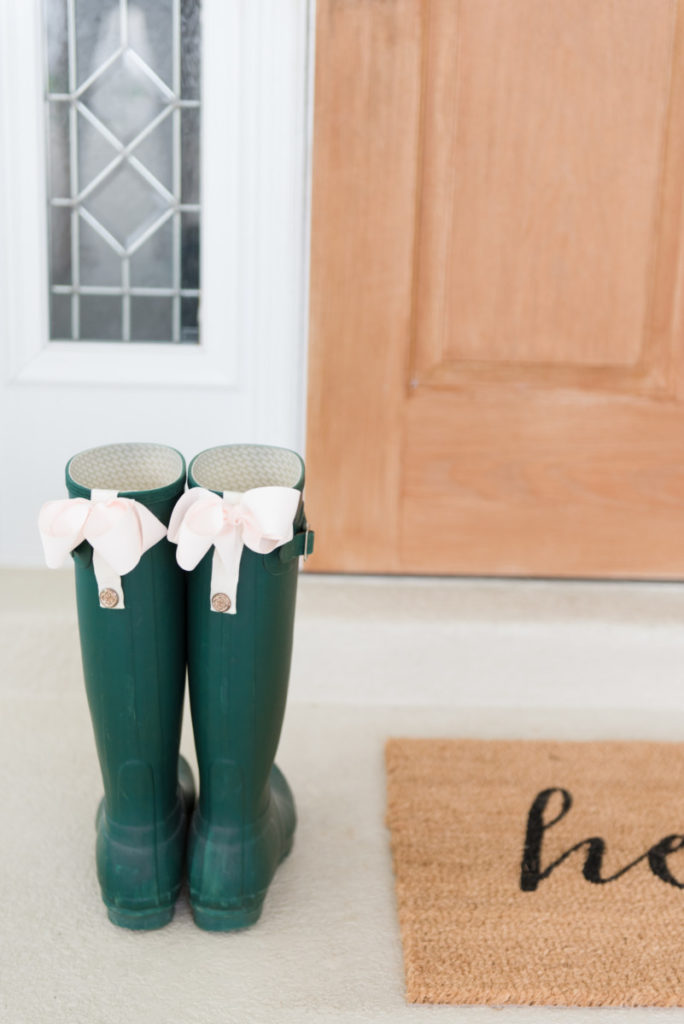 Why we love it:
Since rain boots tend to be our favorite boots down here in the south, these blush boot bows by PoppyClips are a huge hit among our girlfriends! They turn plain ole rain boots into a fashion statement that can be easily changed and updated thanks to many different bow colors. At just $24/each, these cute bows make a unique stocking stuffer that any Florida <or other rain boot loving> gal would love!
5. Favorite Couple Gift // Copper Moscow Mule Mugs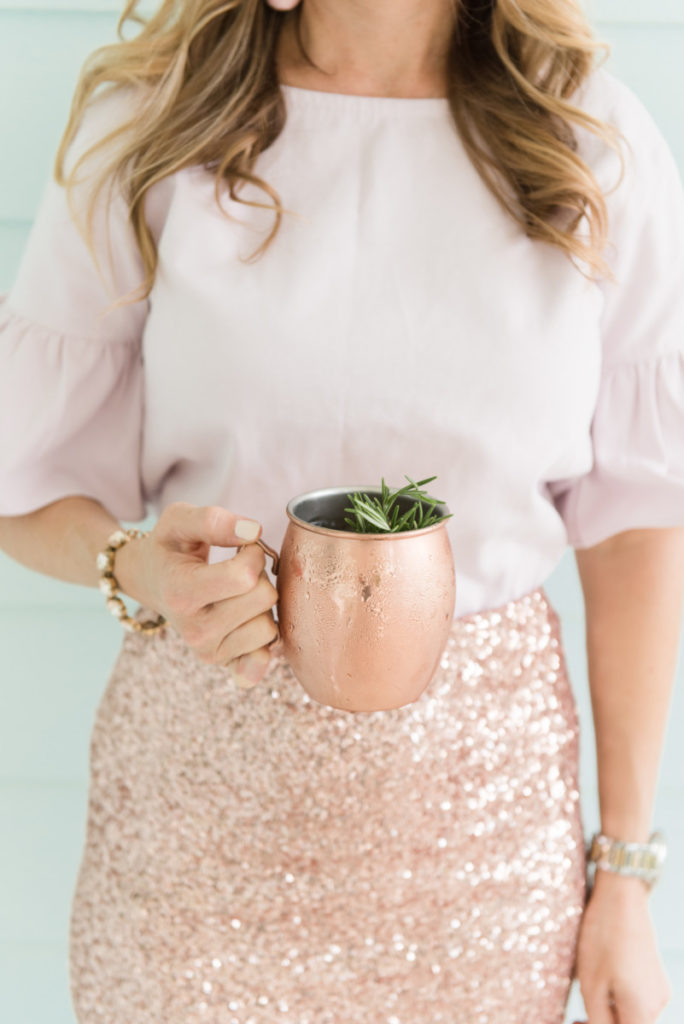 Why we love it:
We love drinking out of stylish glasses and nothing says fall and winter cocktails like these copper Moscow Mule Mugs from West Elm. They are sure to be a beautiful addition to your favorite couple's drinkware collection, especially when you add a name or monogram to them! Hurry and snag them on sale now for $18/each and don't forget to include fun elements like a drink recipe card and ingredients to make delicious Apple Cider Moscow Mules! <P.S. Don't miss West Elm's other wonderful copper gifts!>
6. New Home Gift // Hello Door Mat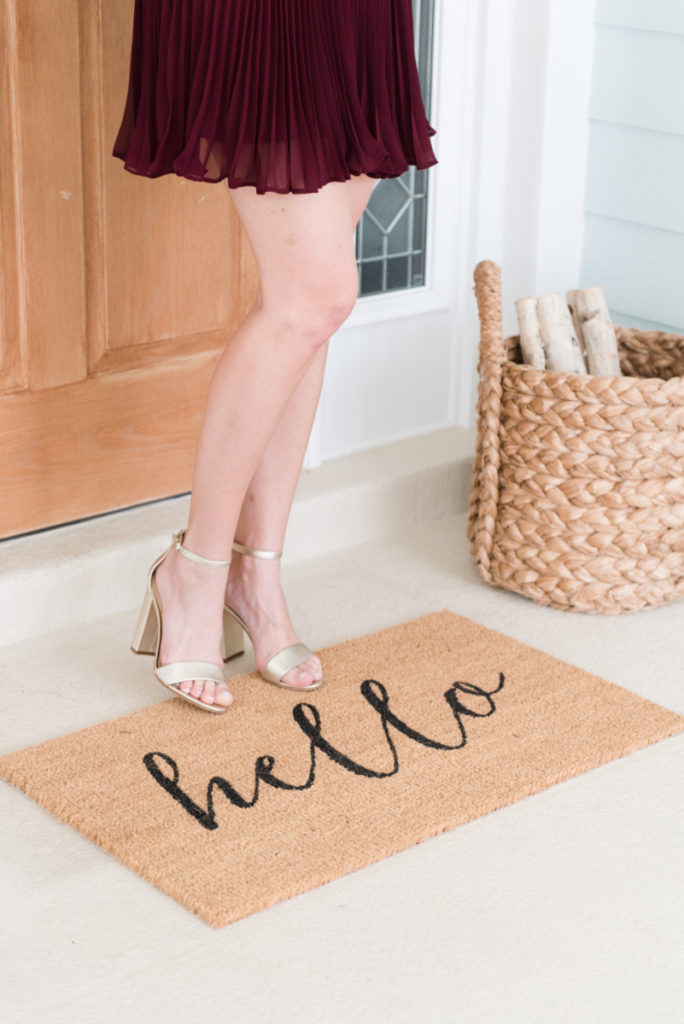 Why we love it:
We recently spotted fellow Florida company Fox and Clover on social media and instantly fell in love! They have the coolest doormats for $38/each, like this one that says "hello", this one that says "it's always happy hour up in here" and this one that says "bring me pizza and peonies". You can also create a custom doormat for $45! If doormats aren't your thing, they have awesome coffee mugs that we have been eyeing, too!
Thank you for checking out part 1 of our holiday gift guide today. We hope we have sparked some ideas and creativity when it comes to your holiday shopping this year! Make sure to come back later this week for part 2 of our gift guide and stay tuned for lots of fashion and home holiday inspiration coming soon, too! 🙂
Credits:
Photography: Shea Christine Photography
Hair: AIRBAR