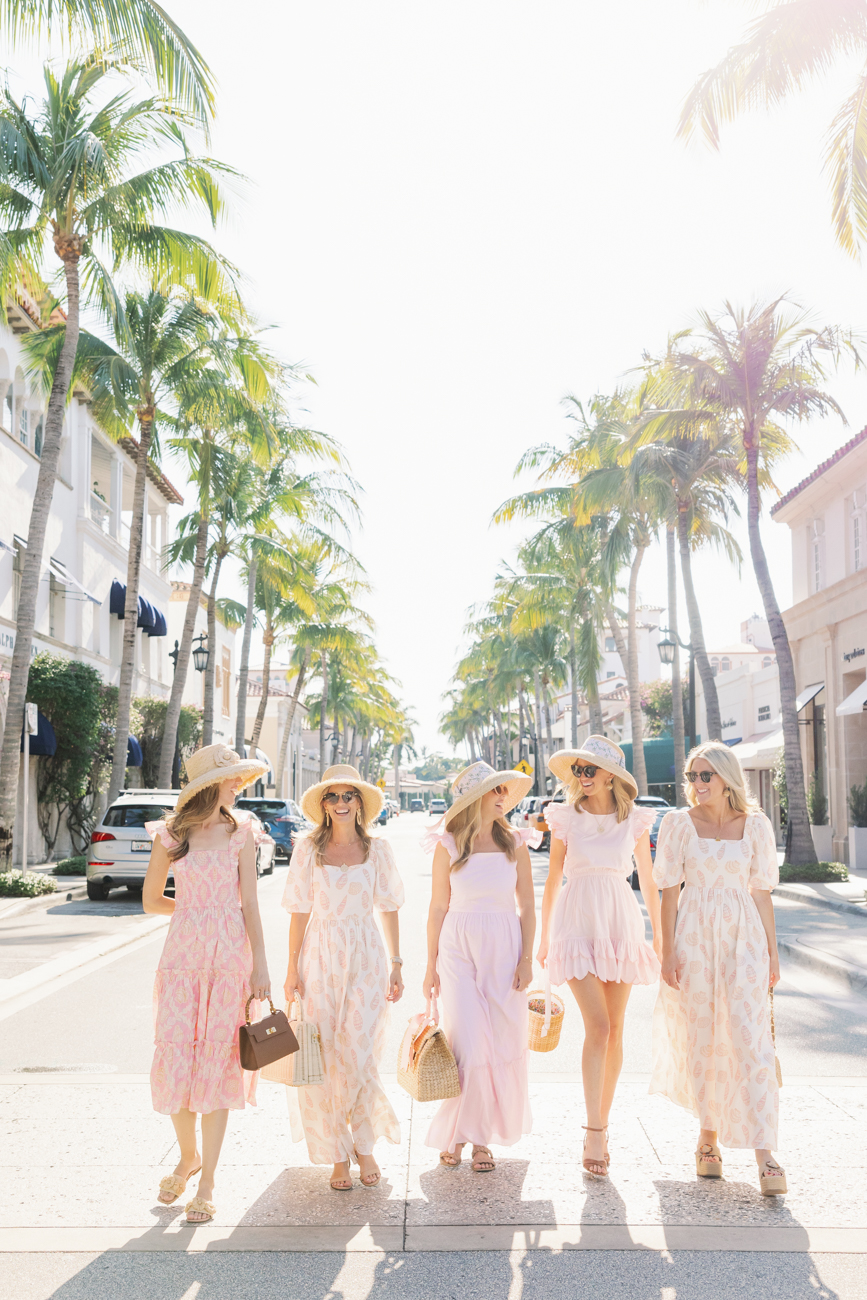 Today is a very exciting day for us because it is the launch of our new Sail to Sable x Palm Beach Lately Summer Collection! We started working on this capsule clothing collection last June, so it's thrilling that the launch day is finally here. To help us share this collection, we recently gathered a few of our friends, Sarah Tucker and her sister, Molly Boyd, and Blaire Rogers of TexaFlora, who are all such lovely ladies and also love Palm Beach. Come along today as we reveal the looks and hope you love them as much as we do!
Our new summer collection with Sail to Sable features two maxi dresses, a midi dress, a mini dress, a tennis sweater, and a lightweight sweatshirt. The inspiration for our collection is summering by the sea, and our very favorite piece is the shell maxi dress. It has a beautiful cream and blush shell pattern with puff sleeves in a soft, summery fabric. The custom watercolor pattern is stunning and the dress shape is oh-so-flattering!
We also love the blush and white pinstripe maxi with flutter sleeves and a smocked bodice on the back. It is elegant and can be dressed up or down for your summer festivities. The silhouette is slimming and the style and color make it a classic style to keep in your closet!
The blush scalloped mini dress is so adorable and looks amazing with heels! It is fun and flirty and great for warmer summer weather. And it has a lot of personality, which we love!
One of our other favorites from this collection is the chinoiserie midi dress in a custom pink floral and shell pattern. The hand-sketched pattern was painted with watercolors and the ruffled smocked bodice makes the perfect little touch. Last but not least, the green tennis sweater and cream cowl neck pullover with green trim are both so cute and comfortable and look great with tennis skirts, shorts, leggings, or jeans!
We hope you enjoy these summer pieces as much as we do. If you have any questions at all, feel free to email or message us on Instagram at @PalmBeachLately! xo
Credits:
Photography: Iris Moore
Clothing: Sail to Sable x Palm Beach Lately Summer Collection
Locations: Major Alley, The Colony Palm Beach, Worth Avenue
Handbags: c/o Mark & Graham, Beau & Ro
Hats: c/o Sarah Bray