Many thanks to Mark & Graham for partnering with us on this post! 
As the anticipation of summer draws near, we are looking forward to new adventures by the shore and familiar coastal travels. The soul-filling days ahead will be spent somewhere between on-the-go and in full-relaxation, and these fun experiences call for handbags and suitcases that can accommodate our needs. From the plane to the boat or beach, we need bags that can fit all of our goodies. Lucky for us (and you!), we recently had the pleasure of reviewing Mark & Graham's latest bags and have rounded up our 8 favorites for you today!
Every girl needs a great suitcase, and we just love Mark & Graham's Terminal 1 Carry-On Luggage in white-buff with a custom matching monogram. The cream and tan color combination is very chic, and we love the carry-on size for weekend road trips or flights.
Another great bag for airplane or boat travel is the Mark & Graham x Steele Waterproof Monogrammed Beach Bag in white. The waterproof material makes it super durable and the extra-large size is perfect for stashing everything from beach towels to in-flight goodies.
For dressier summer days and nights, we love the Wicker and Leather Crossbody Bag with Bamboo Handles, Wicker Shell Crossbody and Fringed Clutch in natural. The little wicker satchel with bamboo handles is the cutest shape and size to pair with dresses. We also love the adorable shell shape of this crossbody bag. And the fringe clutch with initials is so fun!
Our favorite everyday bag that can be worn all summer long is the Cane and Leather Tote. The size is big enough to fit all of your daily essentials without being too large, and the cane and leather combination is stunning. This tote is definitely the must-have bag this summer!
Our last two favorite handbags are the Bamboo Elisabetta Slouch Monogram Handbag in blush and Elisabetta Slouch Crossbody in camel. We are big fans of these classic styles and colors that are elevated with the bamboo handles and shiny gold monograms!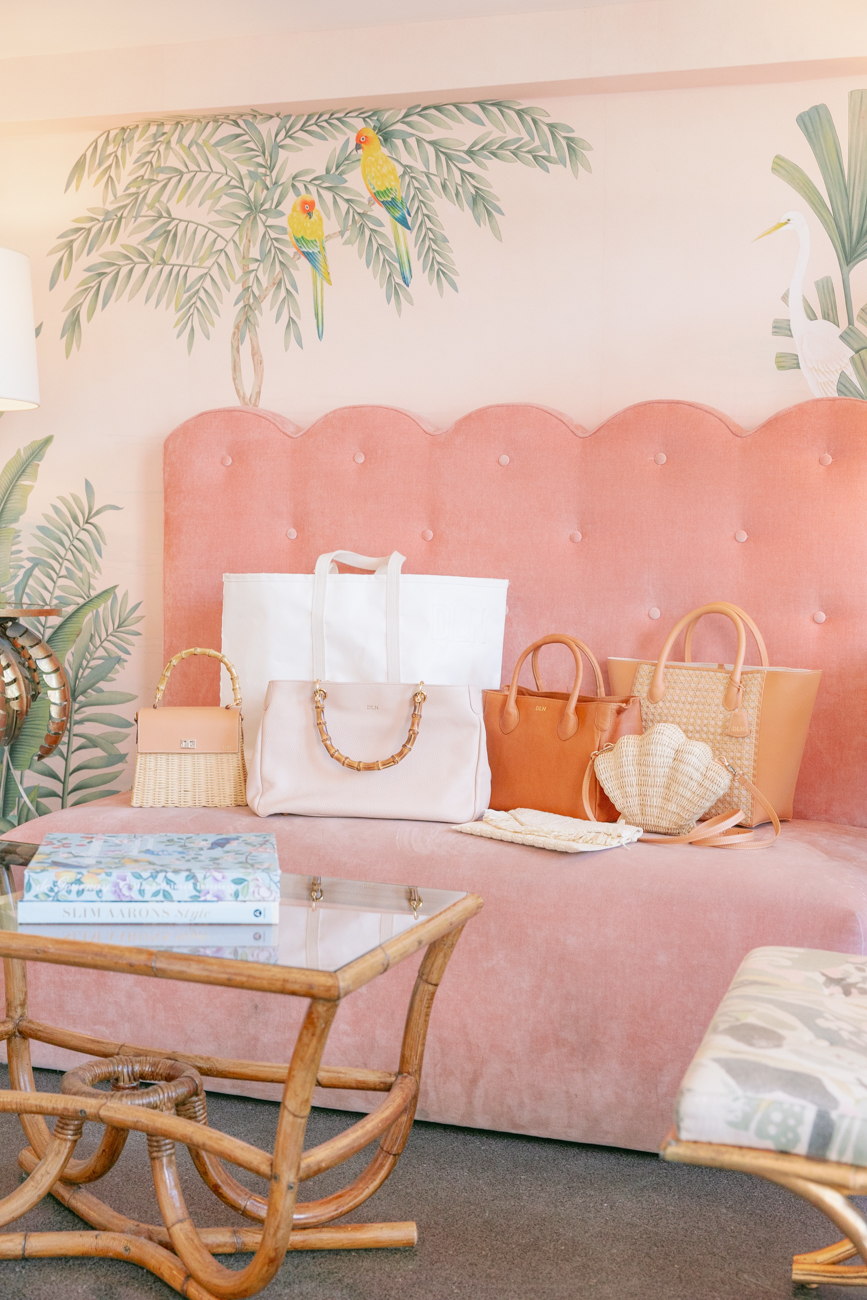 We love that all of Mark & Graham's bags are fresh twists on classic styles and made from quality materials, but the best part is personalizing them with one of their monograms! You can see our eight favorites below, but don't miss their entire collection by clicking here.
Our Top 8 Summer Bags:
Terminal 1 Carry-On Luggage in white-buff 
Wicker and Leather Crossbody Bag with Bamboo Handles
Mark & Graham x Steele Waterproof Monogrammed Beach Bag in white
Bamboo Elisabetta Slouch Monogram Handbag in blush
Elisabetta Slouch Crossbody in camel
Fringed Clutch in natural
Credits:
Photography: Iris Moore
Handbags: c/o Mark & Graham
Dresses: Sail to Sable x Palm Beach Lately Summer Collection (launching May 25th)
Location: The Colony Palm Beach