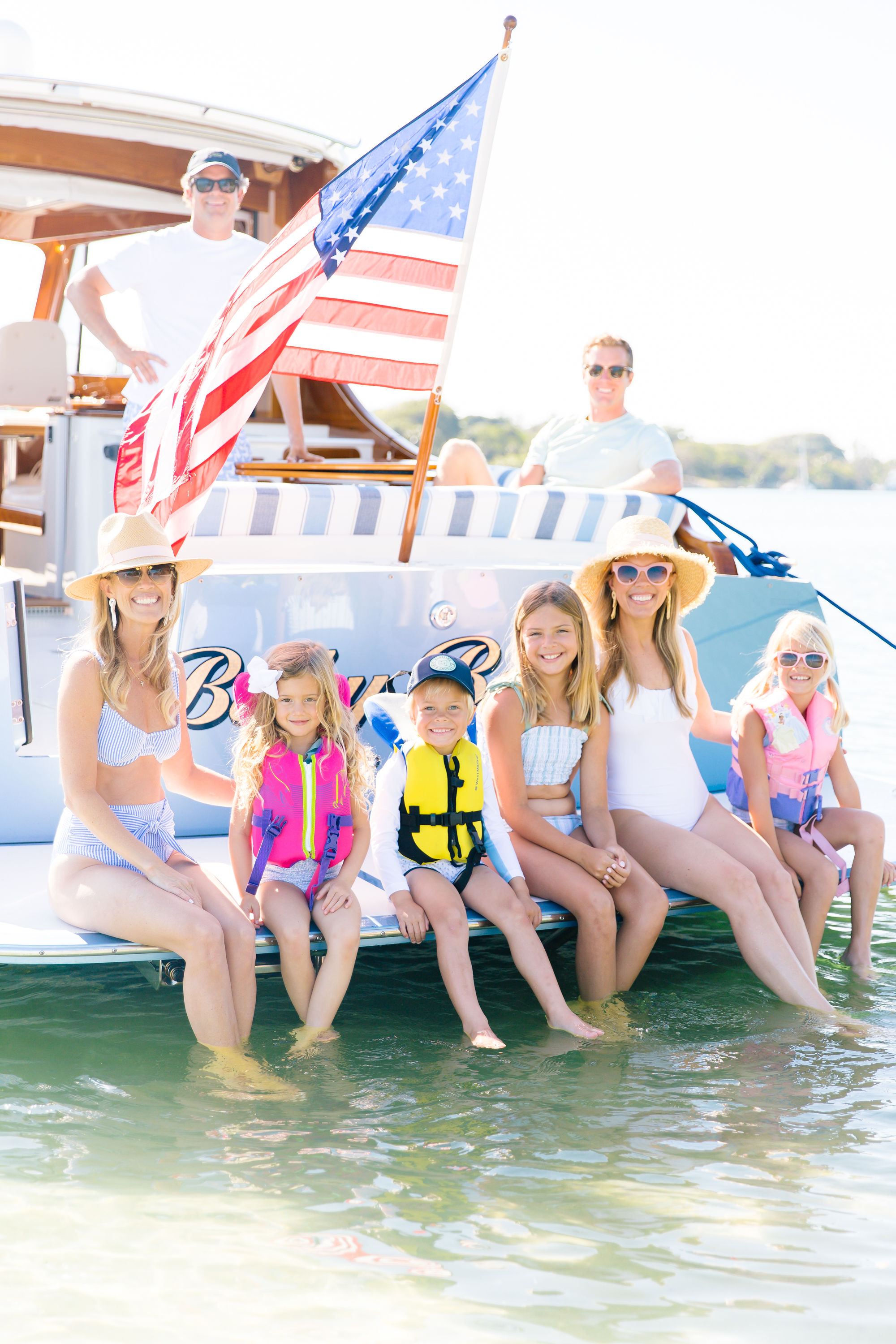 One of our favorite things to do here in Florida is spend time on boats. The gentle sea, salty air and sunshine are so good for the soul. We recently had the pleasure of taking our families out on a new Hinckley Talaria 43 Yacht for sunrise fun on the Jupiter sandbar and ended the day with a romantic sunset cruise in Palm Beach. Come along today as we share this special family-friendly day and everything we love about timeless Hinckley Yachts!
On that morning, we woke up before the sun came up and gathered our kids, coolers, snacks, drinks, sunscreen, towels, and life jackets and headed to a marina on the south end of Jupiter Island. We cruised by the Jupiter Inlet and watched the sunrise from the boat. This northern area of Palm Beach County is one of our very favorite spots for boating. The Jupiter Lighthouse brings a sense of nostalgia to the quaint beach town, plus there are a few sandbars to anchor and swim at and lots of waterfront restaurants to grab a bite to eat!
One of our favorite things about the new Hinckley Talaria 43 is the spacious seating, both indoors and outdoors. It comfortably fits two families and with the push of a button, you can be both inside and outside thanks to the disappearing enclosure with retracting windows. We also love that Hinckley Yachts don't have propellers, so when we pulled up to the sandbar to hop off and swim in the water, we didn't have to worry about hitting them. And the swim platform makes getting in and out of the water easy for children and adults!
After a fun morning playing with the kids, we came home to freshen up and then the adults went back out on the yacht to catch the sunset. This time we headed south to Palm Beach and snacked on a delicious charcuterie spread by Apricot & Olive on beautiful Nautical Boards while the sun set. This spacious yacht offers a luxurious cabin, bathroom and roomy cockpit with a refrigerator, bar sink and table. When the windows and doors are closed, you can air condition or heat the interior to make boating year-round most enjoyable!
We also love that every Hinckley Yacht is custom built in Maine specifically for each individual customer. Hinckley makes owning a boat easy thanks to their concierge level service experience and personal relationships that are created with the whole Hinckley team. It is rare to find a boat that appeals to the whole family, so we just love that Hinckleys are the perfect platform for family-friendly adventures and romantic sunset cruises on a classic, gorgeous yacht!
Credits:
Photography: LCB Style
Boat: c/o Hinckley Yachts
Charcuterie spread: c/o Apricot & Olive
Serving trays: c/o Nautical Boards
Seagrass pitcher and glasses: c/o Serena & Lily
Blush goblet glasses: Juliska
Blush floral block print napkins: Pottery Barn
Blue appetizer plates: Pottery Barn
Dresses: J.Crew and The Skinny Dip Palm Beach
Hat: c/o Sarah Bray, c/o Tyler Boe and Nordstrom
Pearl rattan bag: Nordstrom
Monogram tote: c/o Mariella Vilar
Bow straw earrings: c/o Lisi Lerch
Beth and Danielle swimsuits and sunglasses: J.Crew
Kids' swimsuits: c/o Minnow Swim
Towels: c/o Weezie Towels
*Thank you to Hinckley Yachts for partnering with us on this post!