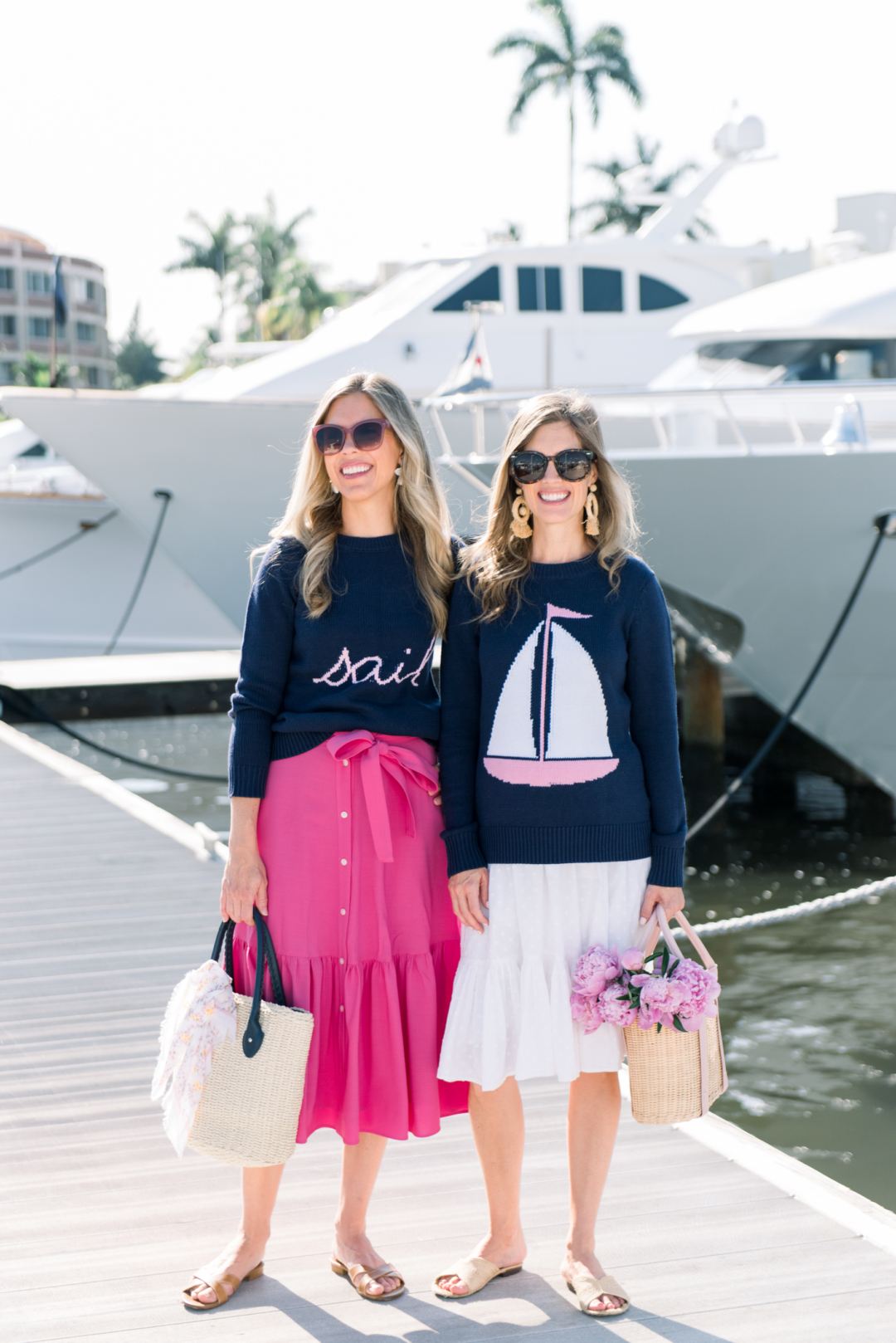 Just this week, it's really starting to feel like summer here. We are getting into vacation mode and have been planning a few upcoming trips to some of our favorite places that we visited last year. Next month, we are heading to Nantucket and can't wait to do all of our favorite things there. We also look forward to cooler temps in the evenings and recently found a pair of adorable sweaters by Sail to Sable that we're definitely packing for our trip!
Sail to Sable's new "Sail" Sweater and Sailboat Sweater are both so adorable! The cotton sweaters are navy with a dash of blush and white sails on the sailboat. They are soft and cozy and make great sweaters for summer locations that cool down at night. There are so many ways to style them as well, and we are sharing more about what we picked below!
We styled the sweaters with pink and white midi skirts, straw and wicker totes, tan sandals, sunnies, and floral earrings. A cute newer trend we love is tying a scarf on your tote, so we added this pretty floral blush scarf to my <Danielle's> bag. Walking the docks in Palm Beach has us really excited to do the Critter Cruise or Endeavor sail when in Nantucket!
For more new summer styles, hop over to Sail to Sable – one of our favorite line for travels along the eastern shore. And we'd love to know, what is your fave summer vacation spot? And do you like to go somewhere relaxing or adventurous and cool or warm? Happy travels! xo
Credits:
Photography: Shea Christine
Sweaters: c/o Sail to Sable
Sandals: c/o Margaux
*Thank you to Sail to Sable for partnering with us on this post!