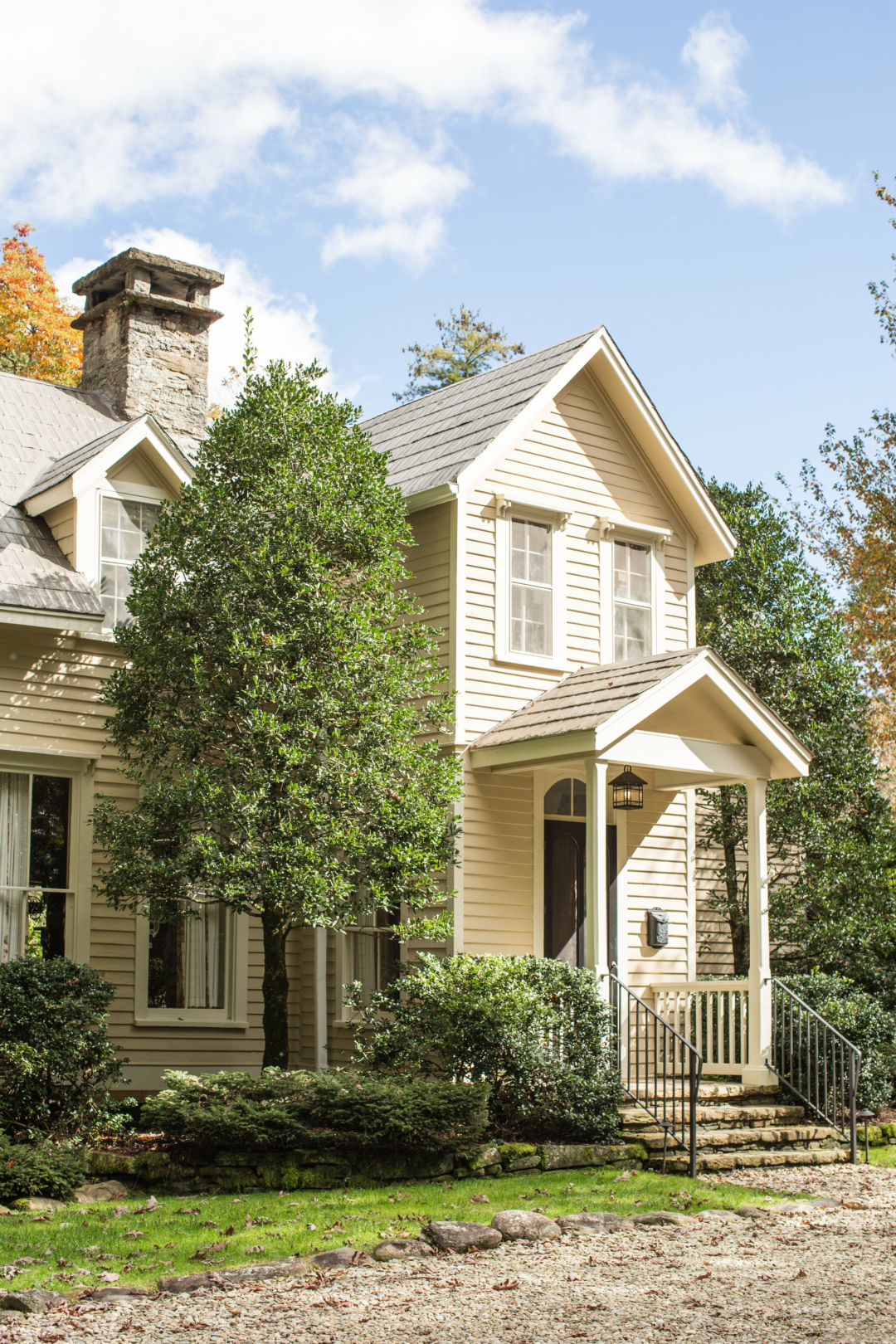 We have been wanting to take our families to see the leaves change for years, but the timing wasn't right with having babies and little ones. Then last week, we finally made the trip to beautiful Highlands, North Carolina in the Blue Ridge Mountains and it was spectacular! We hadn't been since our grandma owned a home there 20+ years ago, and it was so fun to revisit a place that we remembered being so special. Come along today as we share the charming home we stayed in at Old Edwards Inn and Spa and why we love it so much!
Old Edwards Inn and Spa is part of Old Edwards Hospitality Group that offers three unique hotels as well as vacation homes, cottages and cabins in and around Highlands, NC. The home we stayed in is called Hutchinson House and the charming, historic property is just steps from dining and shopping on Main Street. It was built in 1878 by one of Highlands' founders, C.C. Hutchinson, and was one of the first homes built in this mountain town!
The four-bedroom farmhouse was completely refurbished in 2013 and has a seamless balance between historic elements and modern amenities. The two-story home features two king beds, two queen beds and two twin beds with three full baths and two half baths, so it was very spacious for combining our two families. Wood walls and floors, a clawfoot bathtub, a fireplace and porch with rocking chairs were just a few of our favorite mountain-friendly details. And the home is set on 3.65 lush acres that offer wooded trails, ponds, a playground, and a pavilion with an outdoor fireplace. It's the perfect luxe accommodations for family or friends to travel together and be steps from town, yet in a world of your own!
The leaves were beginning to change while we were there, so we enjoyed walking around the property to soak in the gorgeous fall foliage. That's one thing you definitely don't get in South Florida, so it was a very special treat for us to experience true fall. We also enjoyed a few meals at the house like pizza and salad takeout the first night from Four65 Woodfire Bistro + Bar and breakfast sammies on buttermilk biscuits from Blue Bike Cafe the next morning. The gracious team at Old Edwards Inn and Spa was always there to help us coordinate and give us advice on where to dine and play. We also used two really great travel guides to Highlands, NC by our blogger friends, Sarah Tucker and Jillian Eversole!
While we were there, we also celebrated a very special occasion that we look forward to sharing with you in our next blog post! The Hutchinson House made the perfect backdrop for the celebration that included an unforgettable culinary experience. Be sure to come back later this week for the rest of our Highlands vacation. And we'd love to know, are you traveling anywhere special this fall? It sure felt heavenly to get some fresh mountain air! xo
Credits:
Photography: True Foundation Photography
Destination: c/o Old Edwards Inn and Spa in Highlands, NC
Tunics: c/o Sue Sartor Hamilton Kaftan Dress on Beth + Paloma Flounce Dress on Danielle
Family pajamas: c/o Caitlin Wilson Design and KIP
Jackets: c/o Talbots Italian Wool Lady Coat on Beth and Long Quilted Coat on Danielle