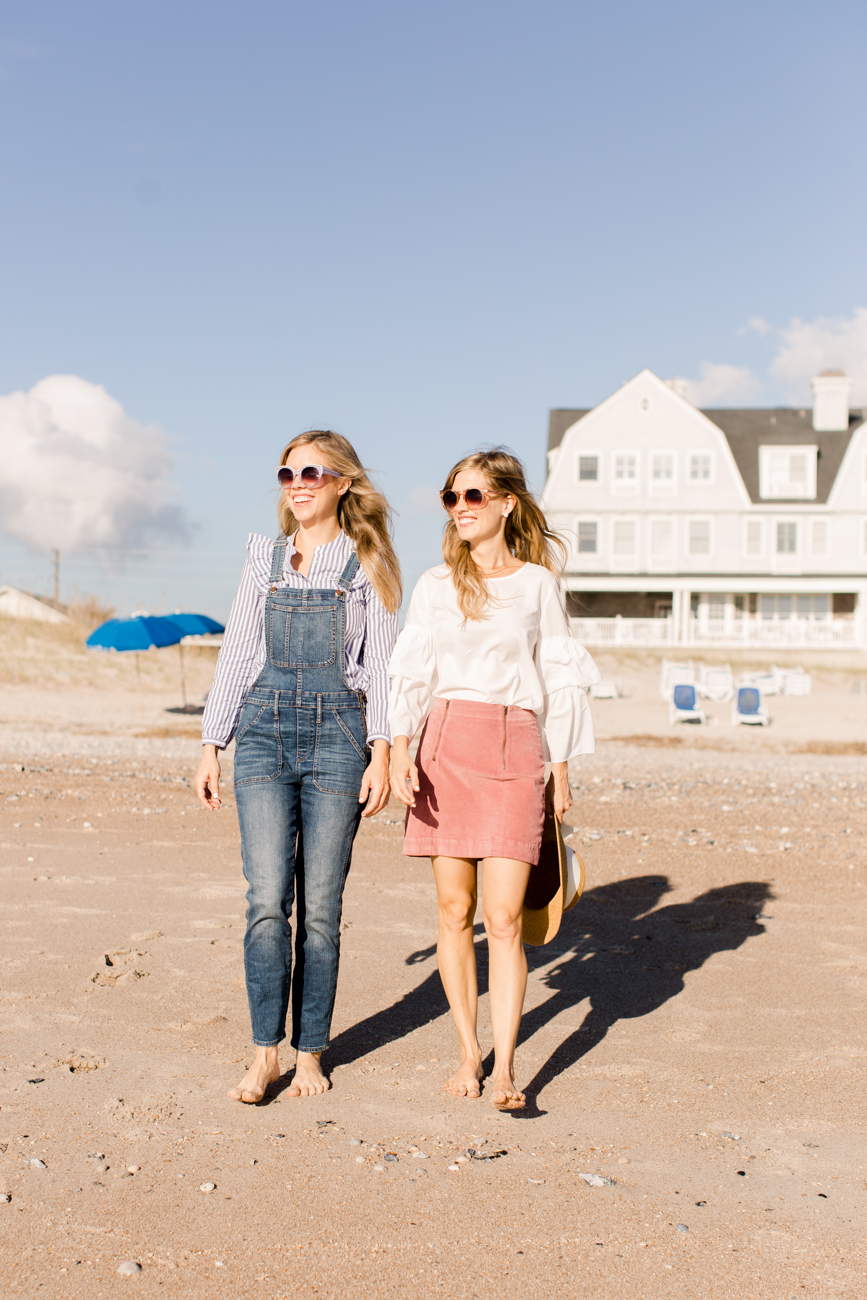 Beth and I recently traveled to Amelia Island for a quick, two night "sistercation" at the Elizabeth Pointe Lodge. It was our first time really spending time there, and we had so much fun trying new activities, restaurants and shops. Our full guide to Amelia Island will be coming out soon in Flamingo magazine, but we didn't want to delay in sharing some of the cute looks we wore!
I had to pack these overalls that we recently featured in our "5 new fall favorites" post. I haven't owned a pair of overalls since I was a kid, and they have been a great piece for the fall season in Florida. This blue striped ruffle blouse <now on sale for just $29!> looks adorable with them, as well as these natural linen slides and the day satchel from the chic, sister brand, Neely & Chloe. The bag and shoe duo are def my new mommy-friendly faves!
Beth packed this white ruffled blouse <now on sale for $49> that works with any bottoms, but looks especially cute with this blush velveteen skirt. She also packed this sunhat that is touted as the "packable bow sunhat". It was great for traveling and lived up to it's name! She also stepped outside of her usual footwear comfort zone by trying these Kids x Rifle Paper Co. floral sneakers. They remind us of the sneakers we wore when we were kids!
We also posted a picture of these pink suitcases on our Instagram feed the other night, and our followers went bananas for them! They are so reasonable at just $98 and perfect for packing on road trips. If you'd like the fancier <i.e. priceier> version of these that come in several different colors and should last a very long time, check out Steamline Luggage!
You an also click here to see a round-up of some of the items we packed for Amelia Island. And make sure to come back on Tuesday for another peek into how we wore them! xo
Credits:
Photography by: Iris Moore Photography
Beth's top and skirt and Danielle's top: c/o Madewell
Beth's hat and Danielle's shoes: c/o Tuckernuck
Danielle's bag: c/o Neely & Chloe
SaveSave
SaveSave
SaveSave