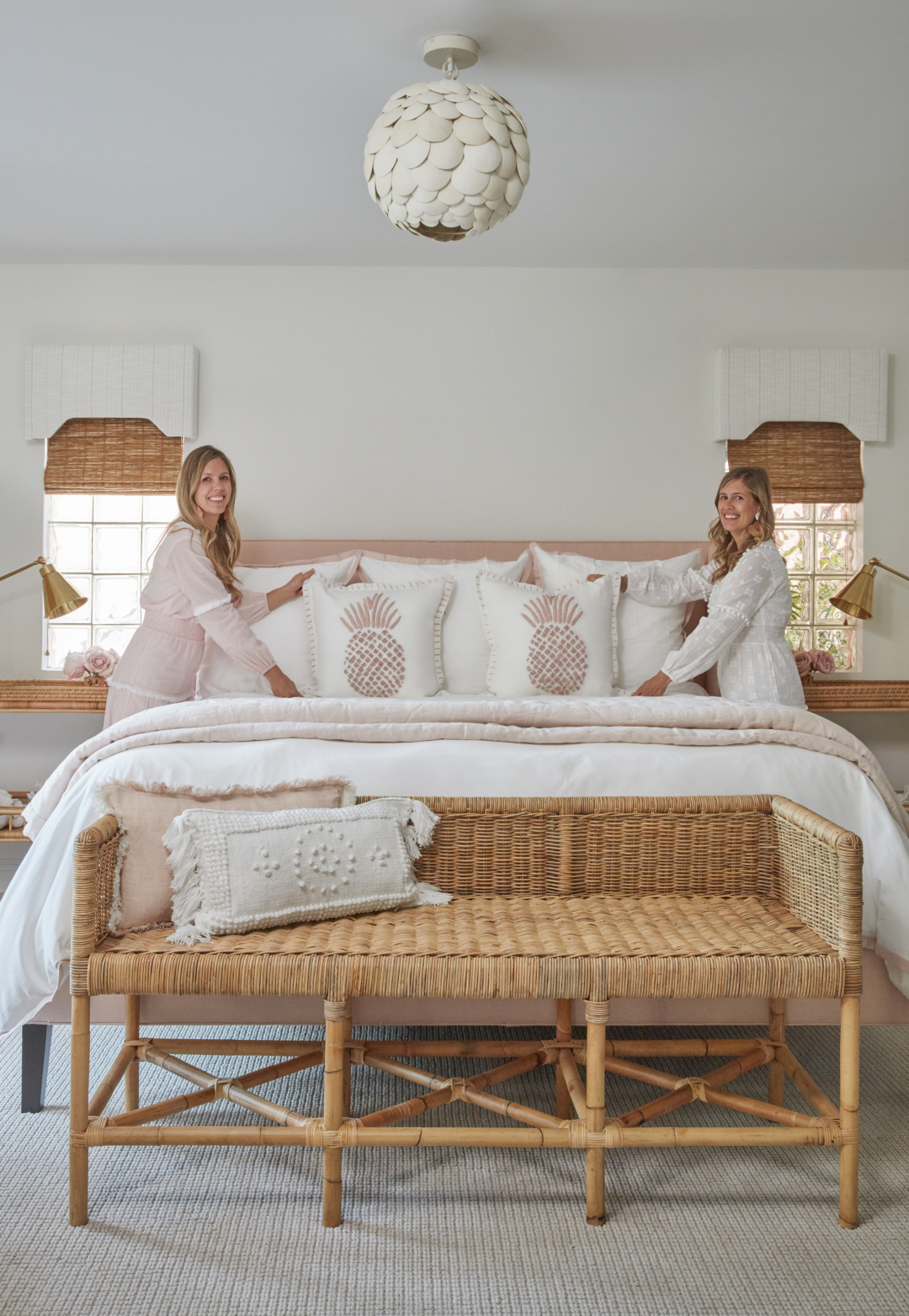 When we started our blog 8 years ago, we wanted to share our favorite fashion, home and travel finds with a fresh spin on the Palm Beach lifestyle. Over the years, we have been blessed to work with our favorite local and national brands to make our blog and brand come to life. At home, we started with small interior projects, worked our way into full room makeovers and recently completed two vacation rentals in Palm Beach. Design is our favorite creative outlet, so we wanted to share it with you by now offering e-design services!
1. Paradis Turquoise Dinner Plate from Sasha Nicholas / 2. Glass Vase with Gold Rim / 3. Lemon Stem / 4.Juliska White and Bamboo Charger / 5. Bamboo Charger / 6. Gold Silverware / 7. Blush Pink Napkins / 8. Green Goblets / 9. Mirrors / 10. Amanda Lindroth Wicker Sconce / 11. Lindroth Design Hurricane / 12. Chair / 13. Chinoiserie Side Board / 14. Shell Chandelier / 15. Clam Shell / 16. Wicker Frame / 17. Jute Rug / 18. Table
We have always loved decorating, but it wasn't until we truly found our own personal style through trial and error that it became less overwhelming and more joyful. We love a good room that is traditional, refreshing, stylish, and comfortable. From living by the beach our whole lives, we bring coastal textures and elements, soft color palettes, and an indoor-meets-outdoor feel to every room. Your home should be rich in joy, comfort and memories!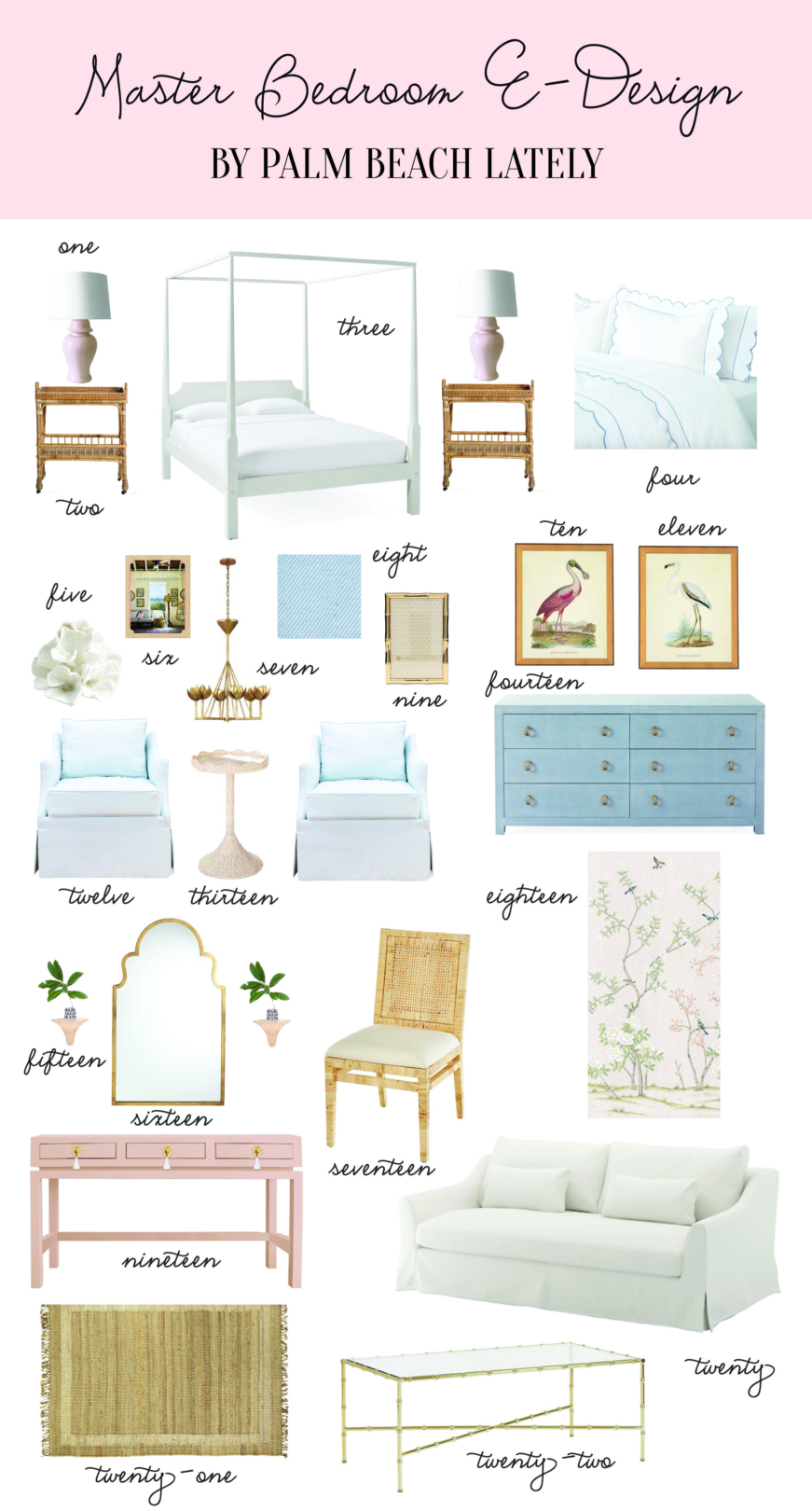 1. Blush Pink Ginger Jar Lamp / 2. Rattan Side Cart / 3. White Poster Bed / 4. Blue Scallop Bedding / 5. White Wave Coral / 6. Island Hopping: Amanda Lindroth Design Book / 7. Floral Alberto Small Single Tier Chandelier / 8. / 9. Gold Bamboo Frame / 10. White Spoonbill Print / 11. Flamingo Print / 12. Society Social Poppy Swivel Chair / 13. Scallop Side Table by Lindroth Design / 14. Serena & Lily Blue Driftway Dresser / 15. Wicker Bracket / 16. Gold Mirror / 17. Rattan Dining Chair / 18. Blush Chinosierie Wallpaper / 19. Blush Pink Desk with Brass Floral  Tassels / 20. White Couch / 21. Jute Rug / 22. Gold Bamboo Coffee Table
We recently created this master bedroom e-design board for a super sweet and fun client based in Connecticut. She had a few pieces she wanted us to incorporate like the poster bed and white sofa, and then we pulled together all of the other elements to give her a peaceful master bedroom suite. You'll see our signature style through blush and blue hues, rattan, grasscloth and seagrass textures, gold details, and outdoor elements like plants and birds.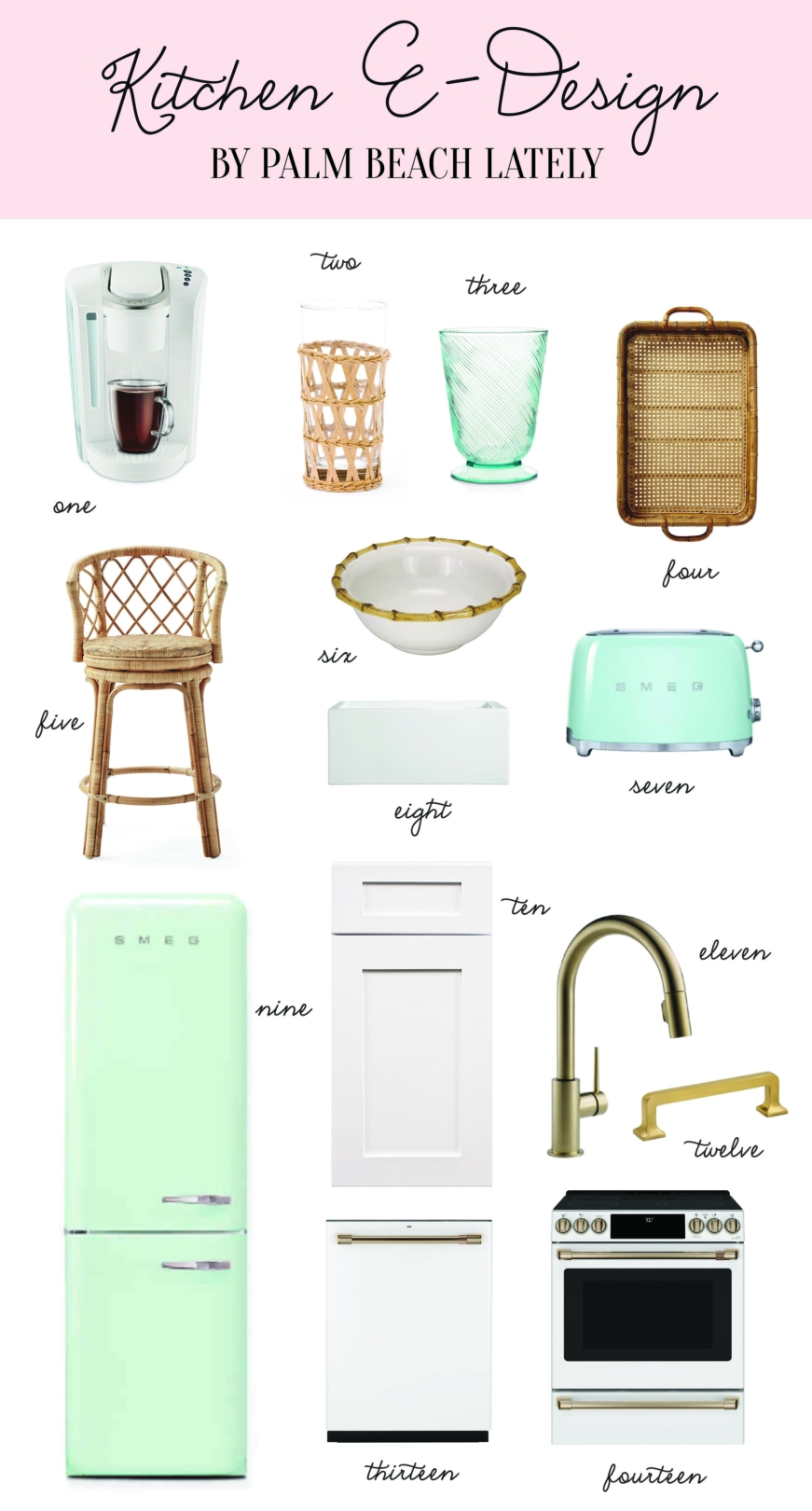 1. Keurig Coffee Maker in White  / 2. Island Wrapped Raffia Glassware from Lindroth Design / 3. Juliska Acrylic Tumbler in Mint / 4. Wicker Tray / 5. Avalon Swivel Counter Stool from Serena & Lily / 6. Juliska Bamboo Bowls / 7. Smeg Toaster in Mint / 8. White Farmhouse Sink / 9. Smeg Refrigerator in Mint / 10. Waterview Kitchens / 11. Brass Kitchen Faucet / 12. Brass Cabinet Pull / 13. Cafe Appliances White Dishwasher with Brass Handle / 14. Cafe Appliances White Stove with Brass Knobs
We also recently shared this e-design board that we created for the kitchen we made-over in the Sisters Suite by Serena & Lily and Palm Beach Lately at The Colony Hotel. We lightened the space with white cabinets and a shiplap backsplash, added hints of mint through the Smeg refrigerator and matching Smeg toaster, and warmed it up with rattan counter stools and raffia glasses. For a small space, it's still fully functioning and brings a fun, old-meets-new vacation vibe!
Palms Book large or small / 2. Palm Beach Book / 3. Pink and White Cabana Stripe Awning / 4. Pineapple Chandelier / 5. Pink Pineapple Wallpaper / 6. Faux Palm Tree / 7. Society Social Pink Sofa / 8. Wicker Scallop Frame / 9. Talk to the Palm Print / 10. Shell Mirror / 11. Lindroth Design Scallop Orchid Basket / 12. Society Social Grasscloth Console / 13. Brass Bamboo Mini Shelf Wall Bracket 
If you are interested in more information about our e-design services, please email us at hello@palmbeachlately.com! We'd love to work with you and help bring your home to life!