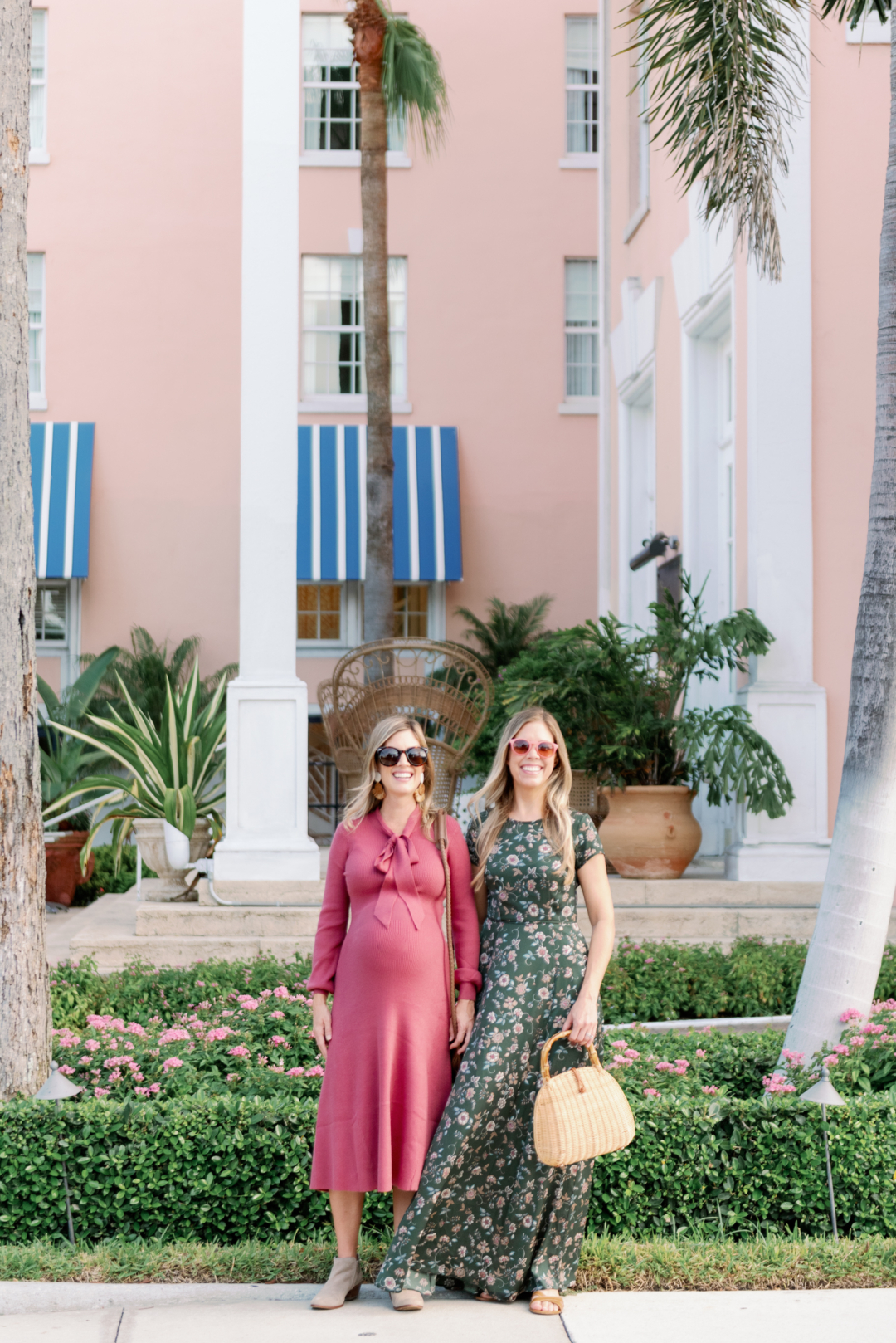 Yesterday was the first day of fall, and we couldn't be happier about it! It has been very windy down here in Florida which has cooled us down a bit for the past week. Thanks to the breezier, slightly cooler weather we have been having, we were able to take a couple of Gal Meets Glam's new fall dresses for a spin on the island. Come see what we love about them and take a peek at one of our favorite corners of Palm Beach at The Colony Hotel!
Danielle: Gal Meets Glam by Julia Engel is one of our very favorite feminine brands. Julia creates the most beautiful silhouettes and pairs them with gorgeous fabrics that fully embrace the season. For fall, I love long, flowy dresses and was drawn to the dark olive green floral pattern on the Autumn dress. While we transition into "fall" in Florida, I paired it with Margaux's brown sandals, J.McLaughlin's wicker bag and pink sunnies. And when a "cool front" comes in a month or two, I look forward to wearing it with cute booties!
Beth: Beth looks stunning in Gal Meet's Glam's Brianna sweater dress in pink. She will soon be having Baby #2, and this dress is the perfect dress to wear both now and later after she has the baby. It is comfortable and chic with a fitted silhouette, fluted hem and tie-neck detail. The knit dress can be dressed up or down and would look beautiful with a jacket over it for chilly weather. On this day, Beth paired it with Nicola Bathie wicker earrings, a Neely & Chloe round bag and Sam Edelman suede booties!
For more fall looks, be sure to check out Gal Meets Glam's latest collection! It's full of stunning dresses that would be great additions to your closet this season! xo
Credits:
Location: The Colony Hotel
Dresses: c/o Gal Meets Glam
Wicker bag: c/o J.McLaughlin
Round bag: c/o Neely & Chloe
Brown sandals: c/o Margaux
Suede boots: c/o Sam Edelman
Wicker earrings: c/o Nicola Bathie