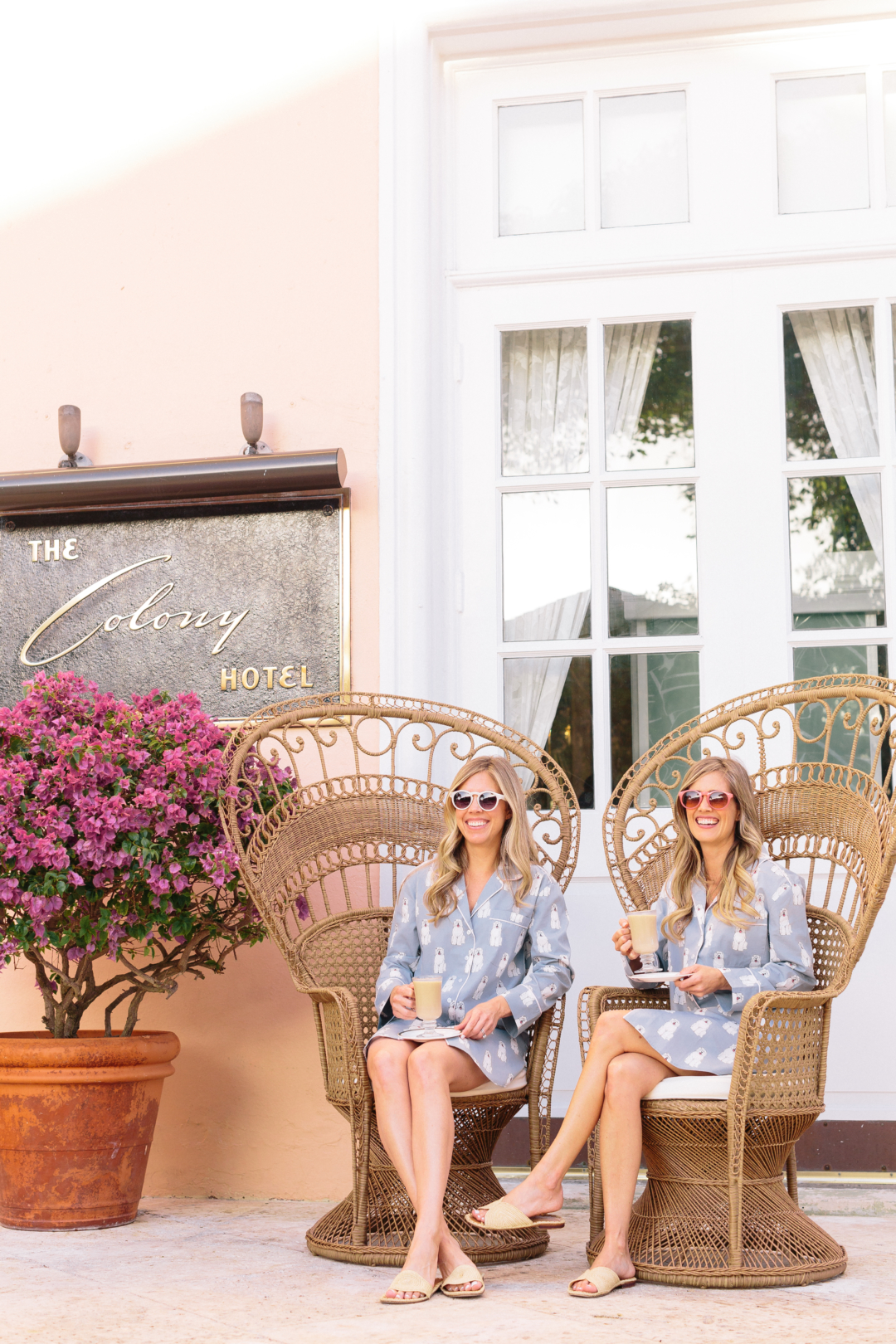 On Monday, we went to The Colony in Palm Beach to shoot an exciting new project that we will be sharing with you soon! As you know, we love The Colony so much <you can see it in our Guide to Palm Beach>. It's as cute as can be and a must experience spot on the island! On this day, we thought it would be fun to bring along our new "Hair of the Dog" night shirt by Austin Morgan. Come along to see how we wore them and hear why we love them!
Beth: I have been a long time fan of August Morgan's kitschy cocktail napkin collection. And I love how she took her "Hair of the Dog" cocktail napkin design and transformed it into these adorable sleep shirts and matching travel kits <the dog is adorable and reminds me of my Maltese!>. It also comes in this fun "Make Mine a Double" night shirt that has a grasshopper pattern.
Danielle: One of my favorite things to wear has always been pajamas. I love to rest when I'm not working or taking care of my kiddos, and one of the first things I do is slip into my pjs. As I've gotten older, I'm drawn to pajama sets or sleep shirts. Austin Morgan's fabric is so soft for lounging around and taking a snooze and the puppy pattern couldn't be cuter!
Credits:
Photography: Iris Moore Photography
Location: The Colony Hotel
Pajamas: c/o August Morgan
Hair: c/o AIRBAR
Shoes: c/o Carrie Forbes
SaveSave
SaveSave
SaveSave
SaveSave
SaveSaveSaveSaveSaveSave
SaveSave
SaveSaveSaveSave
SaveSave