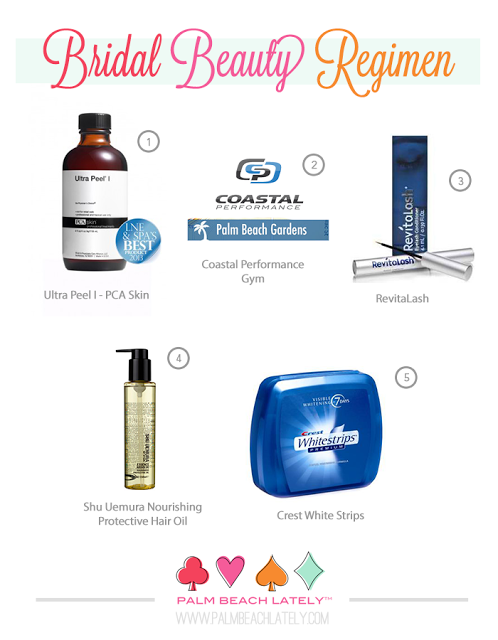 With my wedding just 7 months away, I have been working hard on looking my best for the big day.  Here are a few of my must haves to create a healthy, fresh and happy looking bride-to-be:
Skin: Ultra Peel I PCA Skin
I am doing a series of the 
Ultra Peel 1 by PCA Skin
 every three weeks for a series of six treatments with Tana Crawford, owner of Sheer Bliss Salon in Palm Beach Gardens. I have already noticed my skin looking brighter and more even!
Body: Coastal Performance Gym
Brendan from
Coastal Performance Gym
has been my go-to to make my dream "Brideceps", a new phrase I've coined, a reality. Exercise is a discipline I've always kept regularly, but I'm stepping up my game to be in the best shape possible by November.
Eyes: RevitaLash
Forget false eyelashes, I am going for the real thing!  
RevitaLash
is absolute magic for giving your eyes the feminine touch of full, natural lashes – no glue or expensive treatments necessary.
Hair: Shu Uemura Essence
As a Florida Native, I understand the serious importance of protecting my hair from damaging UV sun rays.
Shu Uemura
protects and conditions, not to mention makes my hair look sleek and shiny no matter how intense the humidity!
Smile: Crest White Strips
I swear by
Crest White Strips
; they get the job done and their effects last for months, sometimes even years!  Every bride wants a healthy looking bright smile on her big day, and a little preemptive maintenance is just the ticket.
For more on my upcoming wedding, check out my weekly wedding planning feature as 'Lady Beth' on Grey Likes Weddings, and support this 'Blogress Maven' now through the fall. We will also keep you up to date with links to each post right here on Palm Beach Lately!