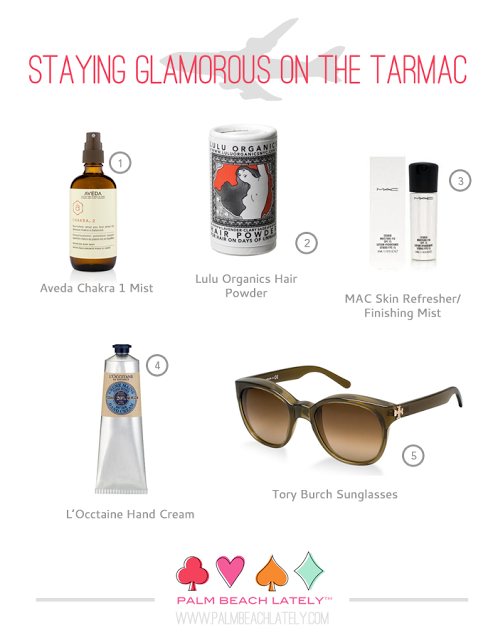 The Palm Beach Lately woman is a jetsetter who is constantly on the go.  Whether she is traveling for business or pleasure, she is always prepared with the right beauty accessories to look and feel fresh.  Here are some of our current faves to have on hand when traveling below:
If you are the pre-flight jitters type, try getting in tune with a little Western wisdom in Aveda's Chakra 1 Mist. Any Yogi will tell you that the first Chakra is the center where we ground ourselves and take care of our basic needs.  This mist will help get good energy flowing and promote a feeling of security that will see you through any cruising-altitude nerves.
There is nothing worse than unruly hair, and long days of travel can cause frizz, oil and leave you looking generally unkempt.  Enter your new secret weapon; this powder works wonders to give you a clean, refreshed look in just minutes.  Slide it into your travel-bag to keep your look classy and fresh.
Air-transport often means early mornings and hurried preparation.  Try carrying along a skin refresher and finishing mist to revive your makeup and add radiance to tour skin.
Recycled air spells disaster for skin, especially if you are already dry from colder weather.  This handy travel tube works wonders to combat in-flight drought; protecting and sealing your skin in velvety moisture.
Everyone looks a little more fabulous with
a great pair of shades
.  They are the perfect beauty aid to conceal dark circles, eliminate harsh cloud glare and style up any outfit.