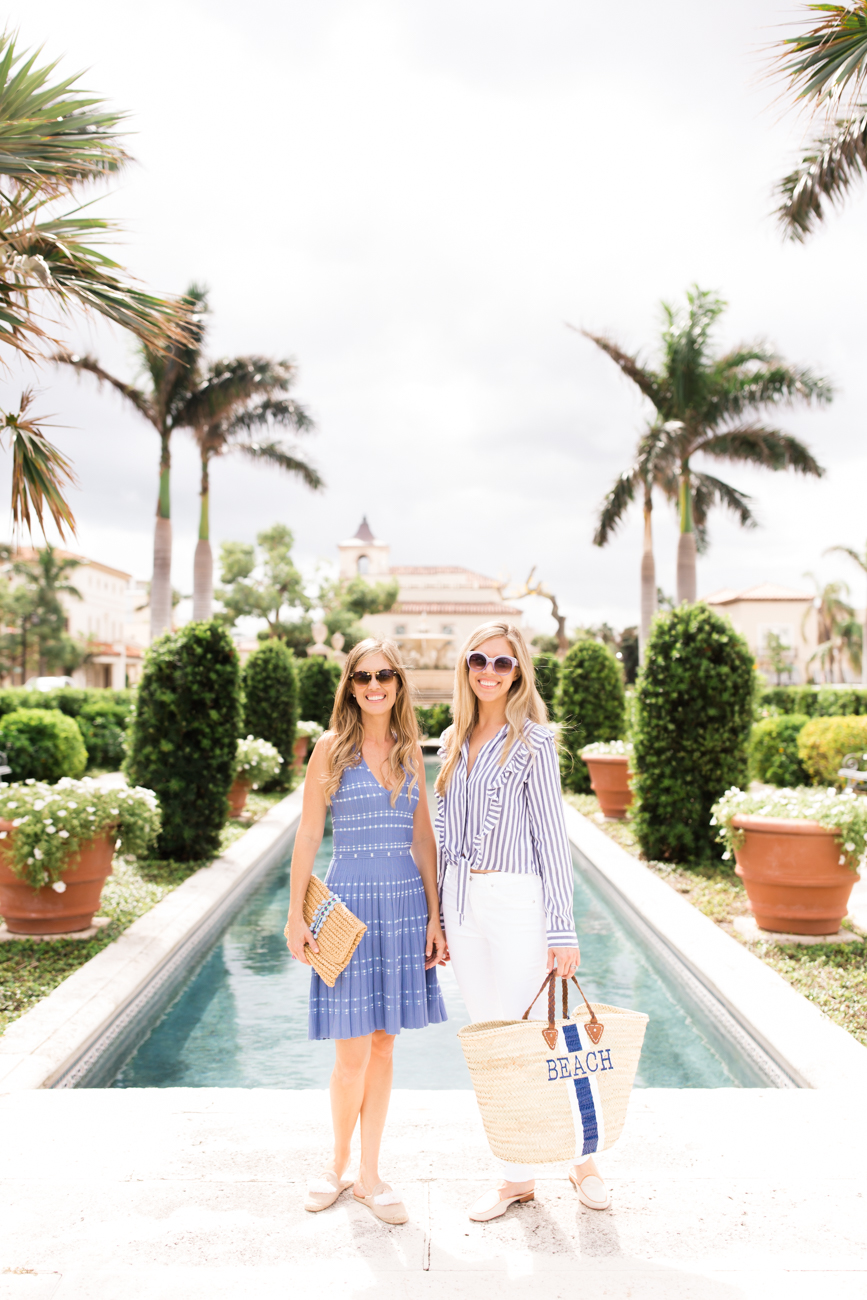 Happy Friday, friends! It's hard to believe that we are already one week into December. We have been so busy at work lately that we haven't had time to start our holiday shopping! This weekend, you will definitely find us checking our lists, fueling up on caffeine and hitting the stores to find the best gifts. And because we know you are probably in the same boat, we are sharing one of our favorite local shops, Rapunzel's Closet, with you today. It's the perfect place to find all of your gifts… and something for you, too!
One of the best things about Rapunzel's Closet is their rows and rows of garment racks that are bursting with modern staples like shirts, dresses, skirts, jeans, and sweaters! We love their collection of contemporary brands like LNA, Rails and Sundry and are even wearing our current favorites like their blue Parker dress, cropped blue and white striped blouse and white Hudson jeans in these photos!
Rapunzel's is also known for their large jean collection that features luxe brands like AG, Paige and Hudson. You can find all different styles, sizes and washes of jeans hanging down one whole side of the store, as well as folded and stacked on shelves throughout the store. We especially love all of their bags and are big fans of this hand painted "PB" straw bag pictured above. It's a great size for the beach and makes the perfect gift for anyone who loves Palm Beach!
We also love Rapunzel's Closet's playful take on style. It's known as being the boutique you can walk into with sandy toes from the beach and walk out wearing a gorgeous, fashion forward dress! And if you just got into town, it's definitely the best place to stock up on TKEES sandals. They have the most colorful collection that will match any outfit!
Now that you are all set on clothes and shoes, let's talk more about the gifts on your list! From a cute pineapple tray to a palm leaf zipper pouch, Rapunzel's is known for their swoon-worthy gifts and sunny card collection. It's a fun place to shop with lots of eye-catching accessories that make great gifts for your girlfriends. We also love their own line of cocktail napkins and guest towels and think their Swell Bottles and Hanky Panky underwear make great stocking stuffers!
And our personal favorite is their adorable tween and kids' sections at Rapunzel's Closet, as well as an entire second store dedicated to cool kids called Lil Rapunzel's located on Royal Poinciana Way. Melissa & Doug Puffy Sticker books, clothes, toys and accessories at all different price points make it the perfect stop for all the munchkins in your life!
For more reasons to shop local, check out their extra special touches during the holidays:
Complimentary gift wrap in their special Rapunzel's Closet packaging
Rapunzel's Closet is open 10 am to 6:30 pm Monday to Saturday and 10 am to 6 pm Sunday
Lil Rapunzel's is open Monday to Sunday from 10 am to 6 pm
Both locations are both open on Christmas Day from 12 pm to 5 pm
Don't miss their Ilary Perfume Trunk Show on 12/29 from 2 pm to 5 pm
Rapunzel's Closet is open New Year's Day from 12 pm to 5 pm
Both Rapunzel's Closet and Lil Rapunzel's also ship around the country so you don't have to deal with the post office. YAYYY!!! Please note: the last day for ground shipping to arrive before Christmas is next Friday, December 15th!
Location and contact:
Rapunzel's Closet – 326 South County Road, Palm Beach, FL 33480 | 561.659.6310
Lil Rapunzel's – 251 Royal Poinciana Way, Palm Beach, FL 33480 | 561.659.3131
Credits:
Photography: Iris Moore Photography
Hair: AIRBAR
*Thank you to Rapunzel's Closet for partnering with us on this post!