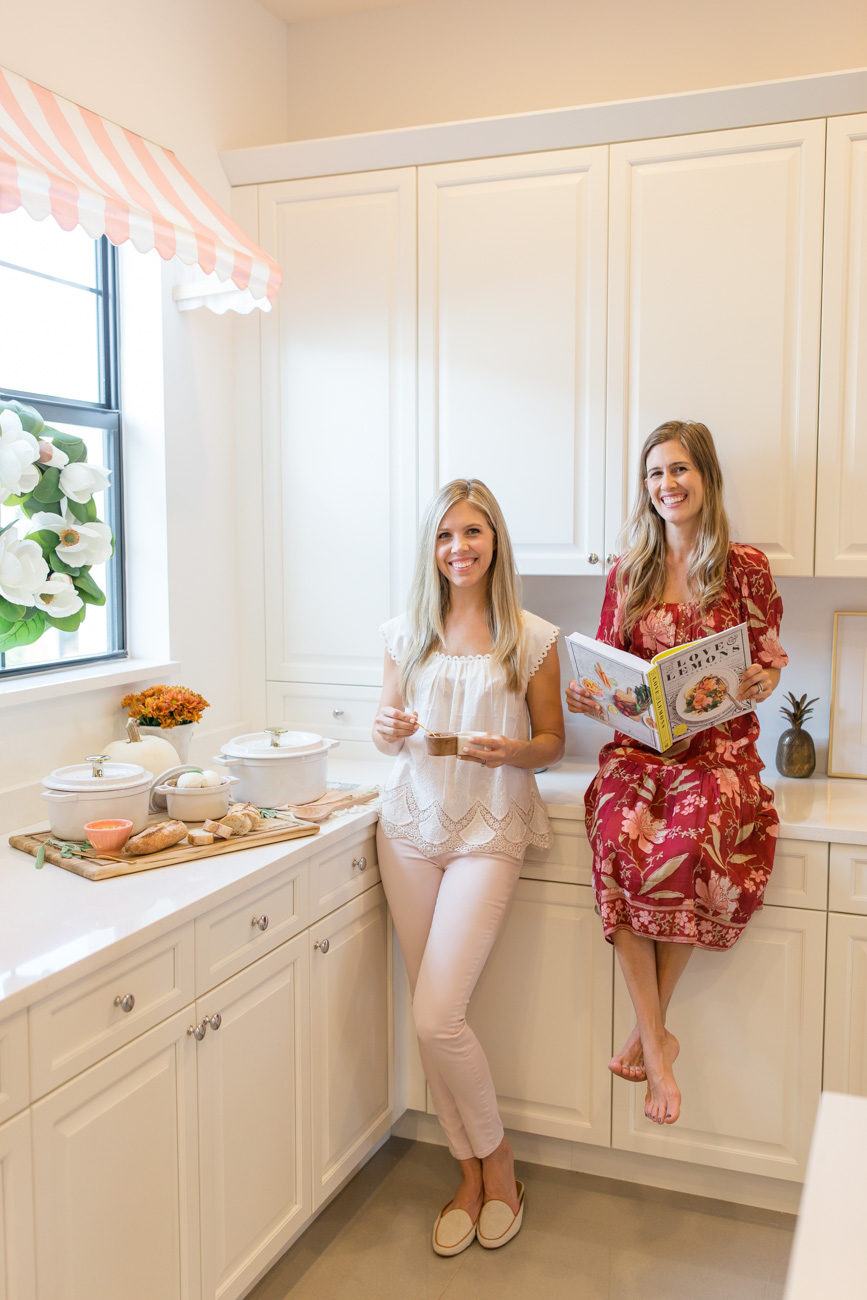 Whenever the season changes, we always find ourselves inspired by the new elements of the incoming season. When fall comes, we crave meals with festive flavors like apple, butternut squash, sweet potatoes and herbs. This time of year, we also love to try new recipes and perfect old dishes that will be great for the holidays!
For our fall kick-off dinner, we created a menu that included butternut squash soup for the appetizer, a cornish hen with sweet potatoes and herbs for the main course, and a warm apple crisp with vanilla ice cream for dessert. We recently added this collection of beautiful white cocottes <a fancy way of saying dutch oven> by Architec in small, medium and large sizes to our kitchen and wanted to try them out!
The soup worked well in the medium sized cocotte, the main course fit perfectly into the large size cocotte and the dessert was too cute in the little cocotte. We have been on such an apple kick since going apple picking last month and the apple crisp recipe from our current favorite cookbook, The Love and Lemons Cookbook, was simple and delicious.
If you'd like to make a fall kick-off meal and aren't sure where to start, here are our five tips for you:
Simple menu – Create a yummy fall menu with foods that are easy to work with like apples, chicken, herbs and potatoes. Salads are a great no-cook, fool-proof place to start and using simples ingredients that are closest to their original forms are the best!
Cook with others – We are rarely alone in the kitchen. My husband loves to cook and makes most of our meals <he made the amazing cornish hen pictured here!>, so you will often find him in the kitchen, as well as my sister and I with our kids. It's definitely a family affair in our homes! If you don't have family nearby, grab a friend and have fun making dinner together!
Store bought – Not everything has to be homemade, so don't feel like you have to kill yourself over it. For instance, we skimped and used store bought soup! Leave time, energy and money to focus on other areas as well, like fall decor, setting the table or new pots or kitchen tools.
Make it up – Cookbooks and recipes are fun for inspiration, but some of the best meals are just thrown together. Play around and experiment to build your confidence. You don't have to follow a cookbook precisely and can easily swap things around to fit what you like. If it fails, it's OK! Don't let it scare you away from trying something new next time!
Find favorites – Sometimes we get hung up on trying new things and having variety that we forget about our favorites. Find a few things you love to make and become known for making them. Then make it over and over again and share it with others!
We'd love to know, do you mark the start of a new season with an official meal? And what are your favorite fall dishes to make?
Credits:
Photography by: Iris Moore Photography
Cocottes: c/o Architec
Slide mules: c/o Neely and Chloe via Tuckernuck
Top and dress: c/o Alicia Bell
SaveSaveSaveSave
SaveSave
SaveSave
SaveSave
SaveSaveSaveSave
SaveSave
SaveSaveSaveSave
SaveSave
SaveSave
SaveSave
SaveSave
SaveSave