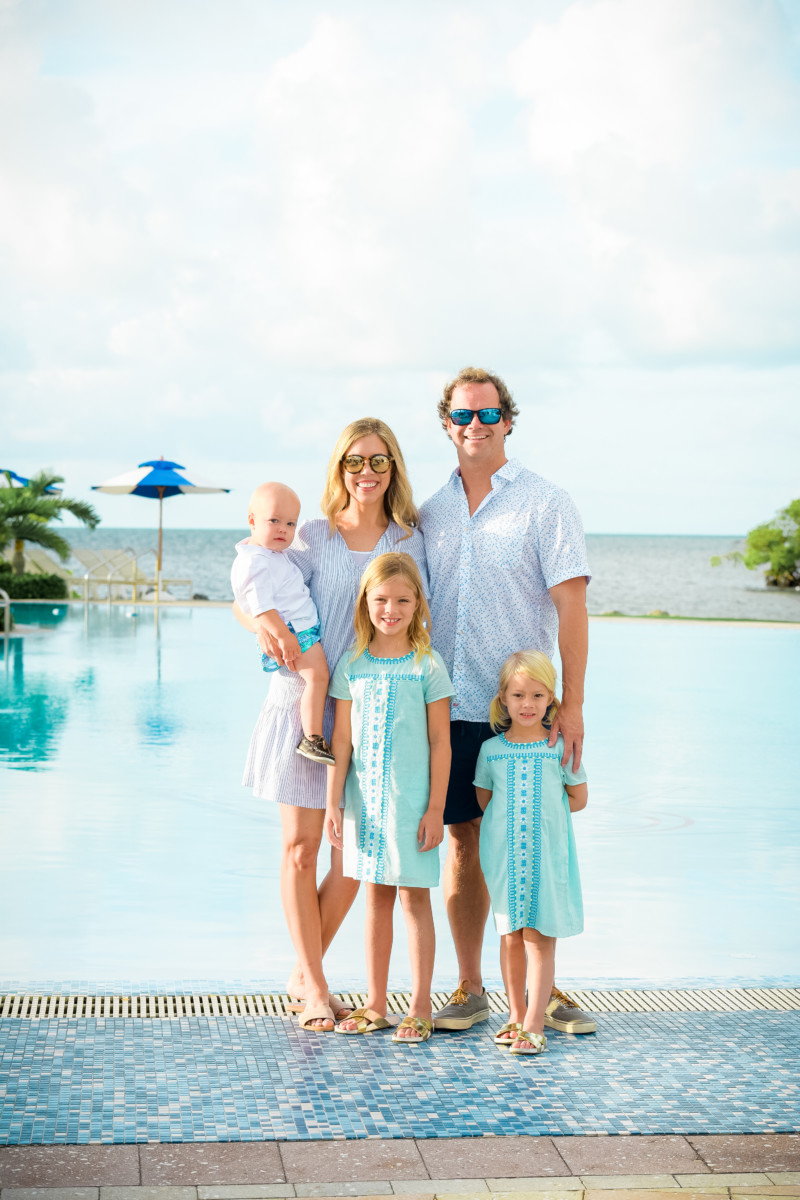 It's hard to believe that we took our wedding photos in this same exact spot ten years ago! To be honest, we stumbled upon Ocean Reef Club for our wedding location by chance <or maybe it was fate>. Key Largo was already a special place for us <it's where we fell in love back in 2000!>, and then one of my husband's best friends introduced ORC to us a few years later. We both were instantly smitten and when we got engaged in 2005, it was at the top of our list for a destination wedding!
There are so many reasons we love Ocean Reef Club. To start, it's very easy to get to from where we live. By car, it's about 2.5 hours from Palm Beach and a little more than 1 hour from the Miami Airport. And if you're feeling adventurous, you can also arrive by air or sea! I've only been by car and when we arrive at the property <see a full map here>, we feel that unique sense of community and family that the private club is known for. As our family has grown, we appreciate this authentic lifestyle even more now than we did back then!
We also love that members and their sponsored guests can choose from an assortment of accommodations that include The Inn and a large database of vacation rentals. The Inn is very clean and comfortable, and we particularly enjoy staying in the Marlin building that overlooks the ocean. We also love that one of the main areas for "fun in the sun" called Buccaneer Island is just a short walk from the Inn.
Buccaneer Island features two pools, a saltwater swimming lagoon, water sports, indoor and outdoor restaurants and so much more. One day we ate on the outdoor patio of the Islander, and the other day we ate by the pool at the Beach Grill. If you are having too much fun by the pool to pack up for lunch, they also offer poolside food and beverage service. Palm Court is another Buccaneer Island favorite <and where we had our reception!>, but they move the outdoor restaurant over to the Islander for the summer months.
ORC offers a great lineup of activities for the kids during the day, as well as live music and an adults only pool in the afternoon. When we were there, our girls loved swimming in the family pool, building sandcastles, paddle boarding in the lagoon, splashing under the fountain, and painting birdhouses under the tiki hut <you can see all the different activities and events going on each week at The Reef>.
When we weren't playing on Buccaneer Island, we liked to take a quick golf cart ride or the cute new ferryboat over to the Fishing Village. Side note: golf carts are the main mode of transportation, and you can spot some really fun ones parked around the island! In the Fishing Village, our must-dos include having conch chowder at the Raw Bar, pizza and pints at Gianni's, ice cream at Reef Treats and cocktails at the Burgee Bar. They also have the cutest shops for the whole family, like Vineyard Vines, Lilly Pulitzer and J.McLaughlin!
Some of our other favorite things to do include golfing, fishing, working out at the fitness center and indulging in spa services. The list of what the club offer goes on and on, and there seriously isn't one thing that hasn't been thought of and perfected over the years at Ocean Reef Club. It has such a special place in our hearts and we look forward to becoming members one day so we can keep the tradition alive in our family!
If you'd like to inquire about membership, click here!
*Thank you to Ocean Reef Club for partnering with us on this post!
Credits:
Photography: Fayth Photography
Location: Ocean Reef Club
Clothes: c/o Vineyard Vines
Kids towels: c/o The Beaufort Bonnet Company