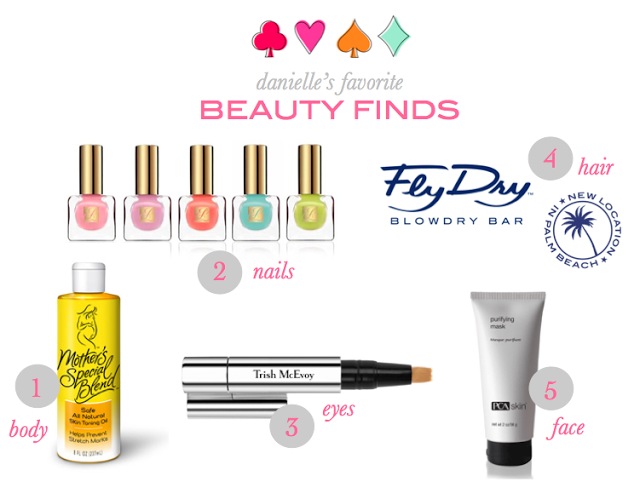 Happy Monday!  We hope you are enjoying our daily posts Monday through Friday in our favorite categories: Beauty, Living, Social, Style and Weekender.  For "Beauty" today, we are taking a sneak peek into the medicine cabinet of Palm Beach Lately Co-Founder, Danielle Norcross.  A mother of one with another on the way, Danielle shares her favorite beauty finds for ladies who want to effortlessly look their best with quick products that deliver BIG results.
This is my fave FAVE body oil to slather on during and post pregnancy to prevent stretch marks and tone my skin.  The all natural formula contains no preservatives or added fragrances – but smells delicious! – and is very safe for mom and baby.  Best of all, it leaves you glowing! 
Statement nails are in, and Estee Lauder's Spring 2013 Paris Macarons Collection is on point with our favorite colors here at Palm Beach Lately.  Featuring pastel shades like Narcissist, Lilac Leather, Coral Cult, Diletantte and Absinthe, these are the IT colors to wear this spring!
Ladies, meet my not-so-secret weapon!  If you are looking for an under eye product that both corrects and brightens, this is the product for you.  The lightweight, long-wearing formula minimizes dark areas and brightens your eyes, making it a must have for all makeup bags!  
Styling my hair while chasing a toddler can be hard to do!  Luckily, FlyDry's new Palm Beach location is so convenient to swing by for a quick blowout that leaves me feeling fabulous for days.  And their "frequent dryer" special makes it worth it to stop in at least once a week!  
I swear by this gentle exfoliating and detoxifying face mask.  It works especially well in the winter and during pregnancy when my skin can be dull, dehydrated and stressed.  Use it once a week to remove the imperfections and reveal a fresh, soft and radiant new layer of skin! 
Thank you for taking a tour of my absolutely favorite beauty finds!  If you start using one or all of them, I know you won't be disappointed!!  And don't forget to join the conversation by using hashtag #PBLBeauty.  We want to see how YOU put these products to use! xo